Scottish Women's Land Army records
Introduction
Overview of the Scottish Women's Land Army and Timber Corps
How to search the SWLA index cards
Understanding the context of the SWLA index cards
Related records
Related records not held by NRS
Further reading
Introduction
Thousands of index cards for the service record files of those who joined the Scottish Women's Land Army (SWLA) and the Women's Timber Corps (WTC) in Scotland from 1939 to 1950 are now available to search and view on ScotlandsPeople. These records will be of particular interest to family historians hoping to learn more about the lives led by their female relatives. Each card can give insight into the training given to new recruits, where they worked and reveal why they left their post.
The main source for SWLA and WTC history at National Records of Scotland (NRS) are within the records of the Agriculture and Fisheries Department for Scotland. The Ministry of Agriculture and Fisheries took over the management of the organisation after the outbreak of the Second World War. The functions covered by this department are wide ranging and include agricultural support, education and advisory services, regulation of land worker wages, land settlement and estate management. Included within this broad collection are the Scottish Women's Land Army index cards, which are part of the sub-series Agriculture Labour, Safety and Wages Files (NRS, AF59).
The SWLA and WTC index cards are arranged alphabetically by the member's surname and include details of their enrolment date, usual residential address, date of birth (or age at time of interview), training information and the name or names of farms on which they were employed. The SWLA index cards date from 1939 to 1950 and the WTC index cards from 1942 to 1949. These are accessible on ScotlandsPeople for workers who were born up to and including 1922. More cards will be released each January, as members born more than 100 years ago are added to ScotlandsPeople.
Overview of the Scottish Women's Land Army and Timber Corps
The first incarnation of the Scottish Women's Land Army (originally named Women National Service Volunteers in Scotland) came about in January 1917, in consequence of U-boats sinking ships carrying food supplies to Britain and the absence of male workers due to the introduction of enforced conscription in 1916.
In 1919, the organisation became known as the Scottish Women's Land Army, and was separate from the English and Welsh Land Army, which was founded later in 1939. The SWLA was reformed in 1939 and was controlled by the Ministerial Department of Agriculture for Scotland, which sought to establish an agricultural labour force at the start of the Second World War. In local regions, the SWLA was organised by Agricultural Executive Committees which had Women's Land Army sub-committees.
The Women's Timber Corps (WTC) was established in May 1942 by the Ministry of Supply to process home grown timber. The WTC was administered as a separate section of the SWLA and at its peak it is thought to have had from 1500 to 2000 women enrolled in the organisation. Many of these women lived in hutted camps within or near the forests they worked in. The WTC appears to have been wound up before the SWLA in 1949 or 1950.
Image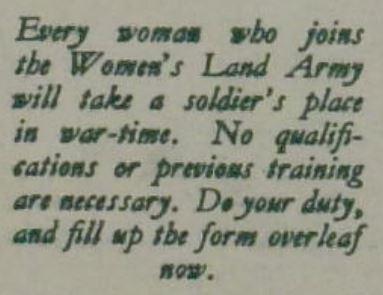 Detail from the SWLA application form
Crown copyright, National Records of Scotland, AF59/246
Scottish women were called upon to work on farmland and in the forests, replacing the men who had joined the military services. Their roles changed with the seasons, but could include bringing in the harvest, haymaking, milking cows and shearing sheep. Women as young as 17 years of age could join up and occasionally this rule was overlooked to take on younger girls in cases of those who had farm work experience or in areas where enrolment numbers were low. A young woman of 15 has been traced in the SWLA records who undertook training at Strathaven and appears to have remained in service until November 1950, when the SWLA was disbanded.
The SWLA developed a series of newspaper campaigns, posters, information films and agricultural groups in order to attract recruits. The women who answered the call often came from urban areas of Scotland and lacked any background in farming. The majority of these women soon found themselves assigned to working on farms predominantly in the Lowlands, providing a marked change from their life and work in Scotland's cities. Those who signed up to the WTC (colloquially known as the 'Lumber Jills') were chiefly posted in the forests of the Highlands and their work was considered more physically demanding than the Land Army.
Image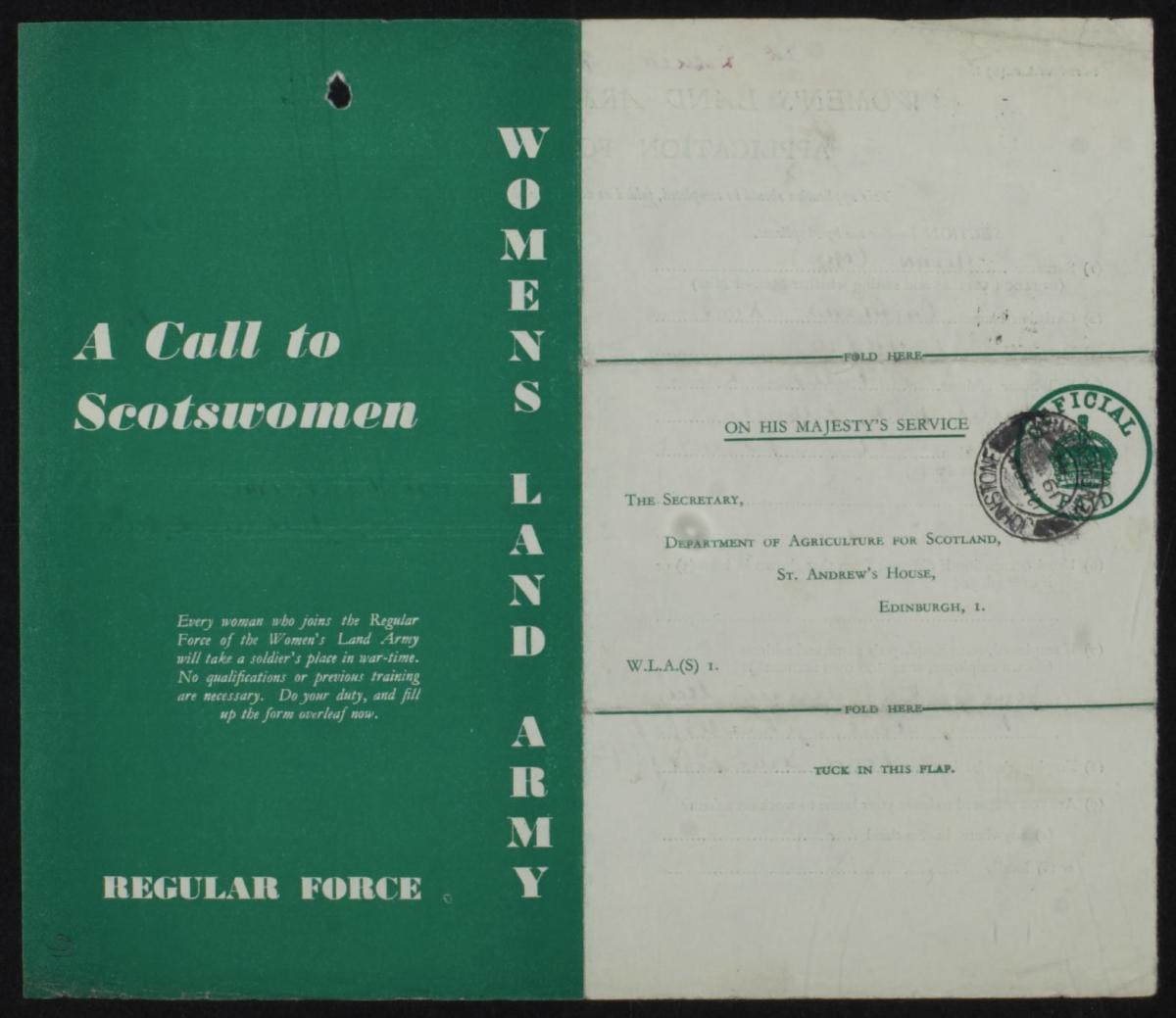 The front cover of the application form to join the SWLA
Crown copyright, National Records of Scotland, AF59/247 page 15
In 1939, there were 110 members of the SWLA. Numbers quickly increased, reaching a peak of 8250 in 1943. Vita Sackville-West stated in her work 'The Women's Land Army' (1944) that Scottish farmers were initially hostile to the idea of employing women on their farms. This was promptly overturned as the farmers came to recognise their value, having been won over by the hard work and dedication the women demonstrated. Indeed, many of the farmers hoped to retain the land girls on their farm after the SWLA was dispersed. After 1943, SWLA recruitment figures dropped as women were drafted into munitions work or to join the armed forces.
Upon filling out the SWLA application form, in which the applicant could detail any relevant experience in agriculture, dairy or gardening work, they could also stipulate whether they wished to become part of the mobile unit (moving around the country as needed, probably due to essential seasonal work) or to be stationed local to their usual residence (presumably for familial commitments or personal reasons). Before taking up their post, recruits may have been required to complete between three to six weeks' training, depending on the type of work they were to undertake and their experience. The workers would either live on the farm at which they were deployed, or in purpose-built hostels. Each woman was issued with a Land Army badge and uniform.
After completing six months' service, the women were issued with a red felt badge in the form of a triangle. Another was sent after a full year's service and when joined together they made a diamond-shaped badge which could be sewn onto the armband and displayed with pride. The women worked around 48 hours a week (overtime was likely during harvest time) and earned an average of 28 shillings per week. These were long hours of hard work for relatively low wages.
The SWLA and WTC were not considered part of the armed forces, but could be seen as an important part of the Home Front, as civilians played their part in the war effort. The essential work carried out by the SWLA and the WTC contributed to Britain staying fed, clothed and housed during the Second World War and afterwards. Many members received the British Empire Medal (Civil Division) for their contributions to the war effort, and in 2008 all former members of the Land Army and Timber Corps were invited to apply for a formal badge from the government which commemorated their work. In recent years applications to the scheme have been closed.
Image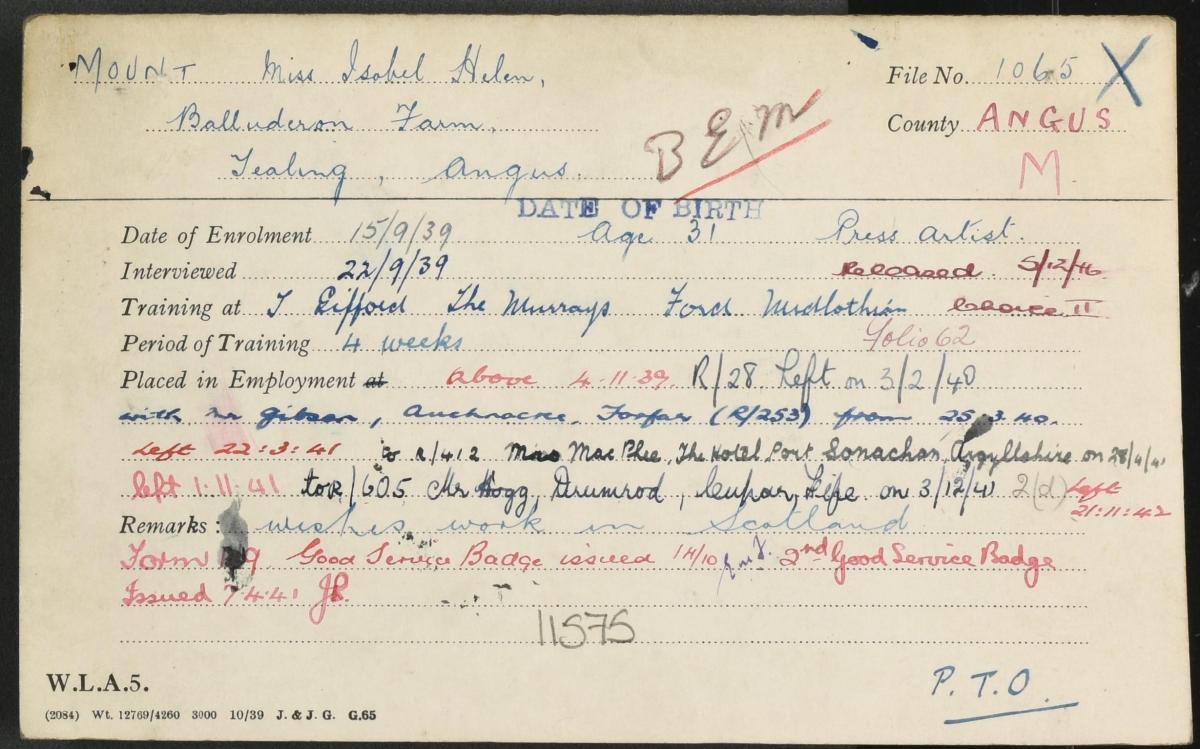 Isobel Helen Mount's index card has 'BEM' written across the top, denoting she was awarded the British Empire Medal in June 1946.
Crown copyright, National Records of Scotland, AF59/285/2 11575
Subsequently, a memorial to the Timber Corps was installed at Queen Elizabeth Forest Park in Aberfoyle in 2007. A lasting memorial to the SWLA was unveiled in October 2012 by King Charles, then Prince Charles, in Clochan in Morayshire with former 'Land Girls' attending the event. You can discover how sculptor Peter Naylor created this 'happy war memorial' on his website.
Image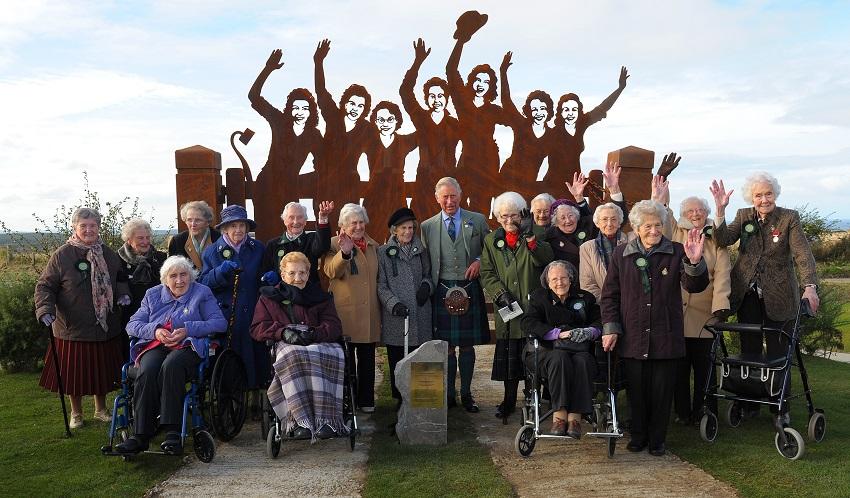 Photograph of King Charles, then Prince Charles, unveiling the memorial to the SWLA surrounded by former members, October 2012.
Image kindly reproduced with permission of The Scottish Farmer newspaper
How to search the SWLA index cards
You can search the index cards using some or all of the following index fields:
Surname
Forename/s (or initial/s)
Year of birth
Service branch (Land Army or Timber Corps)
Enrolment county/division
The search form includes search tips for each field with links to more detailed research guides where appropriate.
When searching by forename, and the generated results do not list the individual you are looking for, you may want to limit the search to their forename initial. For example, Betty Reid's index card is recorded under the initial 'B':
Image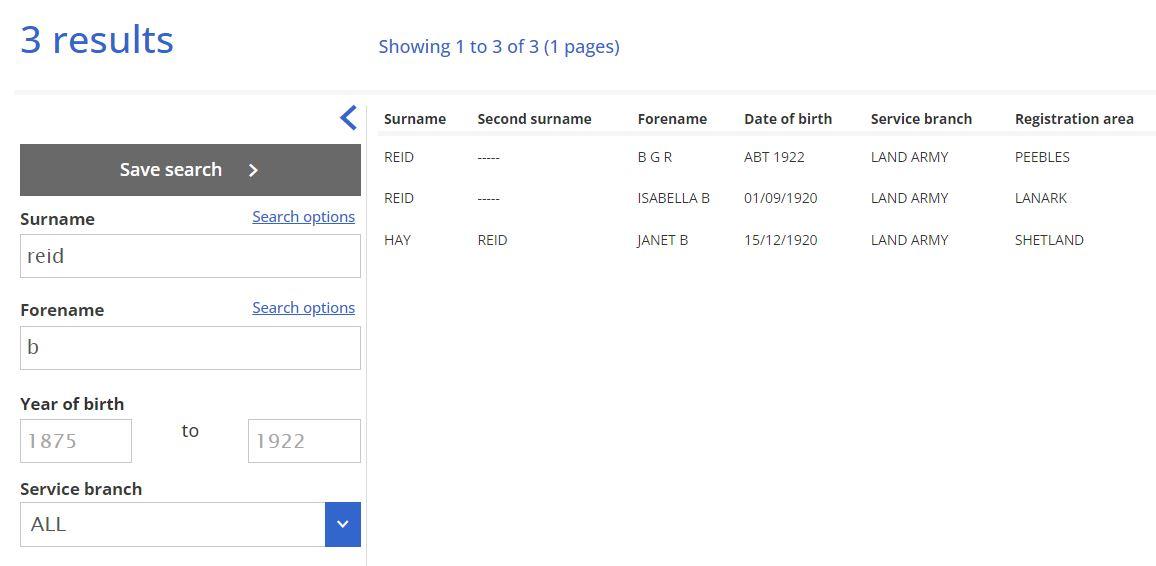 Reid's index card on which she is recorded as B[etty] G[raham] R[obertson].
Image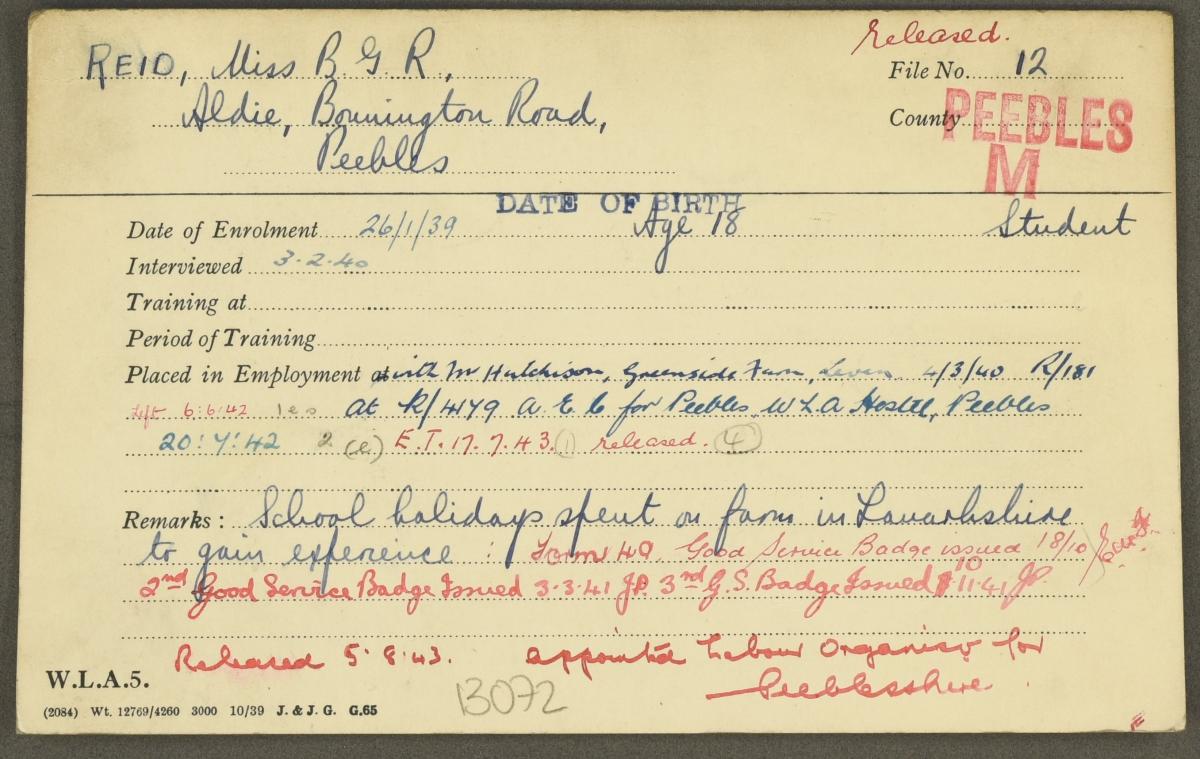 Example of an SWLA index card. Betty Reid was an exemplary SWLA member, receiving the 'Good Service Badge' three times, as recorded on her card.
Crown copyright, National Records of Scotland, AF59/285/2/13072
Reid's date of birth is not noted on the index card either, but her age at time of interview is provided. Therefore, we have given an approximate year of birth calculated by her given age. In the search results list you will see her date of birth given as 'ABT 1922'. We have used this technique for other women who have an age stated on their index cards. Betty was early to join the SWLA (January 1939) and has a registration number (or service number) of 12.
The index card is commonly stamped with the area in which the recruit was enrolled. Above we see that Betty Reid was enrolled in the county of Peebles (top right). Reid's occupation at the time of recruitment is also given and that she was appointed 'Labour Organiser for Peeblesshire'. Not all index cards will have this much information provided: some will have more, but others will have less.
The third result generated from this search for 'B Reid' demonstrates that we have also included married names in the search fields. During Janet Hay's SWLA service she got married and became Mrs Reid. Both surnames are searchable in the index and both will be displayed in the results.
Image
This example shows that you can search by maiden or married name in the indexes.
Crown copyright, National Records of Scotland, AF59/285/2/13116
Here Janet Reid's reason for being released from the SWLA is 'Health' and the date of release is 29th February 1944. The reasons women left service are often noted on the card in red ink. A common reason for leaving service was to get married.
Understanding the content of the SWLA index cards
The index cards were a directory to the service record files and include basic details of each woman's service. Each card contains some or all of the following information:
Name (including both maiden and married surname, if married during service)
Full home address
Date of birth, or age on enrolment
Occupation prior to enrolment
Date of interview/enrolment
SWLA/WTC enrolment (and service file) number
Place of SWLA/WTC employment and dates
Remarks (these can include information on previous work experience, if a service badge was issued, the date of release and reasons for leaving the SWLA, amongst other oddities such as remarks on conduct)
Date when officially leaving the SWLA/WTC
Related records
If the individual you are researching was born less than 100 years ago, their SWLA/WTC index card will not be available on ScotlandsPeople. In this case, you will be able to browse images of the index cards in the National Records of Scotland's (NRS) Historical Search Room at General Register House, Edinburgh.
The NRS hold a small number of other records which relate to the SWLA and WTC. These records provide helpful information about the SWLA, WTC and the training, organisation and supply of agricultural labour, but only a few include information on individual members
It is likely that most SWLA service record files were destroyed soon after the disbandment of the organisation. NRS does hold the files of three members (NRS, AF59/245-247), which were kept as a representative sample.
There are files claiming compensation from the Scottish Women's Land Army Welfare and Benevolent Fund which provided small grants to former SWLA members who were experiencing hard times (perhaps out of employment or due to no fault of their own). This fund was set up in 1942 to help current workers and those who had been employed by the SWLA. These files also contain applications to the Department of Agriculture and Fisheries for proof of their SWLA employment in order to secure pensions (NRS, AF59/248-250, and NRS, AF59/293).
The records of the Midlothian Agricultural Executive Committee and the Women's Land Army Sub-Committee (NRS, AF45/599/19-20) include minutes of meetings between 1943 and 1947 which detail SWLA hostel conditions, conduct of members and recruitment numbers.
There are files on the proposals of hostels to accommodate the SWLA which include architectural drawings and lists of hostel locations throughout Scotland (NRS, AF59/12/1-3). Further to this are papers on medical and sanitary arrangements for SWLA hostels and camps from 1942 to 1949, including inspection reports of hostels (NRS, DD13/2398).
Related records not held by NRS
The original Women's Land Army service record cards for England and Wales are held by the Imperial War Museum. Microfiche copies of these records are available for public consultation at The National Archives, London. Women's Land Army index cards for England and Wales, for individuals born over 100 years ago, can be searched online. Further information is available on their online Women's Land Army record guide.
Those members of the SWLA and WTC awarded the British Empire Medal are recorded in The London Gazette. This is an official public record and can be searched and viewed online for free.
Further reading
Edwards, Elaine, 'Scotland's Land Girls: Breeches, Bombers and Backaches' (Edinburgh, 2010)
Sackville-West, Vita, 'The Women's Land Army' (London, 1944)
Tyrer, Nicola, 'They Fought in the Fields' (London, 1996)