Reading older handwriting (palaeography)
Background information
If you have problems reading a document, this guide may help you get the most from your research. To improve your research using manuscript historical records you need to study a few things:
diplomatic (knowledge of the forms that records take, for example, the form of a testament)
palaeography (the ability to read older forms of handwriting)
vocabulary (the specialist vocabulary in certain records, for example, sums of money, agricultural produce and weights and measures)
Secretary hand
This website features manuscript records from the early sixteenth century to the twentieth century. During that time handwriting in Scotland (as elsewhere in Europe) changed quite radically. In the sixteenth and seventeenth centuries the clerks, who compiled these records wrote mainly in a form of handwriting known as secretary hand, many of whose letters were different from the letters we know today. However, clerks invariably knew other forms of handwriting (such as italic) and frequently jumbled up handwriting styles, so that a line of text might include secretary hand letters, italic letters, and other letter styles. From the mid eighteenth century handwriting gradually changed to become modern handwriting. However, the change was not consistent everywhere. Each clerk had a different style (and a different standard of writing clarity). Even nineteenth century handwriting can be difficult to read.
The following examples from testaments illustrate the change in handwriting over the centuries:
Image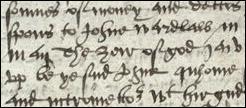 In this first example, the handwriting writing looks odd because many of the letters are in their secretary hand forms (for example, a, b, c, d, e, g, h, k, r, s, and t). Other problems are Latin numerals, archaic letters (the yogh and the thorn), Scots vernacular words, phonetic spelling, abbreviations, and interchangeable letters (at this time the letters u, v and w were variations of the same letter, as were the letters i and j).
Image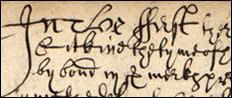 In this second example, some letters are recognisably secretary hand, but the writing is not as neat as the previous example. Many letters are cursive (either untidy versions of secretary hand, italic, and other writing styles, or forms of the writer's own invention). Other problems include elaborate letters which interfere with other letters or make several words look like one continuous word).
Image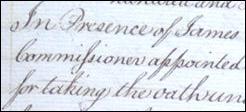 The handwriting in the last example is very neat, but not all handwriting from this period is easy to read.
Further reading
Use the record guides to understand the form of documents such as valuation rolls and wills and testaments. Consult our guides on agricultural produce and livestock, dates, numbers and sums of money, unfamiliar words and phrases, and weights and measures.
Search our glossary for help with abbreviations, legal terminology, occupations and other unfamiliar words. Consult the Dictionary of the Scots Language for additional help with Scots words.
For further help with palaeography visit the Scottish Handwriting website in particular the testaments tutorial and the palaeography posers organised by different record types.
The Scottish Records Association's 'Scottish Handwriting 1500-1700, A Self Help Pack', Edinburgh 1994, contains examples of common types of document found in Scottish archives with transcripts and notes. It is available to purchase by phone or in person from the National Records of Scotland's shop located at the main entrance to General Register House.