Thousands of volumes of historical records from the collections of National Records of Scotland (NRS) are now available online for the first time.
Images of more than a million pages from the kirk session and other court records of the Church of Scotland can now be viewed and downloaded on ScotlandsPeople. These records contain details of key events in communities across the country between 1559 and 1900 and are one of the most important sources for Scottish historical research.
The kirk session - the local court of the Presbyterian Church of Scotland - comprised the minister, the elders and a session clerk. The records they created offer remarkable insights into the everyday lives of ordinary Scots, capturing important moments such as births, marriages and deaths. The church court also adjudicated on the paternity of children, awarded relief to the poor and needy and provided basic education, as well as disciplining parishioners for what could be called anti-social behaviour – drunkenness, cursing and breaking the Sabbath. The most commonly known punishment was public repentance or penance.
The newly added records document how people dealt with exceptional historical events such as wars, epidemics, crop failures and extreme weather.
A storm in Duddingston in June 1795, for example, resulted in increased poverty as 'many families (particularly in West Duddingston) were in great distress'. The kirk session decided to 'purchase Coals and distribute amongst...[the parishioners]' and noted that 'some of the farmers also sent some cart loads of coals at their own expense and several of the most indigent received meal...[and] an addition was made to their monthly allowance.'
Image
Detail from Duddingston kirk session minutes, June 1795
National Records of Scotland, CH2/125/1 page 101
Mauchline Kirk Session records an accusation of drunkenness on the Sabbath in early 1675. Levelled at three young men in the parish, it took several months to reach a conclusion. John Campbell had passed three men, George Campbell, John Millar and Mungow Gib begging for money to pay for an evening of drinking. John gave the men a merk.
In the early hours of the Sabbath, the three men knocked on John's door and Mungow assaulted John. The minute book records that 'George Campbell John Millar and Mungow gib being convict of drukennes and sabbath breaking are appointed to be rebuked publiquely the nixt Sabbath.'
As punishment, the men were to be made to stand on the stool of repentance and receive admonishment by the minister. When the time came for the men to accept their punishment, they showed contempt of court by deliberately breaking the stool of repentance and were excommunicated.
Image

Detail from Mauchline kirk session minutes, 1675
National Records of Scotland, CH2/896/1 page 47
If a 'dead-end' has been reached through other genealogical material, kirk session records may have recorded that an ancestor lived in the parish, because they were a communicant, he or she needed financial support or they were admonished for their anti-social behaviour. Importantly for family history researchers, the kirk session was a central body in providing poor relief to the members of the parish. It often sought to determine who the father was of a child born outside marriage in order to confirm whether the parish was responsible for financially supporting the mother and child, or whether the father could be held accountable.
Jemima Boyd, for example, was born in Crieff to Ann Boyd, a domestic servant on 20th August 1856. Her birth was not registered until the following year and her father's name is not given. Instead, Jemima is described as 'Illegitimate'. The Crieff kirk session minute book for the same year, however, states that 'Ann Boyd…named Peter Kemp as the father of her child'.
Image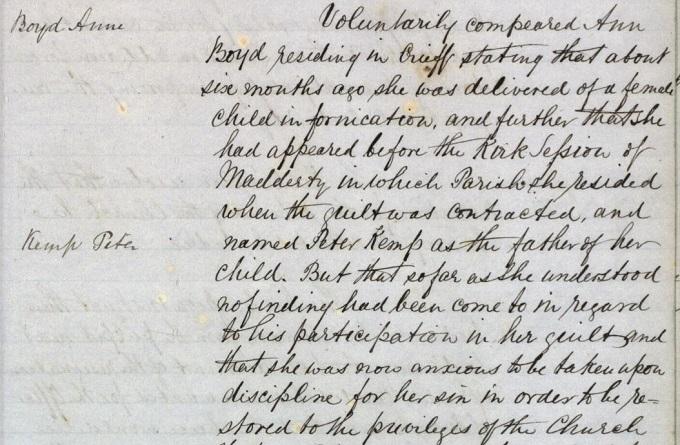 Detail from Crieff kirk session minutes, 8th June 1857
National Records of Scotland,CH2/545/6 page 322
Ann appeared before Crieff kirk session, as that was where her daughter was born, however she also appeared before the kirk session in Madderty where 'she resided when the guilt was contracted'. Peter refused the charge against him. It was recorded in Crieff on 8th June 1857 that following a declaration that her statement was true, Ann was 'solemnly admonished of her sin and expected to lead a virtuous life…[and] was restored to the privileges of the church.' When Jemima died in 1931 her father's name was not included in her death entry, suggesting that Peter did not take responsibility for his child or that they never formed a relationship during her lifetime.
It is always worthwhile searching the corresponding records for the parish where you know a family lived; you might be surprised what you find! Around 6,000 volumes have been released in March 2021, and others will follow in due course.
Unlike other genealogical records on the ScotlandsPeople website, the kirk sessions are not indexed. Instead, you can browse the different volumes using the Virtual Volumes search by reference number, the name of the kirk session or other court, or by place name and view the images for free. If you would like to save an image, the cost is two credits.
For more information about these records, please see the guidance on church court records and kirk session records and using Virtual Volumes on ScotlandsPeople.
If you are new to reading and interpreting kirk session records, you can find help in our guide to reading older handwriting, the Scottish Handwriting website and a glossary of abbreviations, words and phrases.