Introduction
Worker profile: Wilhelmina Hutchison Robertson
Worker profile: Betty Graham Robertson Reid
Worker profile: Mary Manson Mouat
Worker profile: Elizabeth Margaret Ann Cochrane or Bell
Further reading
Introduction
The index cards of the Scottish Women's Land Army (SWLA) and the Scottish Women's Timber Corps (WTC) have been made available online by National Records of Scotland via ScotlandsPeople for individuals born more than 100 years ago. We ploughed through the records to tell the story of a few of its workers.
Image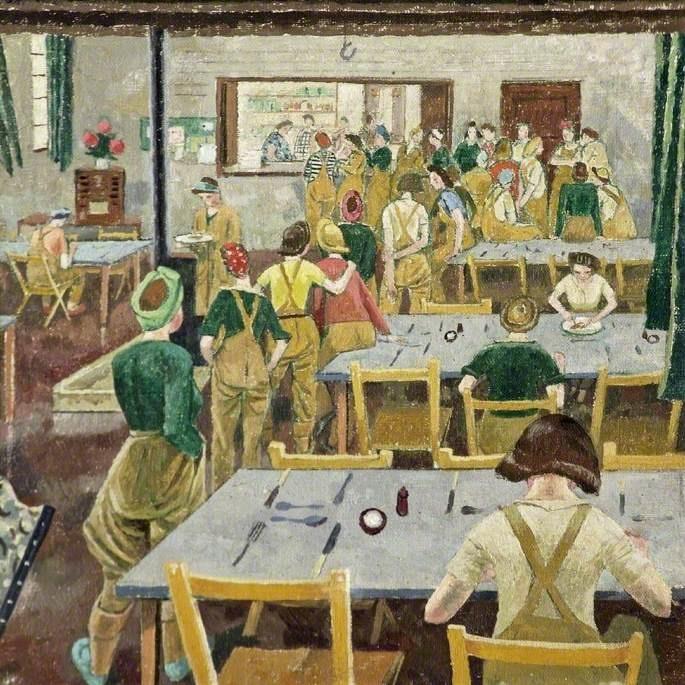 Women's Land Army Hostel by Evelyn Dunbar, 1939.
Image credit: Russell-Coates Art Gallery and Museum. Creative Commons Attribution-NonCommercial-NoDerivatives licence (CC BY-NC-ND)
Worker profile: Wilhelmina Hutchison Robertson
Image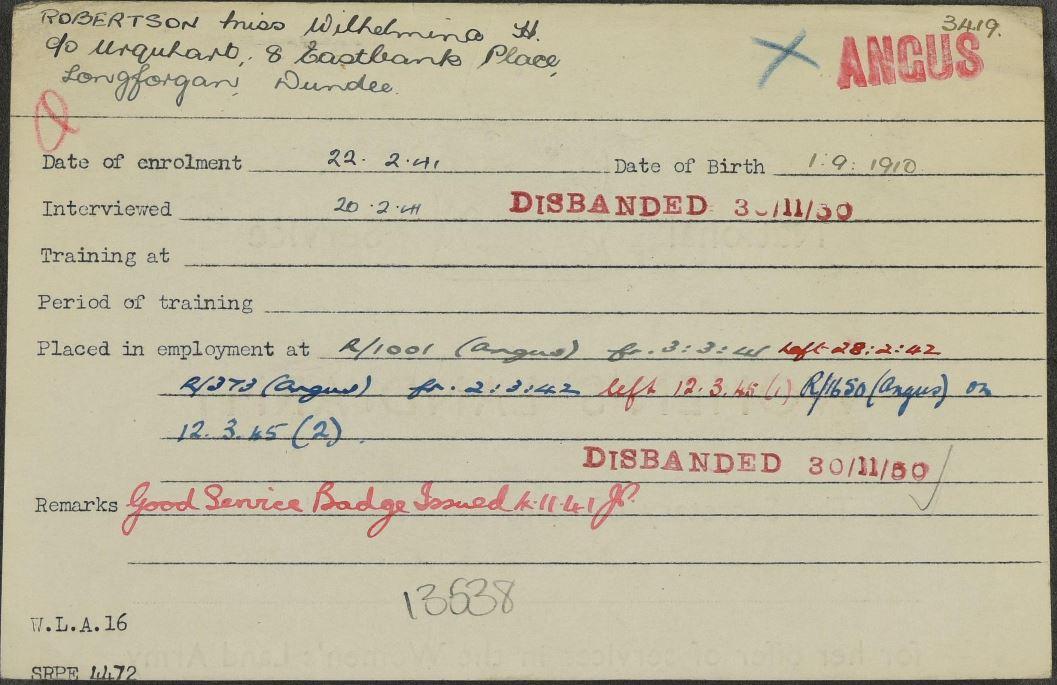 SWLA index card for Wilhelmina Hutchison Robertson, membership number 3419. Robertson worked at a number of sites across the Angus area.
Crown copyright, National Records of Scotland, AF59/285/2 13538
Wilhelmina Robertson is one of only three SWLA members for whom the NRS holds a full service record file, as well as an index card (highlighted above). Only three service files were preserved as a sample from this record set and each one usually includes: Enrolment of Application, Report on Interview, Form of Undertaking (including salary details), forms completed by place of work confirming arrival on site and many letters, stock cards and receipts for SWLA uniform.
The uniform of each worker dressed them from top to toe, which included an SWLA-issued hat down to gum boots. The uniform of each individual was carefully recorded and required to be returned at the end of the wearer's service. Returned uniforms were centrally sorted, cleaned and re-issued to other serving members.
Image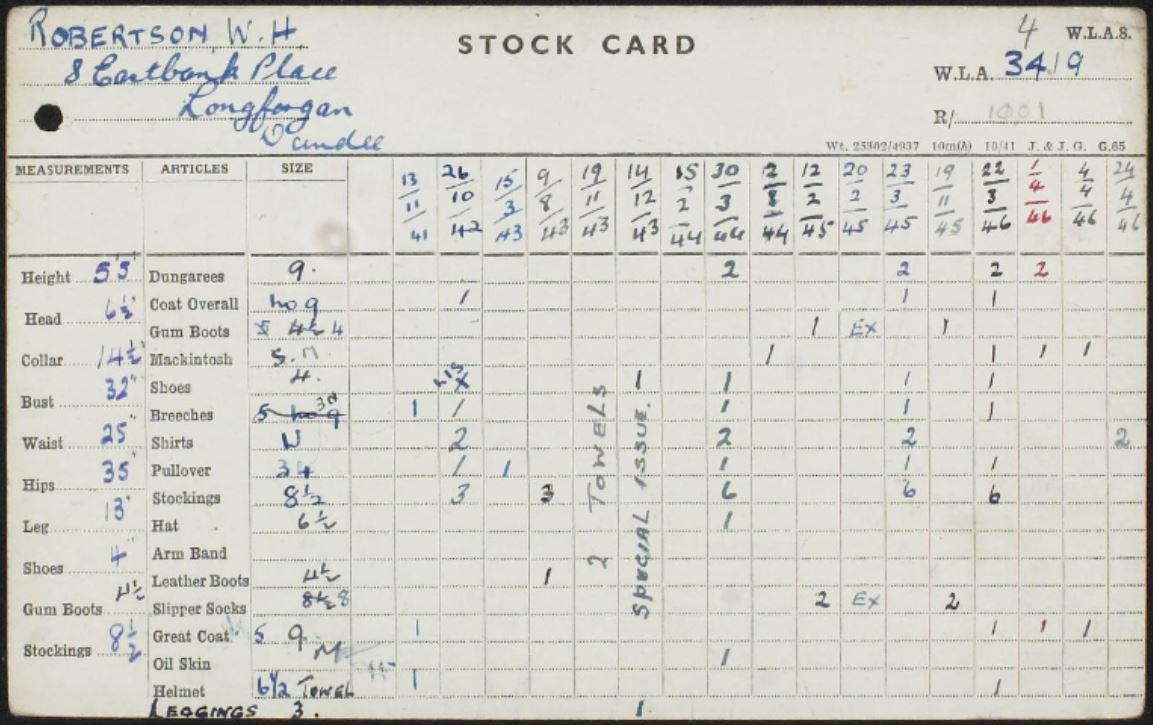 List of uniform given to Wilhelmina Robertson, detailing her personal measurements and issued uniform. This is part of the service record file for Robertson.
Crown copyright, National Records of Scotland, AF59/246
Robertson was from Dundee and had stated that she had gardening experience on her application form. She was posted to Downfield Nurseries in Dundee and lived onsite. On the death of her landlady and accommodation becoming unavailable, Robertson was moved to work at the Glamis Estate in Forfar. The estate included Glamis Castle, which was the childhood home of HM Queen Elizabeth, The Queen Mother. Robertson worked at three separate sites across Angus, as noted on her index card.
In a letter dated 27th September 1950, Robertson stated that she intended on remaining at Craigo Gardens in Montrose to carry on her work after the disbandment of the service in November 1950. She also took part in a 'Farewell Parade' for which Robertson sent a postal order for 3/6 as payment for a leather belt which she wished to retain, stating that 'the rest of my uniform is quite presentable' (NRS, AF59/246 page 99).
Robertson died in 1976, aged 66. Her death certificate stated her occupation as 'Estate Gardener (retired)'.
Worker profile: Betty Graham Robertson Reid
Image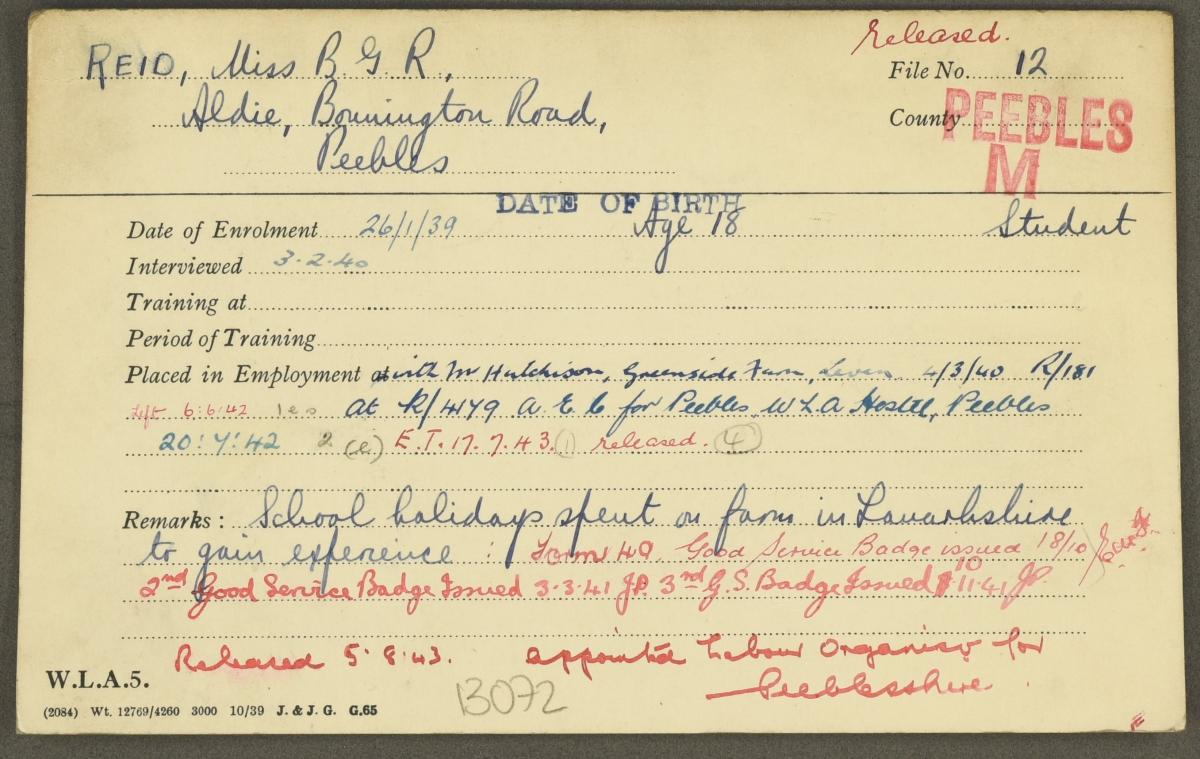 Index card for Betty Graham Robertson Reid, membership number 12.
Crown Copyright, National Records of Scotland, AF59/285/2 13072
Betty Reid was something of a pin-up for the SWLA. A skilled ploughwoman, Reid starred in the Ministry of Information propaganda film entitled 'Land Girl' (1942). Made in Kirkcudbrightshire, the film attempted to address the prejudice women of the SWLA faced, drive recruitment and boost morale. The film depicts Reid giving a faultless display of ploughing and overcoming the sexist attitudes of a belittling local farmer. Reid had previously won ploughing competitions (beating both male and female farm workers) organised by the Young Farmers' Club and Women's Land Army Ploughing competition and received the title 'Champion Plough-Girl of Scotland'.
Reid was born in Dunbar in 1920 and does not appear to have come from a farming family. Her father, Gordon Reid, was a South African musician and composer. Nevertheless, Reid would appear to have a lifelong interest in agriculture. Her SWLA index card noted that while attending Dumfries Academy, she had spent her school holidays on a 'farm in Lanarkshire to gain experience' (NRS, AF59/285/2 no. 13072). After completing her schooling, she began an agriculture course at the University of Edinburgh. Reid was also one of the first women to sign up to the SWLA, enrolling shortly after the organisation was established in January 1939, where she was issued with membership number 12. Reid's index card shows that she was an exemplary member of the SWLA, having secured two good service badges and been appointed 'Labour Organiser for Peeblesshire'.
Reid was released from the SWLA on 5th August 1943 and died in 2019, aged 99.
Worker profile: Mary Manson Mouat
Image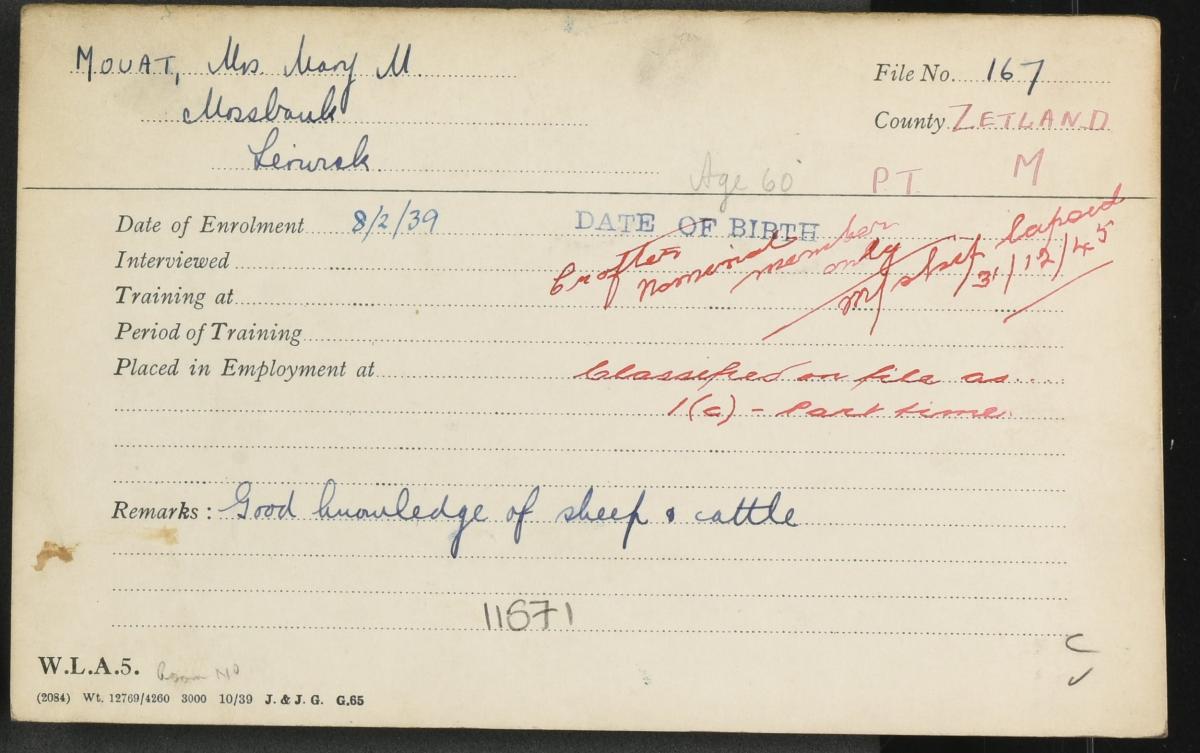 SWLA index card for Mary Manson Mouat.
Crown copyright, National Records of Scotland, AF59/285/2 11571
Mouat was the earliest-born individual located among the index cards who ultimately served with the SWLA. Unusually, Mouat was a part-time SWLA member as noted on her index card, but this was maybe due to her being a member of a crofters association (also noted above). She was also deemed to have 'Good knowledge of sheep and cattle'.
Mary Manson Mouat appears to have been one of the oldest recruits of the SWLA. Mouat's age of 60 years is noted on her card, and we were able to trace her birth entry on ScotlandsPeople:
Image

Mary Manson Thomason was born 17th January 1878 in Northmavine, Shetland, making her 61 years and 19 days when she enrolled into the SWLA on 8th February 1939.
Crown copyright, National Records of Scotland, Statutory Register of Births 1878, 008/8 page 3
Mary Thomason, dressmaker, married Malcom Mouat, a Merchant Seaman in Shetland in 1897. They had two children, Petrina Jane Mouat, born 1899, and a son, George John Thomason Mouat, born in 1902. Moaut died in Shetland in 1951, aged 73.
Worker profile: Elizabeth Margaret Ann Cochrane or Bell
Image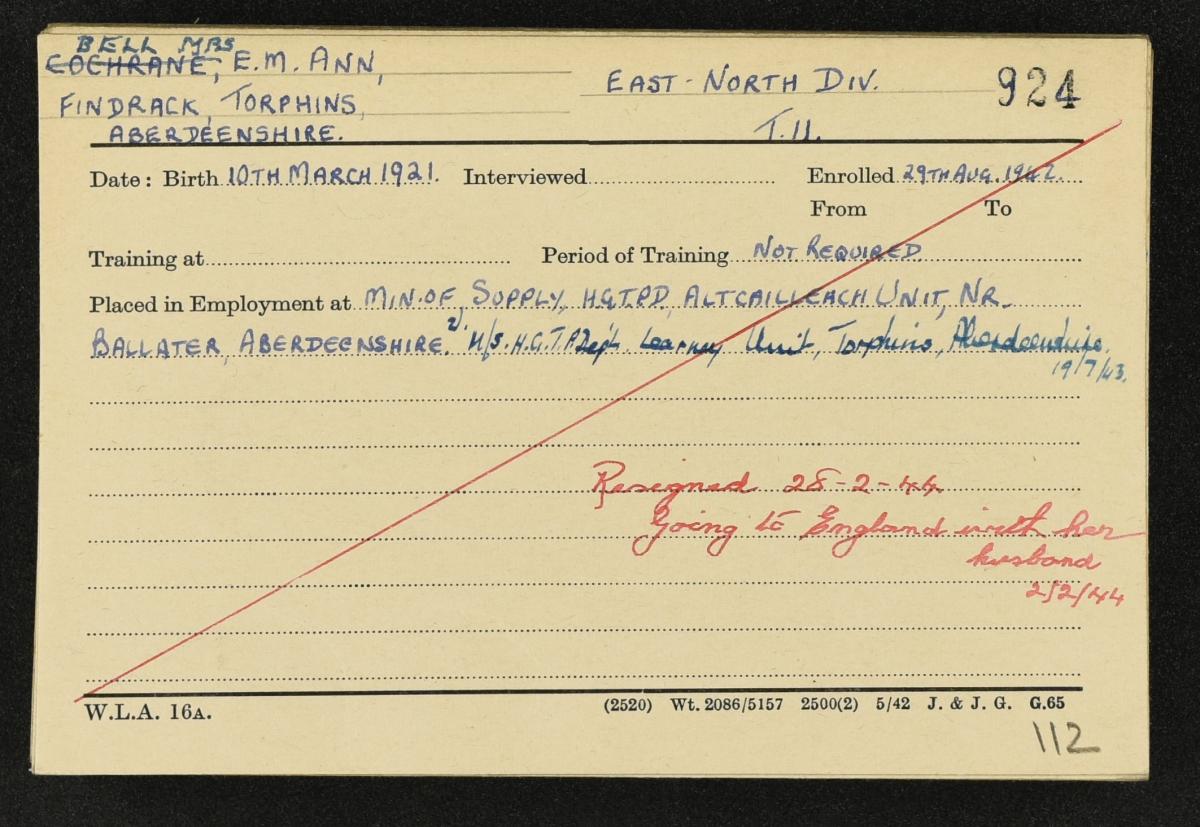 Scottish Women's Timber Corps index card for Ann Cochrane or Bell.
Crown copyright, National Records of Scotland, AF59/285/1 112
Elizabeth Margaret Ann Cochrane enrolled into the Scottish Women's Timber Corps (WTC) on 29th August 1942 and did not require training. It appears from her index card that she was placed at two locations to work in Aberdeenshire. The work of the WTC was considered far more physical and strenuous than that of the SWLA. The types of work carried out included tree felling, snedding (trimming the side shots and branches from a felled tree), cross-cutting, loading timber onto bogeys and the measuring of timber. Their tools were axes and chain saws and many of the workers succumbed to the physicality of the work, resigning on medical grounds.
Cochrane married Horatio Arthur Digby Bell, Captain in the Royal Marines at Aberdeen in 1943 while serving with the WTC. The surname of 'Bell' is inserted on the index card, along with her new title of 'Mrs'. She left the Timber Corps to live with her husband in England in 1944. At the time of their marriage, Captain Bell's usual residence was noted as being in Alverstoke, near Portsmouth (Statutory Register of Marriages 1943, 168/3 495 page 248).
Further reading
For more information on searching the SWLA/WTC records on ScotlandsPeople, and what they contain, please see our SWLA record guide.
You may find the handwriting in these records difficult to read. Look at the guides on unfamiliar words and phrases, and search the glossary for assistance with abbreviations, legal terminology, occupations and other unfamiliar words.