We are pleased to announce that the records of almost 10,000 women who served with the Scottish Women's Land Army (SWLA) and Women's Timber Corps (WTC) from 1939 to 1950 have been digitised and are now available online to search and view on ScotlandsPeople. These records are a valuable source for tracing an individual's service and gaining a wider perspective on the work of the SWLA and WTC.
Replacing men who had joined the forces during the Second World War, these women played a vital role in the war effort. They contributed to the production of food and kept vital industries supplied with timber during the war and its immediate aftermath.
The records of the SWLA and WTC will be of particular interest to family historians hoping to learn more about the role their relatives played in the Second World War. Each card can give insight into the training given to new recruits, where they worked and reveal why they left their post. The records can be searched by name, year of birth and service branch.
Image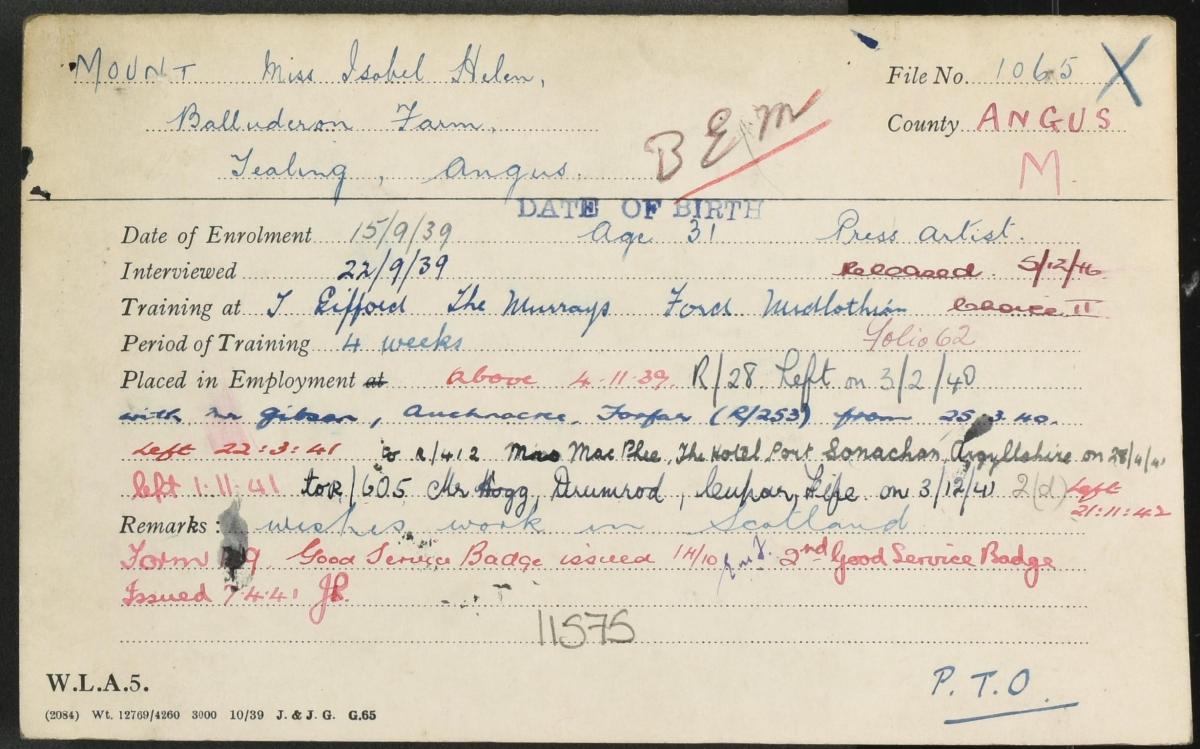 Example of a SWLA index card. Isobel Helen Mount's card, which details her previous occupation as 'Press Artist'. The card also denoted that Mount was awarded the British Empire Medal ('BEM' is written at the top of the card) in June 1946.
Crown copyright, National Records of Scotland, AF59/285/2 11575
This is the first of a schedule of online releases of nearly 20000 SWLA and WTC records held by the National Records of Scotland. The initial release of 9719 entries consists of SWLA and WTC members born in or before 1922. On 1 January 2024, entries for individuals with a birth year of 1923 will be released and we will continue releasing records annually until the entire collection is available to view.
For more information about these records please see the guidance on the Scottish Women's Land Army records and our feature article profiling the lives of some of its members.