Scottish prison registers held by National Records of Scotland (NRS) have been added to ScotlandsPeople for the first time. The admission entries of thousands of prisoners have been indexed and can be searched using the prison registers search page. People from a broad range of backgrounds can be found in the prison registers and there is a wealth of information in these volumes for the genealogist and social historian alike.
The first set of released records concern admissions to Perth Prison between 1867-1879 and 1888-1921 which can be searched for free on ScotlandsPeople and the images viewed and downloaded for a small fee. This equates to over 50,000 indexed entries for Perth Prison over this period and includes details of both male and female prisoners.
These fascinating records were created and maintained by Perth Prison staff who recorded the personal details of each prisoner upon their arrival. The registers include details of their name, usual address, date of admission, trial court, offence and sentence. The records also note the liberation or removal date where applicable. We plan to add more volumes for different prisons to this collection over time.
Image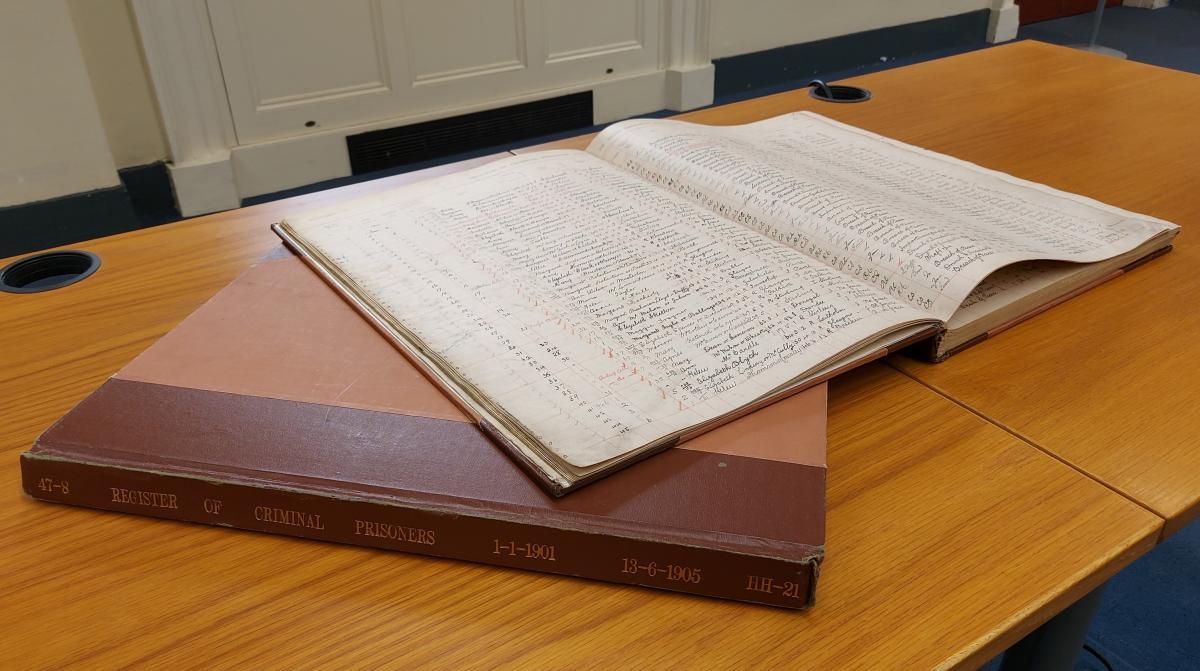 Two Perth Prison registers from the turn of the last century, now held by the National Records of Scotland.
Crown copyright, National Records of Scotland
The physical volumes of the registers are now preserved by NRS and are predominantly large in size. They would have been cumbersome for the prison staff to handle on a daily basis. The size of the volumes and the amount of information recorded for each prisoner accounts for entries to be written over the course of two pages in the register. When you view these pages on ScotlandsPeople, you are able to zoom in and move around the page as desired. A new feature on ScotlandsPeople, utilised for the first time with prison registers, is the 'More details' function. To the left of each individual search result is an eyeball symbol. Clicking on this enables you to view additional index details for each prisoner, which cannot fit onto the main search results screen.
Image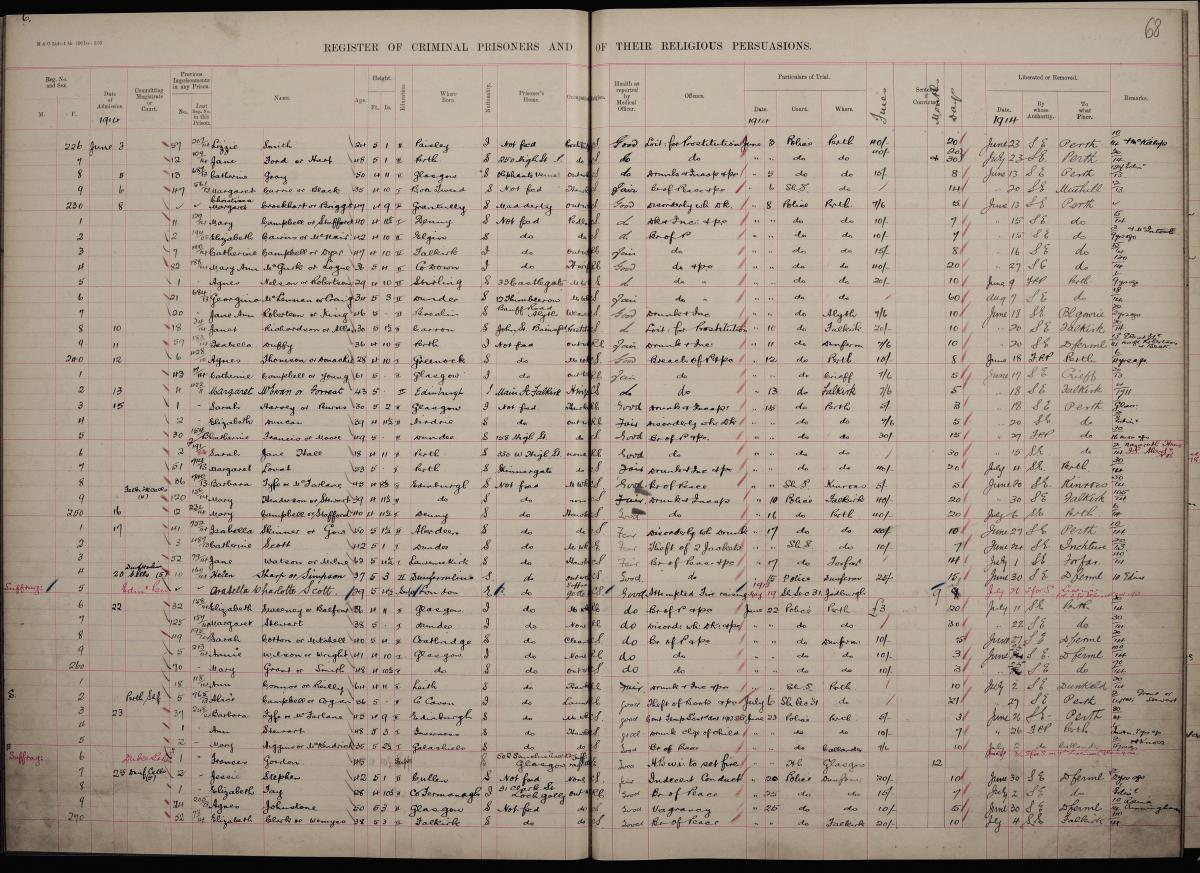 An example of the double page spread layout of the registers from Perth Prison register (females) for June 1914.
Crown copyright, National Records of Scotland, HH21/47/14
These pages are from the Perth Prison register for female prisoners admitted between July 1910 and October 1916. Perth Prison held large numbers of women prisoners so kept a separate register for males and females. In the case of small prisons, female prisoners were often listed towards the end or the second half of the men's admission registers. There are notable admissions on the pages above for two 'suffrag:[ettes]', which are annotated in the first column in red ink by the prison staff:
Image

Detail from Perth Prison register for June 1914. Red ink notes the reception of two 'suffrag:[ettes]', namely Arabella Charlotte Scott on 22 June and on the 25 June Francis Gordon.
Crown copyright, National Records of Scotland, HH21/47/14 page 68
 
Image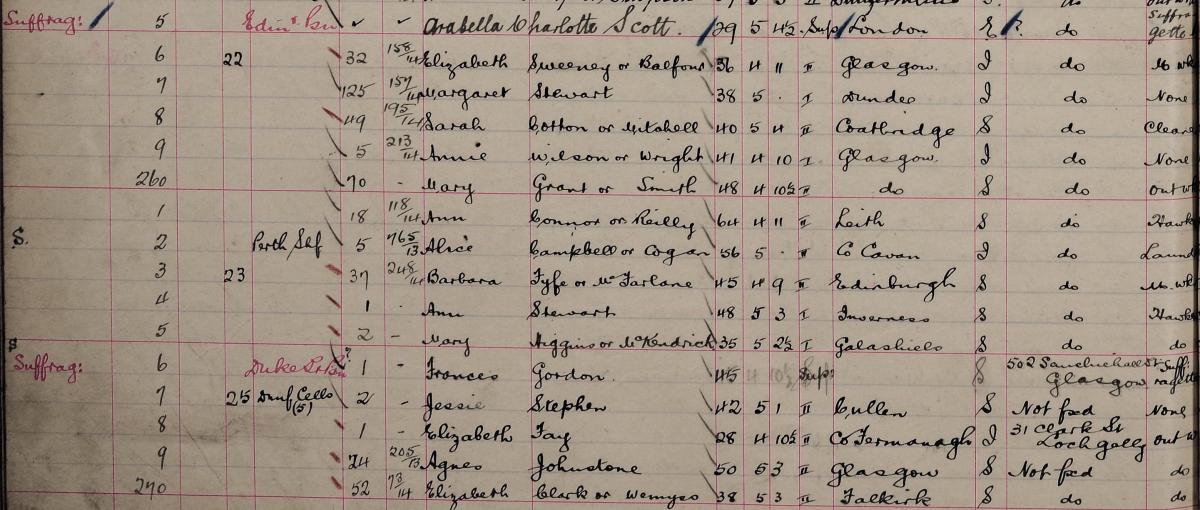 Detail from left hand page of the Perth Prison Register for June 1914.
Crown copyright, National Records of Scotland, HH21/47/14 page 68

It is likely that Arabella Charlotte Scott and Frances Gordon were moved to Perth Prison as it had the medical facilities to force feed female prisoners on hunger strike. Their liberation or removal details in the last column on the right are also recorded in red ink which sets them apart from their fellow prisoners. You can learn more about Scott's story and her incarceration by reading our feature article on Perth Prison.
The registers are presented in chronological order, and on this page we can view prisoners admitted on the preceding and following days to Scott and Gordon. One of the prisoners admitted before Gordon on the 23rd June 1914, was Mary Higgins or McKendrick, charged with breach of the peace. The first recorded surname, Higgins, would have been her maiden name, and McKendrick her married name as per the Scottish method of recording female surnames. McKendrick was incarcerated a long way from her recorded place of residence in Galashiels. Often prisoners were sent to prisons far from their family and friends as additional punishment. It would seem unlikely this was the case for McKendrick, as she was convicted of a relatively trivial offence, but it worth noting that McKendrick had two previous convictions on her record.
In the male registers, we find David Mustard Hobbs charged with the curious crime of 'Sinking Ships to defraud', recorded in the Perth Prison register for February 1894. Working as a ship broker, Hobbs procured a number of ships in 1891 and 1892, insuring them and their cargo for extortionate amounts. He then instructed the ships' masters to overload the ships and to bore holes below the ship's watermark in order to deliberately sink them. Joseph Severn, tried alongside Hobbs, was master of the ship called the 'Tryst' and other vessels owned by Hobbs. Severn was charged with actually carrying out the scuttling of the 'Tryst'.
The men were tried in July 1893 and both entered a not guilty plea. However the case against them was rather more watertight than their vessels: 117 witnesses gave evidence against them. Hobbs and Severn made a second appearance in August that year at the High Court in Edinburgh before Lord Kyllachy. This time they admitted to scuttling the vessels 'William and Mary' and 'Gretgelina'. After further witnesses were located, they appeared in court for the third time in January 1894 relating to the sinking of the 'Tryst'. Hobbs and Severn were sentenced to seven years and five years respectively. Fortunately, no lives were lost in the course of their crimes.
Image

Entry for Joseph Severn and David Mustard Hobbs (detail below) reception at Perth Prison on 22nd February 1894.
Crown copyright, National Records of Scotland, HH21/47/6 page 94
 
Image

Detail of entry for Joseph Severn and David Mustard Hobbs showing criminal charges and sentencing.
Crown copyright, National Records of Scotland, HH21/47/6 page 94

From looking at the prison registers we learn that both men were removed to Peterhead in Aberdeen, a prison with a terrifying reputation, to finish their sentences.
These glimpses into the registers provide an insight into the kind of information that can be gleaned from prison admissions records and we hope this has sparked ideas for research. For more information about prison registers and how to search them, please see our guide on prison registers on ScotlandsPeople. We have also produced a feature article on Perth Prison which includes a brief history of the prison and profiles of selected prisoners.
We have also updated our glossary of abbreviations, words and phrases to include terms found in the prison registers.