The day before James Valentine Hagart and Amelia Straton were married in Perthshire, on 16th April 1833, an ante-nuptial contract was signed by the bride and groom. It declared that Glendelvine, the entailed estate in Amelia's possession, would be assigned to her as liferent should she survive her husband. Upon her death, the estate would be split equally amongst any surviving children.
Image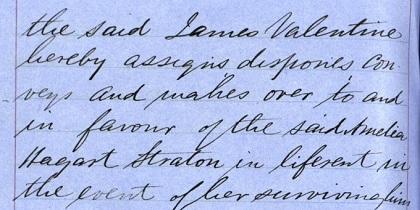 Detail from James Valentine Hagart's will granting Amelia liferent should she survive him
Crown copyright, National Records of Scotland, Wills and Testaments, SC70/4/125 page 760
Amelia Straton, the youngest daughter of Isaac Straton, Esquire, a landowner in Perthshire, had inherited Glendelvine estate from her uncle. Her fiancé, James Valentine Hagart, was the son of an excise supervisor, a solicitor at the Supreme Courts, Edinburgh.
Image

James and Amelia's wedding entry in the Old Parish Register, Caputh, 1833
Crown copyright, National Records of Scotland, Old Parish Register of Marriages, Caputh, 337/50 273
James and Amelia settled in Edinburgh, first at Inverleith Row. By the date of the 1851 census, they had eight children and lived with five servants. They later moved into another property at 19 Clarendon Crescent.
Image

A detail from the 1851 Census recording the Hagart family living in Edinburgh. Their youngest child, Francis, was born the following year.
Crown copyright, National Records of Scotland, 1851 Census, 685/2 215 page 21
James developed a successful career as a writer to the signet at Hagart & Burn-Murdoch W.S., 140 Princes Street, Edinburgh.
Amelia owned houses and farmland in the county of Perth, which are recorded in the valuation rolls (records of property ownership compiled for collecting local taxation).
Image
Detail from the 1855 valuation roll listing a selection of the properties owned by Amelia.
Crown copyright, National Records of Scotland, 1855 Valuation Roll, Perth County, VR113/1/205
On 14th August 1869, James died from long-term heart disease and was survived by his wife.
Image

Detail from James Valentine Hagart's death entry.
Crown copyright, National Records of Scotland, Statutory Register of Deaths, 1869, 175/11 page 4
On the day of his death, his property and money passed to Amelia to be held under her possession for the remainder of her life. 
Image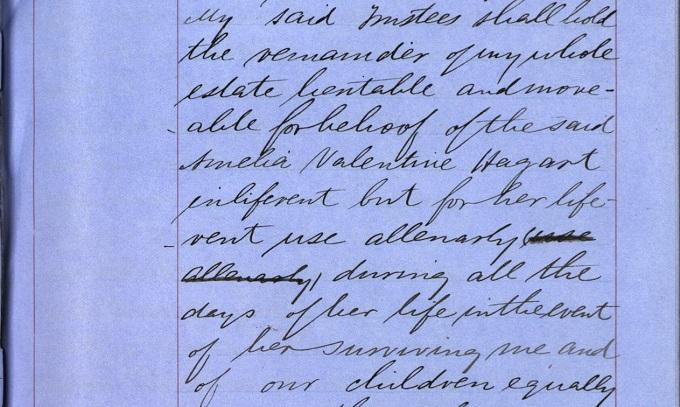 Detail from James Valentine Hagart's will granting Amelia control over the family estate 'during all the days of her life'.
Crown copyright, National Records of Scotland, Wills and Testaments, SC70/4/125 page 745
On 6th January 1870, The Perthshire Advertiser reported that 'Mrs Amelia Valentine Hagart of Glendelvine…has presented a petition to the Lords of Council and Session… for authority to Disentail of the said Lands and Estate of Glendelvine and others in the County of Perth.' The estate at Glendelvine was sold to Sir Alexander Muir Mackenzie, Bart., of Delvine. 
The profits from the sale were used to settle debts with the consent of the three eldest sons of the marriage. Following the payment of debts, £22,000 remained from the sale in Amelia's control. The National Archives' currency converter suggests that in 2017 this would have been equal to approximately £1,377,398.
As the years passed, the children became anxious that the funds due to be passed to them on the event of their mother's death should be advanced. In 1894, when Amelia was 86 years old, six of her seven surviving children presented a petition to the court to sequestrate the estate and to appoint a judicial factor to hold and administer them. Her son, Francis, refused to be part of this action. The petition was rejected.
On 23rd October of the same year, the children, excluding Francis, again appealed to the court stating that that their mother 'had no right or power after the decease of her husband.' The children also claimed that their father had left an estate worth greater than the value of his debts and were entitled to a greater inheritance than Amelia was due to leave them. They stated that their mother's 'health was impaired, and her mind weakened and rendered facile by age, and that she had been for some time completely subservient to the will of her…son [Francis], a man of loose and disorderly habits, who gained a dominating influence over her, which he used to obtain large sums of money from her… 'largely in excess of the sum to which his just share in the estates of his parents could possibly amount,… to the reduction of the capital in which her whole children are entitled to share equally.'
The children argued that the estate was to be divided equally amongst them all and their mother had no legal basis to alter the division of the funds by favouring one child and passing on a greater share to one child.
Amelia responded that her husband's property had been 'swallowed up in paying his debts, and that the whole remaining estate belonged to her, and had been dealt with as her absolute property.'
The court issued an opinion that 'under the deeds that they are found on, they [the children] do not and cannot pretend that their right is anything higher than a right to participate equally in whatever estate Mrs Hagart may leave at her death… [and] she maintains that, during her life, she remains the uncontrolled mistress of her estate and may dispose of it by gift or otherwise as she pleases'.
Lord Stormonth-Darling, in the Outer House of the Court of Session, held that the pursuers were not entitled to any money from the estate during their mother's lifetime and that they would receive what belonged to her at the time of her death.
Amelia died at her home, 19 Clarendon Crescent, on 9th August 1899 aged 91. Her youngest son, Francis, a chartered accountant, had died two years earlier and had been declared bankrupt. The Dundee Advertiser, on 25th December 1899, reported that in memory of Amelia's life, her son James donated two brass lamps to Caputh Church in the parish where she was born. An interesting action, considering his behaviour towards his mother during her life, but this was perhaps done to maintain appearances in society.
Image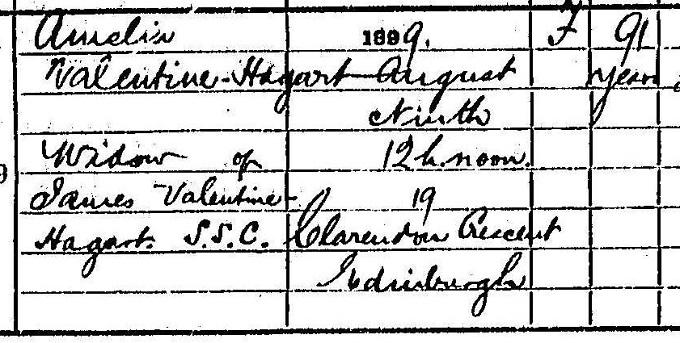 A detail from Amelia Valentine Hagart's death entry
Crown copyright, National Records of Scotland, Statutory Register of Deaths, 1899, 685/1 849 page 283
Image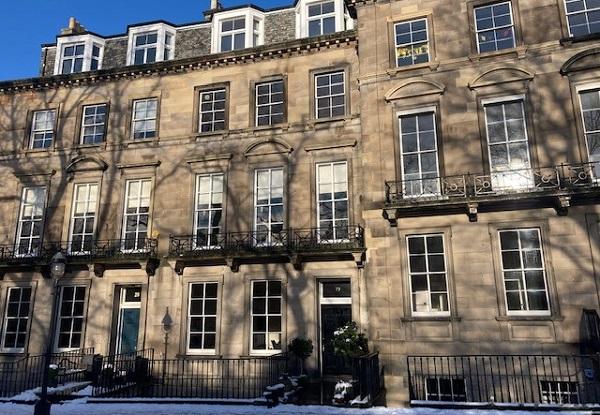 Amelia's home at 19 Clarendon Crescent, Edinburgh
Crown copyright, National Records of Scotland
For further information on statutory registers, valuation rolls and wills and testaments please see our online guides.