The soldiers' wills in ScotlandsPeople throw new light on the Scottish troops who took part in Market Garden, the Allied airborne and land assault in September 1944. The stories of three men are told below, and you can read a list of the wills of seventy men in the British airborne attack (Market), and others who fought in the ground assault (Garden).
Image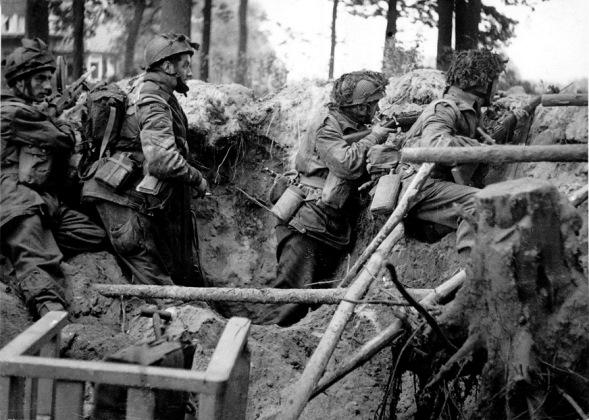 British airborne troops in a bomb crater at Arnhem, 17 September 1944
National Records of Scotland, NSC1/394/50
Beginning on Sunday 17 September a vast aerial armada flying from England delivered the greatest airborne assault in history. Almost 12,000 parachute and glider-borne troops landed to seize the bridge over the Rhine at Arnhem in Holland. Over nine days of fierce fighting the 1st Airborne Division, aided by the Polish Parachute Brigade, struggled to reach and hold the bridge against relentless and ultimately successful counter-attacks by crack German troops. To the west of the town the British forces  defended a shrinking perimeter of ground, an action in which the only Scottish unit, 7th Battalion of the King's Own Scottish Borderers, played a vital part.
Meanwhile, American airborne troops seized bridges around Eindhoven and at Nijmegen to the south, while British armoured and infantry divisions attempted to force their way up the road to link up with the airborne troops holding the bridges. They could not relieve the forces at Arnhem – famously described as 'a bridge too far'.
Image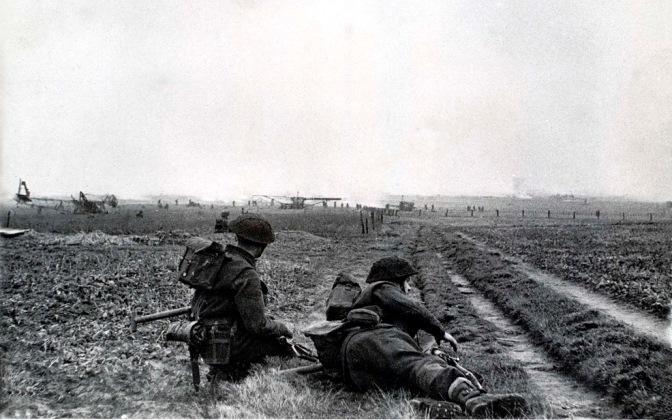 British infantrymen near Nijmegen, September 1944
National Records of Scotland, NSC1/394/61
On the night of 25-26 September about 4,000 airborne troops escaped to safety over the river near Arnhem. Over 6,500 were either captured or were left attempting to evade the Germans, which some of them did successfully. Operation Market Garden had failed, and almost 1,400 men of the 1st Airborne Division had lost their lives.
The accompanying list includes men we have identified who died during Operation Market Garden and related actions between 17 September and early October. It does not include all those who fell in operations elsewhere in Belgium and Holland in autumn 1944. The wills are all of NCOs and other ranks, except for two of officers. If you have information to share about the men listed, we would like to hear from you.
Below we highlight some examples from the 70 Arnhem wills, with special thanks to family members who have generously contributed information and photographs. Learn more about the Soldiers' Wills on ScotlandsPeople. Useful websites about Market Garden and the men who fought in the operations are The Pegasus Archive and Para Data.
Corporal Mark Borland, 11th Battalion, Parachute Regiment
He was born in Airdrie in 1915, one of the eldest of ten children. Four of his five brothers served in and survived the war. In January 1940 he was a private in the Cheshire Regiment when he made his will out to his father Joseph, a coal miner. It is likely he was about to be deployed to France as part of the British Expeditionary Force. His father died in 1941, and having joined the paratroops, in January 1944 Mark Borland married Jean Miller, a local munitions worker, in Airdrie. On 18 September he flew as part of the reinforcements being dropped at Arnhem on the second day.
According to information provided in 2014 by Rachel Barber, a member of his family, his C-47 Dakota aircraft was hit by anti-aircraft fire before it reached the drop zone. Although Borland was seen to jump clear, he did not survive, and lies buried along with seven other members of his unit at Wageningen Cemetery, west of Arnhem. He was 29 years old.
Image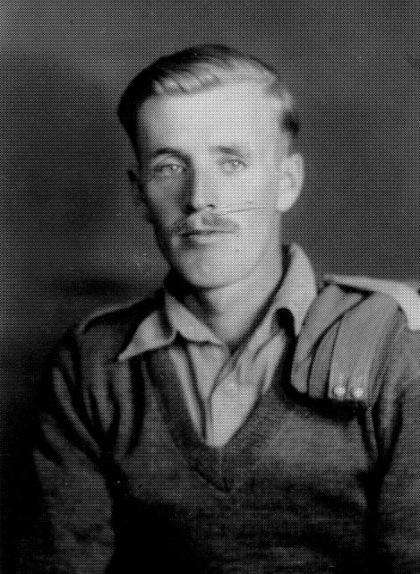 Corporal Mark Borland, 1940s
Courtesy of Rachel Barber
Image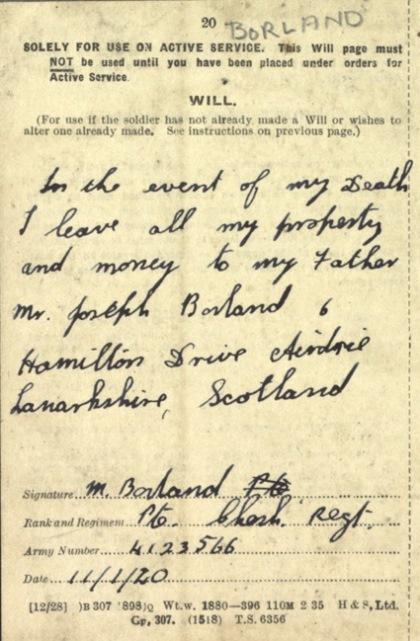 Mark Borland's will, 11 January 1940
National Records of Scotland, SC70/8/1335/520
Private John Fisher, 7th (Airborne) Battalion, King's Own Scottish Borderers
John Fisher was born in 1924 the son of John Fisher, and his wife Christina.  By January 1944 he was serving in 7th Battalion, KOSB.  He signed his will in favour of his mother in Glasgow, and it was apparently written and witnessed at Ipswich Golf Club.  At Arnhem Fisher fought in No. 13 Platoon of, D Company, commanded by Major Gordon Sherriff and he probably died defending the KOSB's sector of the perimeter in or near the 'White House' in Oosterbeek, on or shortly after 20 September.
Image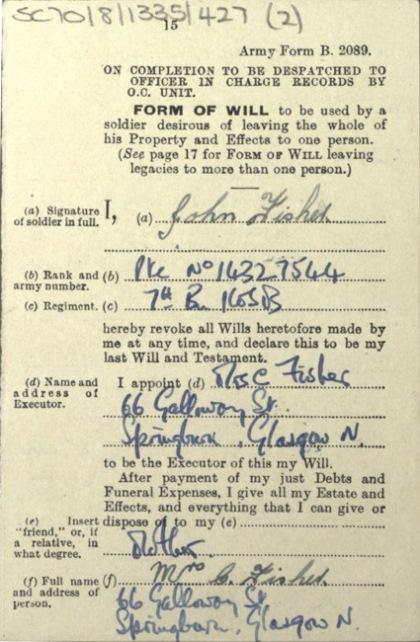 John Fisher's will, 24 January 1944
National Records of Scotland, SC70/8/1335/427
Corporal John Ruddy, 2nd Battalion, Parachute Regiment
Born in 1922 in Govan, John was the son of John Ruddy, a riveter, and his wife Maria Beattie. By September 1942 John was a private in the 2nd Battalion, the Parachute Regiment, and may have seen action in North Africa under Lt Col John Frost. In 1942 two comrades witnessed his will, in which he left everything to his mother. By 1944 Ruddy had been promoted to corporal and got married to Sarah Jeffrey, a Private in the Auxiliary Territorial Service, in Blythswood, Glasgow. At Arnhem, Frost's men suffered heavy losses in taking and holding the north end of the bridge, while detached units of the battalion were overwhelmed before they reached there. John Ruddy died on 21 September, aged 22. Information from his family indicates that he had already been captured by the Germans.
Image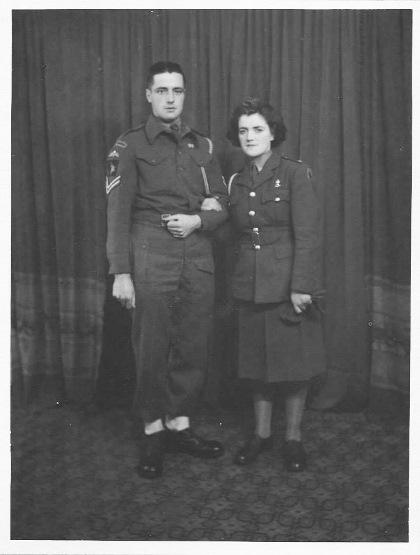 Corporal John Ruddy and his wife Sarah Jeffrey on their wedding day, 29 January 1944
Courtesy of Stuart Ruddy
Image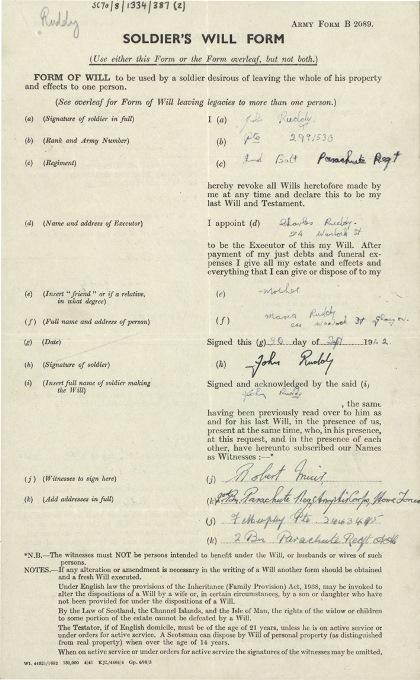 John Ruddy's will, 30 September 1942
National Records of Scotland, SC70/8/1334/387
For more information please see our guides on soldiers' and airmen's wills and wills and testaments.