Henry Duncan Littlejohn was born at 33 Leith Street, Edinburgh, on 8th May 1826, the seventh of nine children to Thomas Littlejohn, master baker and burgess of Edinburgh, and his wife Isabella Duncan. He began his education at Perth Academy before attending Edinburgh High School from 1838 to 1841. In his final year of High School, Henry was enumerated in the Scottish census living at home at 2 Elder Street, Edinburgh, aged 15. His mother, Isabella, the head of the household, was receiving a yearly payment (an annuity) to support herself. Also at home were his siblings Rachael, Thomas, Helen, Maria and Isabella.
Image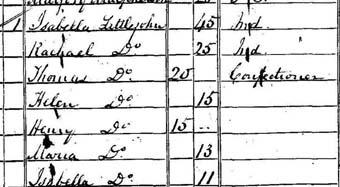 Detail from the 1841 census enumerating the Littlejohn family
Crown copyright, National Records of Scotland, 1841 census, 685/1 7/1
The census came just three months after the death of Henry's father, Thomas, who died aged 53 years old from decline. He was buried in the new south burying ground at St Cuthbert's Church, Edinburgh. The family paid £27 for his plot and an additional 12 shillings 6 pence to erect a monument to him (NRS, GD1/895/6/3). His son Thomas took over the family business.
Image
Detail from the death entry of Thomas Littlejohn, 1841
Crown copyright, National Records of Scotland, Old Parish Registers Deaths, 685/2 510 page 61
Henry Littlejohn studied medicine at the University of Edinburgh, graduating in 1847. That year he also became a licentiate of the Royal College of Surgeons and trained as a house surgeon at the Edinburgh Royal Infirmary before travelling in Europe.
Throughout the 1850s, Littlejohn gained experience in his field, working as a pathologist as well as in general practice. In 1854 he was admitted as a Fellow of the Royal College of Surgeons. Two years later, he became a lecturer in medical jurisprudence at Surgeon's Hall, Edinburgh.
Littlejohn married Isabella Jane Harvey on 6th August 1857 in London. The couple had three sons and 10 daughters. By the 1861 census Littlejohn was living with his wife, two young children Isabella and Jessie, and three servants at 40 York Place, Edinburgh.
Image

Detail from the 1861 census enumerating the Littlejohn family at 40 York Place, Edinburgh
Crown copyright, National Records of Scotland, 1861 census, 685/2 44 page 8
Littlejohn had already achieved a great deal before his 30th birthday, and in 1854, he was also tasked with undertaking the role of Police Surgeon for Edinburgh. He held this post until September 1862, when it was combined with the newly created position of Medical Officer of Health, in which he remained for 46 years until his retirement in 1908. The prospect of this dual employment was a concern to members of both fields who felt that undertaking these two important and demanding jobs was more than one person could reasonably manage on their own. Littlejohn, however, showed an excellent ability to professionally and thoroughly lead both responsibilities.
Littlejohn also led investigations into the poor sanitary conditions in Scotland, including Wick in 1859 and, subsequently, Edinburgh. He was acutely aware of the correlation between the filthy living conditions that the population existed in and the outbreaks of deadly epidemics. His Report of the Sanitary Condition of Edinburgh, published in 1865, was a highly comprehensive study of housing conditions, closes and tenements and proved the link between poverty, unsanitary living conditions and the death rate. This led to a project to improve the Old Town of Edinburgh by creating 19 sanitary districts, demolishing the worst slums and improving hygiene, water supply and waste disposal. This became a model for many similar works of the same kind both at home and abroad. Littlejohn's report encouraged the passing of the Edinburgh City Improvement Act, which received the Royal Assent in May 1867. These efforts, together with the establishment of a hospital for the treatment of epidemic diseases helped to save many lives. His services in this field were recognised when Queen Victoria conferred a knighthood on him in 1895.
Leading up to his appointment as Medical Officer of Health, he had also appeared in the summary courts to provide evidence in cases being heard. In 1855 he also began to advise at the High Court, beginning his career in forensic science and criminal investigation. As part of this role, he advised on deaths in railway accidents, murder and child murder, quickly becoming an authority in these types of cases. He advised on one of the most infamous cases of the 19th century the trial of Dr Edward William Pritchard for the murder of both his wife and mother-in-law. He considered himself to be a medical detective using newly emerging techniques such as fingerprinting, photography and comparing bite marks to solve mysteries. Littlejohn also often wrote about forensic cases in the Edinburgh Medical Journal, of which he had been its first editor from 1855 until 1860.
Littlejohn was also one of the original team of four doctors at the Royal Hospital for Sick Children, which first opened in 1860, receiving a royal charter in 1863. He was involved with the hospital in various roles, including as director, which he did for free.
The Littlejohn family moved from York Place to 24 Royal Circus, Edinburgh. The 1881 census enumerates those staying at the address; 53 year old Henry D. Littlejohn, Lecturer at Surgeon's Hall, Medical Officer of Health, with his wife Isabella and their children Isobel, Jessie, Henry, Helena, Thomas, Beatrice, Winifred, Eveline, Rachel and Dorothy. Six servants also lived at the property.
Image

Detail from the 1881 census recording the Littlejohn family
Crown copyright, National Records of Scotland, 1881 census, 685/1 103 page 5
Five years later, Isabella Harvey died at home on 3rd May 1886. The cause of death was recorded as rheumatic gout and cerebral thrombosis (a stroke). She was 52 years old.
Image

Detail from Isabella Littlejohn's death entry, 3rd May 1886
Crown copyright, National Records of Scotland, Statutory Register of Deaths, 1886, 685/2 279 page 93
In 1897, Littlejohn was selected to fill the Chair of Forensic Medicine at Edinburgh University, which had recently been vacated by Professor Sir Douglas Maclagan, who was an old friend and Scottish surgeon, toxicologist and scholar of medical jurisprudence. He remained in post until 31st December 1905 when he resigned and was succeeded by his son, Professor Harvey Littlejohn, who had followed in his father's footsteps and was a Fellow of the Royal College of Surgeons and Professor of Medical Jurisprudence at the University of Edinburgh.
At the Surgeon's Hall in March 1907 he was presented by many friends and colleagues with a portrait of himself by Sir George Reid to mark his retirement from the Chair of Forensic Medicine at the university. On receiving the portrait, Littlejohn commented that he had been uneasy at the idea of having his portrait done and 'remembered the agony of the photographer's studio'. It was to his relief, however, that the artist made the twelve visits to the studio pleasurable and he was proud to own it and pass it down to his family. It was bequeathed to National Galleries Scotland in 1927.
Image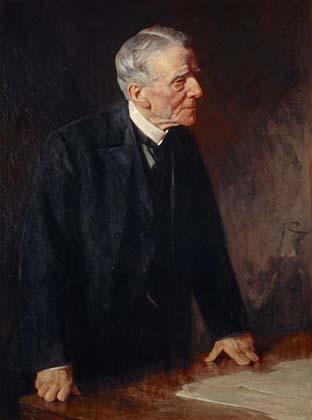 Sir Henry Duncan Littlejohn, 1826-1914. President of the Royal College of Surgeons, Edinburgh.
Shared under Creative Commons, National Galleries Scotland.
On 16th June 1908, Dr Williamson, who had been a pupil of Littlejohn, was elected by Edinburgh Town Council for the post of Medical Officer of Health for the city. In a letter expressing their regret at Littlejohn's retirement, the Medical Board concluded by saying 'The value of this unique record of half a century's strenuous work cannot well be over-estimated'. (The Scotsman, 2nd October 1914).
Sir Henry Littlejohn died at his summer home in Benreoch, Arrochar, Dumbarton on 30th September 1914.
Image

Detail from the death entry of Sir Henry Littlejohn, 30th September 1914
Crown copyright, National Records of Scotland, Statutory Register of Deaths, 1914, 492/4 page 2
His personal and moveable estate in the United Kingdom was valued at £26,624 (NRS, SC70/1/559 page 46). According to The National Archive's currency converter, this is the equivalent today of around £1.5 million. Amongst the instructions in his will, Littlejohn stated that his son Harvey was to have his portrait and his daughters were to choose any goods from within his properties that they wished to keep. A second inventory was lodged two years later, in 1916, to add in omitted moveable estate in England.
In an obituary to Littlejohn in the British Medical Journal (Vol. 2 No. 2806, October 10 1914) he was described as having 'boundless energy, amazing vitality, a perfect grasp of the psychological moment, and rapidity of the performance which no sooner met with than [he] overcame one after another of the sanitary difficulties of the health conditions of the city of Edinburgh. There is talk already about the raising, when these days of stress are over, of a permanent memorial to Sir Henry Littlejohn; but Edinburgh's low death-rate is his great monument.'