129,445 new online images have been released on the ScotlandsPeople website consisting of just over 207,000 birth, death and marriage register entries. You can search for, view and save images of these entries on ScotlandsPeople.

In 1944 there were 37,111 marriages celebrated in Scotland. This number was 1,066 fewer than the previous year, and 16,411 fewer than in 1940 – the highest number of marriages recorded in one year in Scotland to this day.
There were various ways to register a marriage. The majority - 31,949 - of these marriages, were solemnised by a minister of religion where a publication of notice of marriage or the proclamation of banns had been read.
The Marriage (Scotland) Act 1939, which came into operation in July 1940, abolished irregular marriages and introduced a new form of civil marriage. This could be contracted in the office of a Registrar. There were 5,146 civil marriages in Scotland in 1944. In certain situations a Sheriff's licence could also be granted, where exceptional or unforeseen circumstances had excused the couple of being unable to secure a proclamation of banns.
Marriage could also be contracted by the Court of Session by issuing a Decree of Declaratory. This was a formal recognition of marriage 'by cohabitation with habit and repute' – there were 16 instances of this in 1944.
A small number of these wedding days were shared by family members who chose to get married on the same day. Here we look at two examples of these 'double weddings' which have been recorded in the newly released 1944 marriage entries.
The Baird sisters
On 19th May 1944, sisters Muriel Minnie Baird and Jean Baird arrived at St. Ninian's Episcopal Church in Carriden, West Lothian, to marry their fiancés.
Both sisters wore dresses of ivory satin – Muriel's was also decorated with a net layer on top. Both women covered their heads with tulle veils and carried bouquets of double white auricula and red geraniums. One bridesmaid, Clare McClusky, wore pink taffeta covered with pink net, the other, Martha Norton, wore a green floral dress. Both carried bouquets similar to the brides.
The brides were the eldest and second eldest daughters of Mr and Mrs James Baird. Mr Baird, a joiner, gave both of his daughters away.
Muriel married Richard Grant, a shale miner. Jean Baird married Herbert John Norton, a Petty Officer in the Royal Navy.
There was a choral wedding service with hymns including 'O perfect love' and 'Love Divine all Loves Excelling.' The reception took place in the Blackness Hotel with 80 guests.
Muriel wore a two-piece pale blue suit and Jean wore a grey flannel two-piece suit to travel on honeymoon.
Image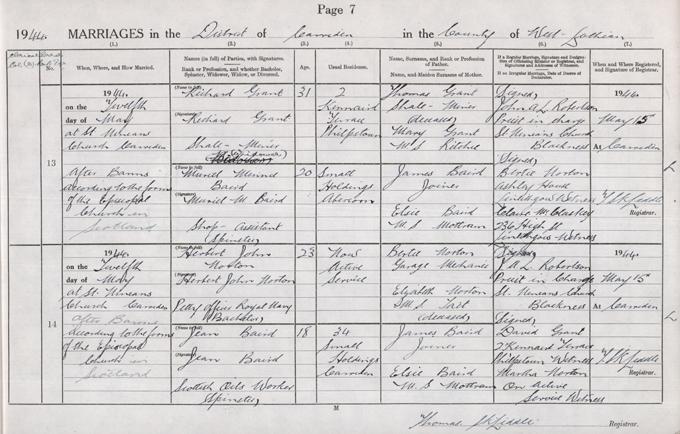 The Baird sister's wedding entries, 12th May 1944
National Records of Scotland, Statutory Register of Marriages, 1944, 663/2 13 page 7.
The Jack sisters
Three months later, on 25th August 1944, two other sisters enjoyed a double wedding at Cairneymount Church, Maddiston in Stirling. Elizabeth Reid Duncan Jack and Mary Duncan Jack were respectively married to Bombardier Victor George Horton, Royal Artillery, and Mr Charles Rodger, a coal miner.
Elizabeth was the second daughter and Mary the fourth daughter of Mr and Mrs John Jack from Maddiston.
Elizabeth was given away by her father John, a coal miner. The Falkirk Herald reported that she wore a dress of 'trimmed white lace studded with diamonds'. Her headdress was of white tulle trimmed with orange blossoms and she carried a bouquet of pink roses and carnations with fern. Her bridesmaid was another of her sisters who wore a green lace dress, short cape and a headdress with green ostrich feathers.
Image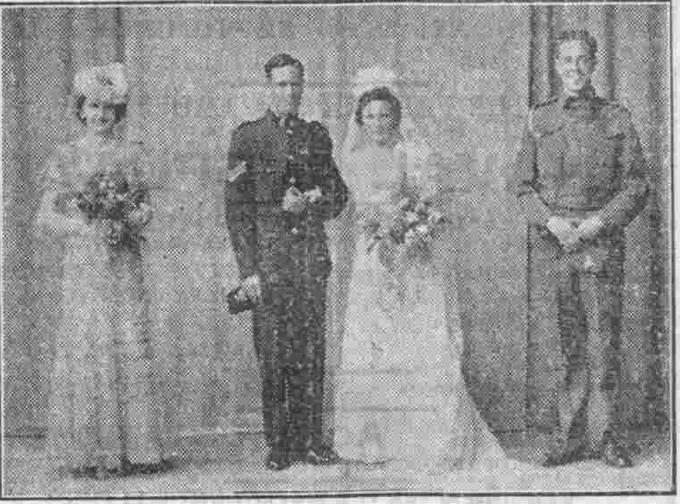 Bombardier Victor George Horton, Royal Artillery and Elizabeth Reid Duncan Jack on their wedding day.
The Falkirk Herald, 9 September 1944. Courtesy of the British Newspaper Archive.
Mary was given away by her elder brother Robert. Mary wore a dress made from stiff brocaded satin and carried a veil of white net, with floral decorations at the corners, held in place with a headdress of white gardenias. Her bouquet was the same as Elizabeth's. Her bridesmaid was another sister and she wore a lavender taffeta dress with a headdress of lavender feathers. 
Image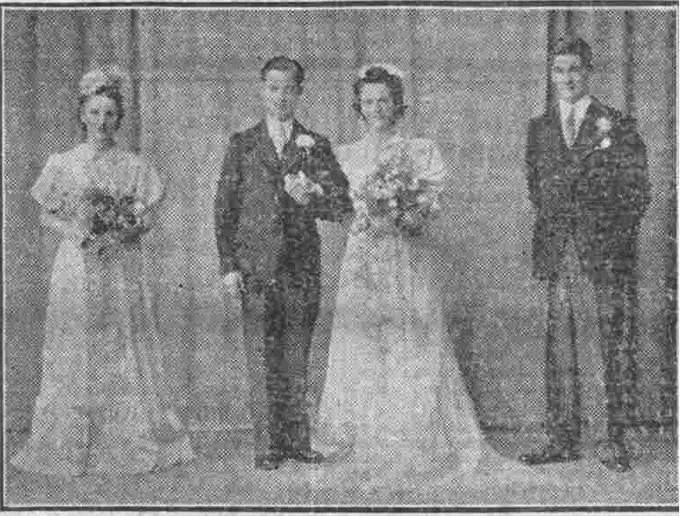 Mr Charles Rodger and Mary Duncan Jack on their wedding day.
The Falkirk Herald, 9 September 1944. Courtesy of the British Newspaper Archive.
The brides walked down the aisle to Mendelssohn's 'Wedding March'. Other hymns included 'O Perfect Love' and 'O God of Bethel.' The church was decorated with sweet peas and roses.
Following the wedding, a reception was held in the Masonic Hall in Brightons village, where 140 guests celebrated with the two newly wed couples. 
Later that day, Elizabeth and Victor left for their honeymoon in Somerset. Elizabeth wore a mustard angora dress with brown camel-hair coat and hat.
Mary and Charles left to travel to their honeymoon in the north of Scotland. To travel, Mary wore a brown dress with brown hat and shoes.
Image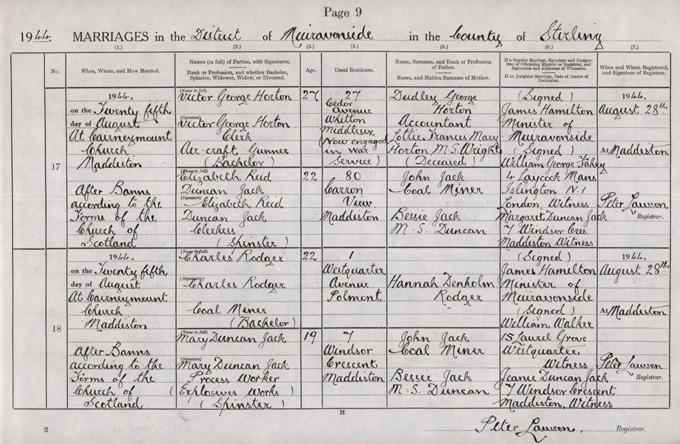 The Jack sister's wedding entries, 25th August 1944
National Records of Scotland, Statutory Register of Marriages, 1944, 486/17 page 9.