Until the mid-twentieth century most people in Scotland were married by a minister, in a 'regular' marriage. This involved banns being read on three consecutive Sundays at the parish church. However, a minority were wed by 'irregular' marriage, in which a man and a woman made a declaration in front of two witnesses, hence the other name 'marriage by declaration'. By showing proofs of their marriage the parties could obtain a warrant of a sheriff or sheriff substitute to have the marriage registered by the local registrar. Churches disagreed with these marriages in principle, but accepted them for fear that couples would otherwise 'live in sin'.
There are fascinating stories behind some of the irregular marriages before the law changed on 1 July 1940, when they were no longer legal. From that date Scottish registrars were permittted to perform civil marriages for the first time, under the Marriage (Scotland) Act 1939.
'Massan' the whisky pioneer and Rita Cowan his Scottish wife, 1920
In 1920 a marriage took place in Glasgow against the wishes of the bride's family, between Rita Cowan, a Scot, and her Japanese husband Masataka Taketsuru. Rita was born Jessie Roberta Cowan in 1897, the daughter of Samuel Campbell Cowan, an insurance clerk-turned-doctor. Masataka, or 'Massan' as Rita called him, was a chemistry student at Glasgow. It is said that they met through her younger sister Ella (Isabella), who was studying medicine at Glasgow University, and asked Massan to teach judo to her teenage brother, Ramsay. Massan found lodgings in Middlecroft, the house in Kirkintilloch where the Cowans were still living after the death of Rita and Ella's father, Dr Cowan, in 1918.
Image

Marriage entry of Rita and Massan, 8 January 1920
Crown copyright, National Records of Scotland, Statutory Register of Marriages, 644/3/103
The marriage took place secretly by declaration before witnesses at the Register Office at 90 1/2 Great Hamilton Street, Glasgow. The witnesses were Rita's younger sister Lucy and her friend Jessie Henderson, sister of Dr Samuel Henderson, who now ran the surgery at Middlecroft.
In November 1920 Massan left Scotland to return to Japan with his Scottish bride, who immersed herself in Japanese culture; she learnt how to cook Japanese food and took Japanese nationality. Rita also taught English and piano to bring income into the household whilst Massan used the knowledge of distilling that he acquired in Glasgow and local distilleries to lay the foundations for whisky distilling in Japan. He established his own distillery in Yoichi, Hokkaido, the most northerly island of Japan and chose this site because he saw similarities with both the Scottish landscape and weather. Whisky production has since developed into a huge industry, with Japanese whisky winning worldwide awards.
Rita came to be regarded as the mother of Japanese whisky and she died in Japan in 1961. It is clear that she made an impact upon the town, as the main street in Yoichi is named 'Rita Road'. Kirkintilloch has become a popular place for Japanese visitors to Scotland to search for traces of the romantic connection between our two whisky-loving countries.
Poetess Weds Lion Tamer – Alfred Kaden, a lion tamer, and Vera Hüsing, a poetess, 1938
In 1938 there were 38,716 marriages, including that between German circus performer and lion tamer Alfred Kaden, then 35, and Vera Hüsing (nee Lüdtke), 25, a poet. At the time, a Glasgow newspaper report (see the clipping below) described Hüsing as 'vivacious, flaxen-haired and handsome' and said she had 'won distinction by her poems and songs'.
Hüsing was the daughter of Albert Lüdtke, a German landowner, and Natalie Zielinski. The parties were both divorcees, were married by declaration in a Glasgow lawyer's office, and registered their marriage under a licence of the Sheriff of Glasgow.
One of the two witnesses at the marriage was John Smith Clarke, a radical politician and newspaper editor based in Glasgow, who had himself begun his career as a lion tamer. On 10 December 1937, when travelling to Glasgow, Vera Hüsing escaped unscathed from the railway crash at Castlecary Station. This was one of Scotland's worst railway crashes, in which 35 people were killed and 179 people were injured when an Edinburgh to Glasgow commuter express train hit a late-running Dundee train in heavy snow.
Image

Marriage entry of Alfred Kaden and Vera Hüsing, Glasgow, 5 January 1938
National Records of Scotland, Statutory Register of Marriages, 644/8/81
Image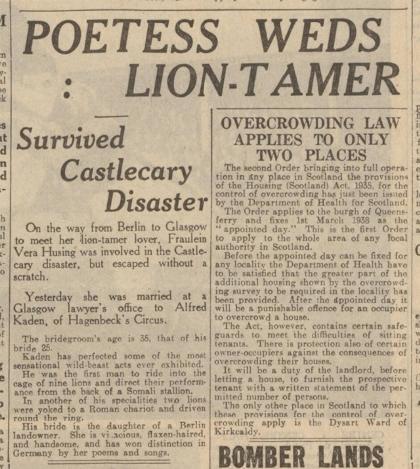 Report of the wedding of Alfred Kaden and Vera Husing, 'The Dundee Courier', 6 January 1938
Reproduced by kind permission of DC Thomson and the British Newspaper Archive
Further information about the couple after their wedding has yet to be uncovered.
The Valentine's day divorce and wedding, 1940
A wedding which attracted public attention in 1940 was that of a dashing soldier-actor who married his actress wife an hour after being divorced in a Scottish court on St Valentine's day.
Captain Bruce Seton, a well-known leading man in films, married his second wife, Antoinette Cellier, in a special ceremony in Edinburgh on 14 February 1940. Only an hour beforehand he had been granted a divorce in the Court of Session from his first wife Tamara Desni, a glamerous actress of Russian descent. This may be the shortest time ever recorded between divorce and remarriage in Scotland.
Bruce Seton married Antoinette Cellier by the traditional declaration in front of two witnesses in his lawyer's office, and had this confirmed as an 'irregular marriage' by a warrant of the Sheriff in Edinburgh Sheriff Court. The witnesses were Antoinette's father Francois (Frank) Cellier (1884-1948), also an actor, and Donald Valentine Sebastian James Stewart (born 1914).
Image

Marriage entry of Bruce Seton and Antoinette Cellier, 14 February 1940
National Records of Scotland, Statutory Register of Marriages, 685/1/45Z
Bruce Seton was born in India in 1909, the son of Lt Colonel Sir Bruce Seton. Educated at Edinburgh Academy, and trained as an officer at Sandhurst, in 1929 Seton was commissioned as a lieutenant in the Black Watch. He resigned in 1932 to pursue a career on the stage, starting in the chorus line at Drury Lane Theatre. He met Tamara Desni (1911-2008), a Berlin-born actress of Russian descent, on the set of Ralph Ince's film 'Blue Smoke' (1936) in which they were starring. After several delays they married on 7 March 1937 at Hendon Registry Office. They had hoped to be married the previous November by the captain of the transatlantic liner bringing them to Britain, but that proved impossible, and Desni was also refused permission to land at Southampton because she had not received her work permit. Their contracted roles in films caused further delay.
Tamara Desni had begun her career in musical theatre and silent films. On 22 February 1940, eight days after being divorced from Seton, she married her third husband, Roland (Bill) Gillett, a film producer-turned naval flyer.
In 1939 Seton rejoined the army, and at the time of his marriage held the rank of captain in the 10th Battalion, Scottish Rifles. He was later promoted to major. After the war Seton appeared in several films including 'Whisky Galore!' and starred as Inspector Fabian of Scotland Yard in the 1950s television series 'Fabian of the Yard'. His final role was the voice of Beadle in 'The Wonderful World of Disney' (1962-3). He was a noted sportsman, having fenced and boxed in the Army, and was a founder member with other actors of the Lord's Taverners, raising money for charity through cricket. In 1963 he succeeded his brother Sir Alexander Hay Seton as 11th baronet of Abercorn, and died in 1969.
For more information about statutory marriage records in Scotland please click here