In 1922 there were 115,085 registered births; a lower Scottish birth rate for all the years from 1855 (when Statutory Registration was introduced) to 1922, with the exception of the years 1916-1919 inclusive. The last year to be unaffected by the effects of the First World War was 1915, when births numbered 123,934; this number fell to just under 98,000 in 1917. Subsequent to the war, this number temporarily rose to 106,268 in 1919 and 136,546 in 1920, but had then declined to 123,201 in 1921 and further in 1922 to 115,085.
The Registrar General's Report of 1922 (page xi) tells us that out of the 115,085 children registered, 58,826 were males and 56,259 were females. From these births, 112,056 were single children, 2996 were twins and 33 were triplets. The Report also estimated that there were 1,193,851 women of child-bearing age in Scotland in 1922 (aged 15 to 45), of whom 513,925 were married and 679,926 were unmarried or widowed (page xiii).
This article looks at one of the births which took place in 1922.
Jock Stein (1922-1985)
Jock Stein, football player and manager, was born John Stein on 5th October 1922 at 339 Glasgow Road, Hamilton. He was the only son of four children to George Stein, a coal miner, and Jane Armstrong.
Image

Detail from Jock Stein's birth entry
Crown copyright, National Records of Scotland, Statutory Register of Births, 1922, 647/1046 page 349
In 1938, at the age of 16 years old, Stein began to work as a miner. Alongside this, he also played football professionally with Albion Rovers, (a club in the second division of the Scottish Football League), having previously been a junior player for the same team. He continued to work in the pits in Lanarkshire, and as a part-time player with Albion Rovers until 1949, when the club put him on the transfer list.
During Stein's time at Albion Rovers, he married Jeanie Tonner McAuley on 3rd October 1946, at Gilmour Memorial Church Manse, Hamilton. His occupation was given as colliery oncostman (a miner who was paid daily).
Image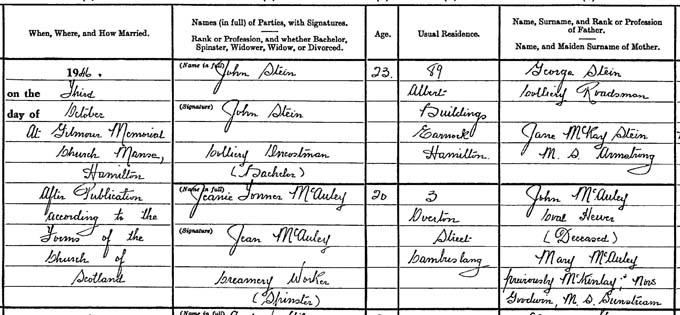 Detail from Jock Stein and Jeanie McAuley's wedding entry
Crown copyright, National Records of Scotland, Statutory Register of Marriages, 1946, 647/323 page 162.
The couple had two children, Mary, born in 1947 and George, born in 1953.
In 1949, Stein became a full-time-player, when he joined the Welsh club Llanelli. He remained there until 1951, when he considered retiring from football. The Celtic Football Club, however, employed him to manage their second team and it was during this time that he began to play for the first team as a replacement for an injured player. Stein also went on to captain Celtic.
Following a serious injury to his ankle in 1955, he stopped playing football and instead began to coach. Stein was appointed as manager of Dunfermline Athletic in 1960, leading the team to win the Scottish Cup in 1961 – something they had never achieved before. Three years later, Stein moved to the manager's post with Hibernian in Edinburgh; within months, he raised the club to become one of the most successful in Scotland, winning their first major trophy for 13 years, the Summer Cup.
In 1965, he moved to Celtic as manager, leading the club to win the Scottish Cup a few weeks later, as well as winning the 1965-66 Scottish League (beating city rivals Rangers by two points). Celtic was the first British club to reach the final, and win, the European Cup in 1967 and it was widely acknowledged by contemporaries that Stein's tactical ability had been decisive in that achievement. (National Records of Scotland, ED33/23, Honours: Jock Stein 1967-1970, pages 16 and 17. )
In 1970, Jock Stein was awarded a CBE (Commander of the Order of the British Empire), the highest ranking Order of the British Empire award (excluding a knighthood or damehood). This is awarded to individuals for holding a prominent role at a national level or a leading role at a regional level. Stein received his CBE for the part he played in the run of success that Celtic experienced. This followed a 'good deal of dissatisfaction in Scotland' over the proportion of honours for professional football being awarded in England despite Scottish club teams playing equally well. When England won the World Cup in 1966, there was a group of awards including [Alf] Ramsey's knighthood. When Glasgow Celtic became the first British club to win the European Cup in 1967, Stein wasn't recognised and credited as the manager who led them to victory. His name had been removed from the New Year Honours List at a late stage after misbehaviour on the field in South America when Celtic played an Argentine team. When Manchester United won the European Cup the next year an immediate Knighthood went to Busby in the Queen's Birthday List as their Manager. (NRS, ED33/23 page 35)
Image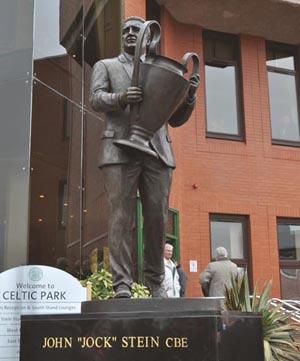 A statue of Jock Stein, by sculptor John McKenna, commissioned by Celtic Football Club as an entrance feature to Celtic Park , Glasgow. Unveiled 5th March 2011 by the Celtic Chairman John Reid and surviving members of the 1967 'Lisbon Lions' Celtic team.
This image is shared under the Creative Commons Attribution-Share Alike 3.0 Unported license.
Stein died in Cardiff, Wales, from a heart attack on 10th September 1985 at the end of a Scotland World Cup qualifier. The Aberdeen Press and Journal on 12th September quoted Football Association general secretary Mr Ted Croker, who said Stein was 'unspoiled by success and a man of sympathy and understanding who spent a lifetime around teams that played the sort of football the public love.' He said that he was 'an inspirational leader who proved his belief that actions speak louder than words. Others may follow, but he is irreplaceable.'
He was posthumously inducted into the Scottish Sports Hall of Fame and the Scottish Football Hall of Fame to highlight his legacy to the game.
For more information about the Statutory Register of Births please see our online guide.