Balmoral Castle and its estate have been a Scottish residence of the Royal Family since 1852, when Prince Albert purchased the estate for Queen Victoria. After Queen Victoria's death in 1901, Balmoral estate passed to her son, King Edward VII, under the terms of her will. The castle and estate have since passed down through the Royal Family family, which still owns it today.
Queen Victoria and her family often spent their summer and early autumn months on the estate, and following the death of Prince Albert, the Queen would spend up to four months at a time at the castle. These periods of residence were marked by happy occasions such as the birth of Princess Victoria of Battenberg, and the wedding of the daughter of a royal footman and dresser to the Queen.
Queen Victoria's youngest granddaughter, Victoria Eugenie Julia Ena, was born at Balmoral Castle on 24th October 1887. The Princess was the first member of the royal family to be born in Scotland since Charles I in 1600, and the first royal child ever to be born at Balmoral. To celebrate the birth of the Princess in the Queen's Golden Jubilee year, a huge bonfire was lit on Craig Gowan. The christening of Princess Victoria was held at 1pm on 23rd November 1887 in the drawing-room at Balmoral. Her names had been carefully chosen with her final given name, Ena (an old Gaelic name) reflecting her Scottish birth. Her mother was Princess Beatrice, the youngest daughter of Queen Victoria, and her father was Prince Henry of Battenberg, who signed the birth register.
Image

Birth entry of Princess Victoria of Battenberg, 24th October 1887
Crown copyright, National Records of Scotland, Statutory Records of Births, 183/21
As a young Princess, Victoria spent much of her childhood at Balmoral with her mother and grandmother when they were in residence on the estate; the Queen only agreed to Princess Beatrice's marriage on condition that she would remain by the monarch's side as companion and unofficial secretary. According to Gerard Noel ('Ena, Spain's English Queen, 1999) Balmoral was a favourite home for the Princess which she often referred to affectionately in letters to one of her cousins, Princess Mary of Teck. For the Battenbergs, Balmoral was an attractive home with days spent in the fresh air, walking, fishing and riding through beautiful surroundings.
Another royal birth occurred at the castle on 3rd October 1891 with the arrival of Prince Maurice Victor Donald Battenberg. He was the youngest grandchild of Queen Victoria and, as the Prince was born at Balmoral, his parent's decided to reference this in his final given name, in the same way at they had for his elder sister Victoria, and chose the name 'Donald'.
Image

Birth entry of Prince Maurice of Battenberg, 3rd October 1891
Crown copyright, National Records of Scotland, Statutory Register of Births, 183/24
Maurice spent much of his childhood at Balmoral with his family and was playmate as well as classmate with his brothers, Prince Alexander and Prince Leopold, and his sister Princess Victoria, as they were all educated together. Despite the fact that he and his brother Prince Leopold, suffered from haemophilia, he decided on a career in the Army. Prince Maurice fought in the first world war as a Lieutenant in 1st Battalion, the King's Royal Rifle Corps. On 27th October 1914 he was killed at Zonnebeke, during the first battle of Ypres, when he was struck by a piece of shrapnel and died almost immediately. He is buried in the Ypres Town Cemetery.
Members of the royal household are also part of the Balmoral story. John McDonald and Annie Mitchell met whilst working for Prince Albert; John as a footman and Annie as a washerwoman. Following the Prince's death in 1861 they moved into Queen Victoria's household and were married in Upton, England, in 1863. Their daughter, Victoria Alberta was born in 1864; it is likely that as loyal servants, John and Annie chose to name their daughter after the Queen and her late husband. John died the following year, however Annie remained in the service of the Queen, being promoted to Principal Dresser. She served in this important and personal role for 31 years and became friends with the Queen. Annie died on 5th July 1897 from carcinoma. Four months later, on 4th November 1897 Victoria Alberta McDonald was married to Alfred Blaker, excise officer in Crathie, Aberdeenshire. On the day of Alfred and Victoria's wedding the Queen honoured them by witnessing their marriage. A transcription by the Registrar of her original signature, Victoria R. I. (Victoria Regina et Imperatrix, or Victoria Queen and Empress) can be seen in the register.
Image

Marriage entry of Alfred Blaker and Victoria Alberta McDonald, 4th November 1897
Crown copyright, National Records of Scotland, Statutory Registers of Marriages, 183/2/1
Different records can unlock varying types of information about a place or the people living there; valuation rolls not only provide details of the rental or rateable value of landed estates in Scotland, but also interesting information about the tenants. Balmoral Estate is a good illustration of this and details of its inhabitants can be found in the volumes of the valuation rolls.

For example, the 1895 valuation roll lists 'The Munshi Abdul Karim' as the 'inhabitant occupier' of the Secretary's House at Balmoral. Abdul Karim (1862-1909) was an Indian Muslim attendant of Queen Victoria who served her during the later years of her reign, 1887-1901. The word 'munshi' means teacher, and Karim was so called because he taught Queen Victoria about Indian religion, culture, and gave her lessons in the Hindustani language. From 1894 he held the position of Indian Secretary, assisting Queen Victoria with petitions from India. He was granted lands in Agra, India, and made a Companion in the Order of the Indian Empire.

He first appears at the Secretary's House in the 1894-5 valuation rolls, and last appears in 1901-2. The yearly rental value of the house in 1895 was £10. During his service the Indian Secretary's other official residences were Frogmore Cottage at Windsor and Arthur Cottage, at Osborne. Following Queen Victoria's death in 1901, Abdul Karim retired to his property in Agra, India, where he died in 1909.

It wasn't only the Royal Family who lived on the royal estate. Many others who lived and worked there can also be located, and an interesting example is that of Robert Duguid.
Robert was born on 20th January 1897 at Knockendow (or Knockendhu) Glenmuick, Aberdeenshire, the youngest of seven siblings. He worked as a woodsman on the royal estate at Birkhall, near Balmoral. On 3rd March 1915 Robert enlisted in the 7th (Deeside) Battalion of the Gordon Highlanders at Banchory and arrived in France on 29th November 1915. He was killed in action at the Battle of Arras on 29th May 1917. His body was never recovered, but his name can be found on the Crathie War Memorial in Deeside.

Valuation rolls are fully searchable by name and address, and researchers can investigate people living, working and playing all over Scotland – from country estates to city tenements, castles to crofts, and factories to golf courses.
For further information please see our guide on valuation rolls.

Details relating to buildings on land across Scotland can also be located in the rolls. Here, the 'Royal Palace, offices and laundry' are included on the same page of the valuation rolls and valued at £1,000.
Image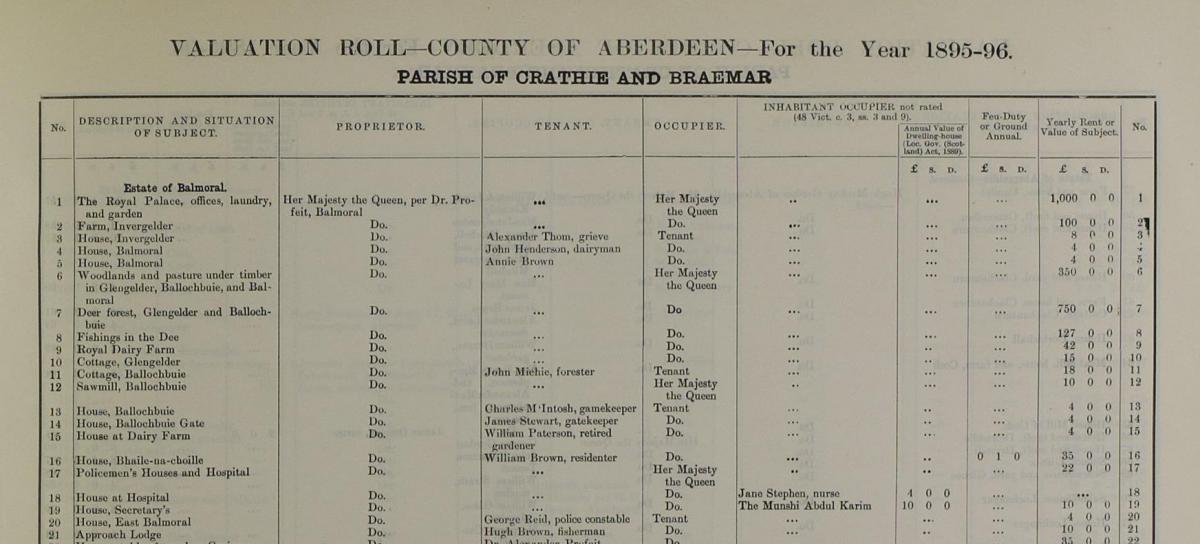 Valuation roll listing the land, tenants and occupiers on the Balmoral Estate in 1895
Crown copyright, National Records of Scotland, Valuation Rolls, 1895, VR87/89/69
The 1915 valuation roll for the Balmoral Estate shows that its yearly rental or rateable value was £3,214. The estate is described in 46 entries, mostly of houses and cottages, but it also included a golf course, royal dairy farm and deer grazing.
The properties on the estate were mostly occupied by employees of the royal household, including a gardener, stalker, head stalker, upholsterer, groom and stableman. Tenants also included shopkeepers, shepherds and a police constable.
The head stalker, Arthur P Grant, occupied a cottage with garden.
The stalker, Charles McIntosh, occupied a house called 'Danzig Shiel' at Ballochbuie.
Police Constable John Hunter occupied one of the houses at East Balmoral.
The valuation roll also shows that, by 1915, Balmoral had a telephone connection, with 'telephone wire' listed in the assessor's valuation.
Image
1915 valuation roll for the Balmoral estate
Crown copyright, National Records of Scotland, Valuation Rolls, 1915, VR87/109/75
Gamekeepers were among the most valued staff on the estate, as hunting and shooting were popular sports. Donald Stewart was the Head Gamekeeper at Balmoral for over 50 years during the reign of Queen Victoria. Over this period, to thank him for his service, Donald received gifts from the Queen and other royalty. Donald died in 1909 and his will lists some of these treasures:

'Black marble clock inlaid with malachite presented to my late wife by Queen Victoria…the platinum watch presented to me by His Majesty King Edward then Prince of Wales… gold watch and chain presented to me by the Emperor of Russia…gold watch and chain presented to me by the Grand Duke Sergius of Russia…Queen Victoria's silver brooch presented to my late wife after the Queen's death.'
Donald's will also provided instructions of what was to become of these gifts upon his death.
Image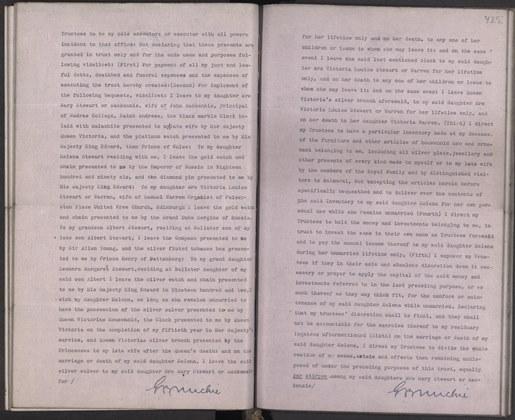 Pages from the will of Donald Stewart.
Crown copyright, National Records of Scotland, wills and testaments, SC1/37/130 page 2

For further information about searching wills, please see our guide on wills and testaments.