The 1935 Valuation Rolls for Scotland record some of the great names of Scottish literature, a remarkable range of authors at different points in their careers. The 1930s witnessed the flowering of the Scottish Renaissance, the literary movement which revolutionised the way in which Scotland and Scottish identity were reflected in novels and poetry by writers including Hugh MacDiarmid, Edwin Muir, Sorley MacLean, Neil Gunn, Lewis Grassic Gibbon and Naomi Mitchison.
Although the Valuation Rolls were primarily to record the valued rents of property, the names of owners, tenants and occupiers that they include make them invaluable for tracing heads of households throughout Scotland beyond the latest open census year of 1911. The 1935 rolls provide a rough snapshot of where and how some of Scotland's well-known writers were living.
Not all Scottish writing of this period occurred in Scotland. John Buchan, author of best-selling historical fiction and adventure featuring Richard Hannay, lived in Oxfordshire. In 1935, the year Alfred Hitchcock's film of 'The Thirty-Nine Steps' was released, Buchan was created Baron Tweedsmuir and appointed Governor General of Canada. His friend the novelist Catherine Carswell also lived and worked in England at this period. One of the greatest Scottish works of fiction, Lewis Grassic Gibbon's 'Scots Quair', was completed in 1934 in Welwyn Garden City, Hertfordshire. The author, whose real name was James Leslie Mitchell, died in early 1935, aged thirty-four.
Several writers who were living in Scotland seem to have left no trace in the 1935 rolls. For example, Christopher Murray Grieve and his wife moved away from Shetland in 1934, before the rolls were compiled, while the newly-married poet Sorley MacLean, had just taken a teaching post at Portree, Skye, but is not listed. A selection follows of those who do appear in the rolls: Annie S Swan, Nan Shepherd, Josephine Tey, Neil Gunn, Compton Mackenzie, Eric Linklater and Nigel Godwin Tranter.
Annie S Swan (1859-1943)
Image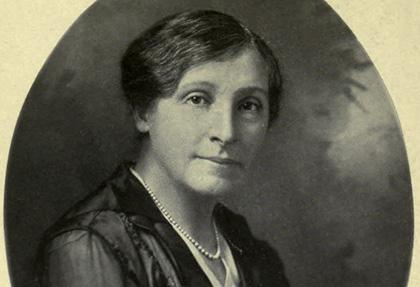 A photograph of Annie S Swan originally published in 'An Englishwoman's Home', 1918.
Public domain image
Annie Shepherd Swan was born in Leith on 8 July 1859, the daughter of a farmer and potato merchant, and spent her childhood near Gorebridge and in Edinburgh. After initial successes with magazine writing she made her name with her novel 'Aldersyde' (1883), which William Gladstone praised for its 'truly living sketches of Scottish character'. This success enabled her to become a full-time writer, and she went on to pen more than 160 books under her own name. After her marriage in 1883 to James Burnett Smith she also wrote as 'Mrs Burnett Smith', and authored about 60 other books under the pseudonym 'David Lyall'. Swan was also widely known for her 'agony aunt' column for 'Woman at Home Magazine', which became known as the 'Annie Swan Magazine'.
Her writing paid for her husband's medical studies at Edinburgh, and in the early 1890s they moved to England where they raised their two children, only returning after the First World War. After James Burnett Smith's death in 1927 Swan moved to a house she called 'Aldersyde', Gullane, East Lothian. The 1935 valuation roll lists her as Annie Burnett Smith, a widow and authoress, proprietrix of a House, Garage and Garden in Nisbet Road.
Image

Detail of the 1935 valuation roll entry listing Swan as proprietor of 'Aldersyde'
National Records of Scotland, 1935 valuation roll, VR99/33/534
Swan published her autobiography 'My Life' in 1934, and continued writing magazine articles until shortly before her death at Aldersyde on 17 June 1943. Although she received official recognition with the award of the CBE in 1930, Swan's literary star had declined. The rising generation of Scottish writers and critics derided her work, and that of other writers, as 'kailyard' writing, featuring parochial and sentimental representations of Scotland.
Nan Shepherd (1893-1981)
Nan Shepherd, perhaps most famous for her final book 'The Living Mountain' (1977), was born Anna Shepherd in Peterculter in 1893. Soon afterwards her family moved to Cults, three miles west of Aberdeen, and Shepherd lived at the family home 'Dunvegan', 503 North Deeside Road, for most of her life.
Image

Anna Shepherd and family at 'Dunvegan', 1901
National Records of Scotland, 1901 census, 231/1 2/14
She attended school in Aberdeen, in 1915 was one of the first women graduates at Aberdeen University, and taught English Literature at Aberdeen Training Centre for Teachers until her retirement in 1956. In her earliest novels 'The Quarry Wood' (1928), 'The Weatherhouse' (1930) and 'A Pass in the Grampians' (1933), she used the settings of small rural communities in north-east Scotland to explore tensions between tradition and modernity. Landscape and weather were important components, and she expressed her creative connection with nature again in her collected poems 'In the Cairngorms' (1934).
The 1935 rolls record that Shepherd was then the owner of 'Dunvegan', and her widowed mother her tenant.
Image

Detail of the 1935 valuation roll entry listing Anna Shepherd as proprietor of Dunvegan
National Records of Scotland, 1935 valuation roll, VR87/135/914
A keen hill walker, Shepherd's final book 'The Living Mountain' was a series of meditations written in the 1940s but not published until 1977. She died in 1981 in Aberdeen, aged 88. She is featured on the Royal Bank of Scotland £5 note, with a likeness from her student days set against her beloved Cairngorms, and quotes from 'The Quarry Wood': "it is a grand thing to get leave to live", and from 'The Living Mountain': "But the struggle between frost and the force in running water is not quickly over. The battle fluctuates, and at the point of fluctuation between the motion in water and the immobility of frost, strange and beautiful forms are evolved."
Josephine Tey (1896-1952)
Author Josephine Tey was born Elizabeth Mackintosh in Inverness on 25 July 1896 to Colin Mackintosh, a fruiterer, and his wife Josephine Home. Tey was best known for her mystery novels, but also wrote plays under the name Gordon Daviot, many of which had biblical or historical themes.
Image

Elizabeth Mackintosh's birth entry, 25 July 1896
National Records of Scotland, Statutory Register of Births, 1896, 98/449
As a young woman, Tey taught at girls' boarding schools in England, before returning home to Inverness to care for her mother who was unwell, and to help her father to keep the home. The 1935 rolls listed her father, Colin, as the proprietor and tenant of the house in Crown Circus, Inverness. Tey is not listed personally because she was neither the owner nor tenant.
Image

Colin Mackintosh listed as proprietor and occupier of 'Crown Cottage'
National Records of Scotland, 1935 valuation roll, VR42/52/207
Her first mystery novel, 'The Man in the Queue' (1929), was published under the name Gordon Daviot. In 1937 Alfred Hitchcock popularised her novel 'A Shilling for Candles' (1936) when he heavily adapted it for his film 'Young and Innocent' (1937). She wrote most of her novels as Josephine Tey, based on her mother's forename and the surname of one of her grandparents from Suffolk. Among her most popular books were 'The Franchise Affair' (1948), a story of alleged kidnapping, and 'The Daughter of Time' (1951), in which Inspector Grant of Scotland Yard and his friends investigate whether King Richard III was responsible for the murder of his nephews. She died in London in 1952.
Neil Miller Gunn (1891-1973)
Neil Miller Gunn was born at Dunbeath, Caithness, one of the nine children of James Gunn, a fishing boat skipper.
Gunn was a bright pupil in English and mathematics, and after passing the civil service exam in 1907 he served in various posts before returning to Scotland. In 1911 he was appointed an officer of excise and customs, and his specialisation in pensions gave him the opportunity to travel around Scotland. During the First World War he was stationed in Kinlochleven, where he issued mine-evading instructions to ships, and began to write poetry. In May 1918 a London magazine, 'The Apple-Tree' published his first work.
Gunn married Daisy Frew in 1921, and after a short spell at Lybster, Caithness, the couple moved to Inverness, where Gunn worked as the distillery officer at Glen Mhor distillery for 14 years. His job left him with time and energy to write, starting with his first novel 'The Grey Coast' (1926), followed by 'Morning Tide' (1931) and historical novels (1933-4). The 1935 valuation roll lists Gunn, 'officer of excise' as the owner of the modest house in Dochfour Drive, Inverness. They had built the bungalow, called 'Larachan', and lived there from 1926.
Image

Detail of the 1935 valuation roll entry listing Neil Miller Gunn as proprietor and occupier of Larachan
National Records of Scotland, 1935 valuation roll, VR42/52/74
The success of his ground-breaking and complex novel 'Highland River' (1937) enabled him to leave his job, sell the house and travel. During the 1940s, settled in Dingwall, Gunn wrote some of his best novels, including 'The Silver Darlings' (1941) and 'The Atom of Delight' (1956), his last before his death in 1973.
Sir Compton MacKenzie (1883-1972)
Image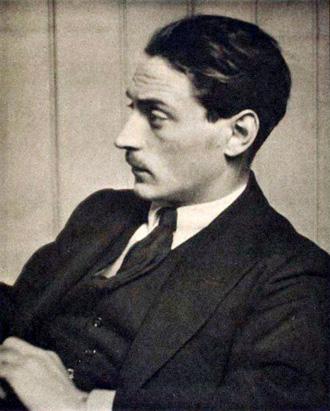 Sir Compton MacKenzie photographed in 1914
Public domain image
Sir Compton MacKenzie was born Edward Montague Compton Mackenzie on 17 January 1883 in West Hartlepool, County Durham, England. His parents Edward and Virginia were theatre actors and led the family company, the Compton Comedy Company.
After studying history at Magdalen College, Oxford, Mackenzie married Faith Nona Stone, who would also become an author. He left his family ties to the theatre behind, and established his reputation with his third novel,'Sinister Street' (1913-4). Following wartime service as an officer in the Royal Marines he spent much of the 1920s as a jobbing writer. He felt strong ties to Scotland, and regarded the Highlands as his spiritual home. He was a co-founder of the National Party of Scotland in 1928.
By the early 1930s he had moved to the Hebridean island of Barra, where he later built his house 'Suidheachan' (the sitting-down place). On Barra he could focus on his exploration of Scottish identity and nationalism, which produced among other writing his six-volume novel 'The Four Winds of Love' (1937-1945).
Image

Detail of the 1935 valuation roll entry listing Compton Mackenzie as the Proprietor, Owner and Occupier of a house in Eoligarry, Barra
National Records of Scotland, 1935 valuation roll, VR103/49/411
'Whisky Galore' (1947) was the fictionalised story of islanders of Eriskay trying to save whisky from the sea after the sinking of SS 'Politician'. It became his best-known novel and was made into a film in 1949. 'The Monarch of the Glen' (1941), set in the Scottish Highlands was decades later successfully adapted for television. Mackenzie moved to Edinburgh in 1952, the same year that he was knighted. His prolific output of novels, autobiography and history continued to the end, amounting to 113 titles. He died in Edinburgh in 1972.
Eric Linklater (1899-1974)
Image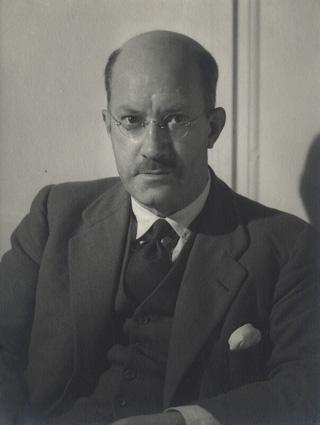 Eric Linklater by Howard Coster. Bromide print, 1954. 
© National Portrait Gallery, London
Eric Linklater was born in Wales, the son of an Orcadian master mariner, and the family kept a holiday house in Orkney. Educated in Aberdeen, Linklater served in the First World War. After time as a journalist , he published his first novel in 1929, and 'Juan in America' (1931), which drew on his experiences in the United States.
In the 1930s he became involved in nationalist politics, and after his marriage to Marjorie McIntyre, moved to Dounby in Orkney. The 1935 Valuation Roll lists Eric R. Linklater, 'author' as owner of a house at 'Merkister', with grounds and a garage, which are listed as 'unfinished'.
Image
Detail of the 1935 valuation roll entry listing Eric Linklater as the Owner of the unfinished house in Merkister
National Records of Scotland, 1935 valuation roll, VR111/30/767
The family lived there until 1947, when they moved to Ross-shire and in 1972 to Aberdeenshire. Meanwhile he did wartime service on Orkney and later in Italy. His Italian experiences inspired 'Private Angelo' (1946), his best-known novel. He died in 1974.
Nigel Godwin Tranter (1909-2000)
Nigel Tranter, who was yet to make his mark as a novelist, published a historical work in 1935: 'The Fortalices and Early Mansions of Scotland, 1400-1650'. Tranter was born in 1909, the only child of Gilbert Tredgold Tranter and Eleanor Annie Cass. He earned his living as an insurance agent, working in the family business, and in 1935 was living at 18 McDonald Place, Edinburgh. He is listed in the valuation roll as 'Proprietor.'
Image

Detail of the 1935 valuation roll entry listing Nigel Godwin Tranter as Proprietor of 18 McDonald Place
National Records of Scotland, 1935 valuation roll, VR100/737/37
His first fiction, 'Trespass', was published in 1937. He went on to write the very popular Bruce trilogy (1969-1971) and historical works on Montrose (1972 and 1973) and Wallace (1975). His early work was expanded into 'The Fortified House in Scotland' in five volumes (1962-1970). He died in 2000.