A member of the Anti-Slavery Society of Edinburgh from its formation, the Reverend Dr. Andrew Thomson was a champion for the immediate abolishment of and emancipation of slavery.
Andrew Mitchell Thomson was the second son born to the Reverend John Thomson D.D., to his first wife Helen (Nelly) Forrest. His baptism is recorded in the Old Parish Register of Births in Sanquhar, Dumfriesshire, on 11th July 1778, where his father was a minister.
Image

Andrew Mitchell Thomson's baptism entry 11th July 1778. The 'L.S' after his name stands for 'lawful son.'
Crown copyright, National Records of Scotland, Old Parish Register of Births, 848/10 page 60
When the Reverend John Thomson was moved to the parish of Markinch, Fife, the family relocated and his son was educated in the town before studying at the University of Edinburgh. He graduated in 1800 and was licensed to preach by the presbytery of Kelso.
Six weeks after he was ordained as a Church of Scotland minister at Sprouston parish in Roxburghshire, he married Jean Carmichael, the youngest daughter of Mr John Carmichael of Greenbank on 24th April 1802. The couple had two sons and five daughters together.
Image

The Reverend Andrew Thomson and Jean Carmichael's wedding entry, 24th April 1802
Crown copyright, National Records of Scotland, Old Parish Register of Marriages, 564/3 40 page 277
A printed memoir, attached to Thomson's death entry in the Old Parish Register for St Cuthbert's Church reflects on the commitment he gave to his family life: '… to those who had the happiness to live with him in habits of intimacy, the deepest and the bitterest feeling still is, the separation from a man who possessed so many of the finest and most amiable sensibilities of the human heart. In him the lion and the lamb may be said to have met together. But it was around his own family hearth… that Dr Thomson was particularly delightful.' (NRS, 685/1 100 page 190)
As well as nurturing a deep connection to his family life, Thomson was a dedicated preacher. After six years as parish minister at Sprouston, he moved to East Church in Perth in April 1808. Two years later, on 15th May 1810, he was appointed to New Greyfriars in Edinburgh where he became an influential preacher, promoting singing in Scottish church worship. Enthusiastic in his production of spiritually related material and only a few months after his induction in Edinburgh, he established the publication 'Christian Instructor'. He subsequently produced 43 articles for the 'Edinburgh Encyclopaedia', edited the 'Edinburgh Christian Instructor' and compiled a volume of psalm tunes 'Sacred Harmony', which included 13 of his own compositions.
In 1814 he was moved to the newly completed St George's Church on Charlotte Square, in the capital's New Town, designed by Robert Adam and modified by Robert Reid in 1811. Today this building, West Register House, is one of several which provides accommodation for National Records of Scotland's archival store rooms and offices.
Image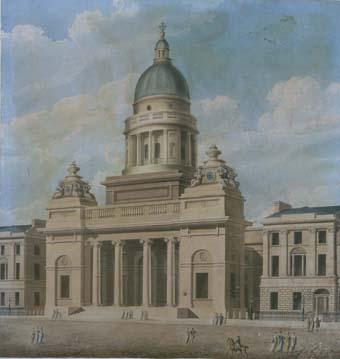 An architectural pictorial sketch of a proposed design for St George's Church, Charlotte Square, Edinburgh, 1810-1811.
National Records of Scotland, RHP22108
Thomson was also a passionate campaigner for the abolishment of slavery. The printed memoir appended to his death entry stated that at 'the last public meeting [of the Anti-Slavery Society of Edinburgh] he rose up and advocated [his pro-abolishment views] and endeavoured to expose the absurdity of gradual abolition… [they] were so convincing that he turned a whole assembly, amounting to nearly two thousand persons, in favour of his opinions, though, before he spoke, they had rapturously applauded the sentiments so eloquently delivered on the other side. Nay, in a few days, the Society itself became a convert to his principles… [and petitioned] to both Houses of Parliament in favour of immediate emancipation by acclamation.' (NRS, 685/1 100 page 190)
This was the last public speech he made on the cause before his sudden death. A selection of speeches given by Thomson and the Anti-Slavery Society of Edinburgh can be found via the WorldCat online catalogue.
Thomson died on 9th February aged 51 years from apoplexy (a stroke). He was buried on 15th February and interred 'in his own tomb City Ground'.
Image

The death entry of The Reverend Dr. Andrew Thomson, 9th February 1831
Crown copyright, National Records of Scotland, Old Parish Register of Deaths, 685/1 1000 page 191
Image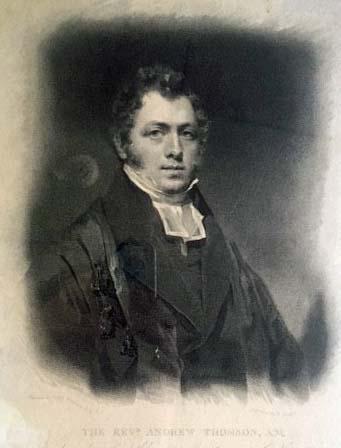 Detail from an engraving of The Reverend Andrew Thomson which hangs in West Register House (formerly St George's church), nd
Credit: William Walker
This engraving was produced by William Walker who created engravings of Sir Henry Raeburn's portrait of Sir Walter Scott and Alexander Naysmith's portrait of Robert Burns. An accompanying inscription reads: 'Dedicated to the Elders of St George's Kirk Session by their Obliged and Obed[ien]t Servant W. Walker'. 
On 20th February 1831, St George's kirk session met and recorded their grief at the loss of Thomson who 'has merited and received the confidence & gratitude of all good men, in the Society, over which his labourers have extended. That this by the powers of his mind, by the correctness & countancy of his principles and by the fidelity & affectionate warmth of his heart. He has been the means, under the good providence of God, of much usefulness among the people, who have had the Happiness to live under his ministry, and has secured to his name, in their recollections the deepest feelings of mournful attachment and the keenest sense of the great loss they have sustained by his death.' (NRS, CH2/544/1 page 84)
Image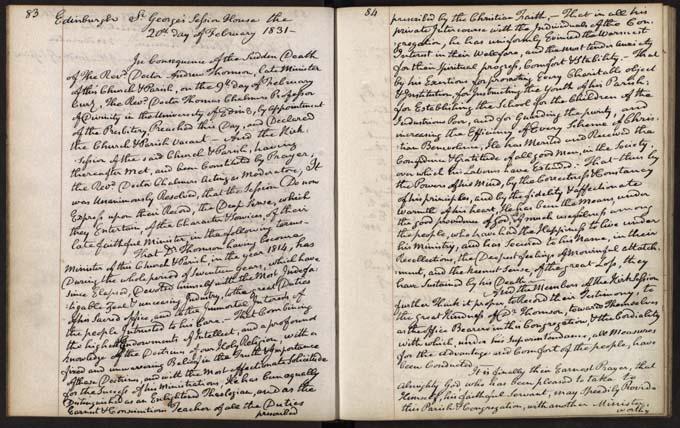 The page from St George's kirk session recording the death of The Reverend Dr. Andrew Thomson, 20th February 1831
National Records of Scotland, CH2/544/1 page 84.
Explore more kirk session records, including those from St George's, on the ScotlandsPeople website, and the Reverend Andrew Thomson's Hall of Fame entry  on the NRS website.