William Thomson was born in Old Deer parish around the year 1820 to parents Alexander and Elizabeth Thomson.
A search through the Old Parish Registers for Old Deer and surrounding parishes on ScotlandsPeople did not return a matching entry for Thomson's birth. Not all parish registers are complete, some are missing, some contain gaps and not all births, deaths or marriages were recorded before the introduction of Statutory Registration in 1855, when it became compulsory to do so. As The Reverend John Morison, minister in Old Deer, wrote in The New Statistical Account of Old Deer in 1840: 'the parochial and session registers are incomplete … most of the books seem at times to have been imperfectly kept [and] there is many a hiatus to interrupt their continuity.' (Old Deer, County of Aberdeen, NSA, Vol. XII, 1845 page 148).
Where an entry is proving to be illusive, it is also worthwhile to consult the Detailed list of the Old Parochial Registers of Scotland on the National Records of Scotland's website to determine if a gap of missing records has been identified.
Thomson's father had fought in the great Peninsular War (a conflict on the Iberian Peninsula involving Spain, Portugal and the United Kingdom against the invading French Empire, 1807-1814), and in the battle of Waterloo (18th June 1815) where he lost an eye and arm. (Source: Buchan Observer and East Aberdeenshire Advertiser, Tuesday 17th November 1914).
As a young man, Thomson worked as a ploughman and labourer in the fields surrounding his home.
Image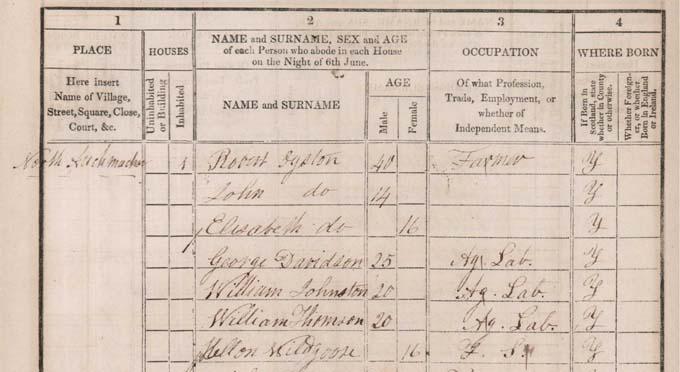 Detail from the 1841 census enumerating William Thomson in North Auchmachar in the parish of Old Deer. Thomson's entry, second from the bottom in this image, gives his occupation as 'Ag. Lab.' (Agricultural Labourer) living in the household of Robert Ogston, farmer.
Crown copyright, National Records of Scotland, 1841 Census, 228/1/1 page 1
The following year, on 18th November 1842, Thomson enlisted in the 93rd Sutherland Highlanders (Regimental number 1696).
The Crimean War began in October 1853. This conflict took its name from the Crimean Peninsula on the Black Sea and was fought over three years. The war, which claimed an estimated 650,000 lives, was an intense struggle between imperial Russia and the alliance of the British, French and Ottoman Empires who tried to block Czar Nicholas I's campaign to expand his power over the Middle East and eastern Mediterranean.
Thomson's regiment was ordered to the front, where he was given his 'baptism of fire' at the Battle of the Alma in September 1854. The battle lasted just three hours, resulting in the Russian forces being routed after losing more than 5,700 of their soldiers. The British and the French lost almost 1,000 men that day (source: Crimean War - Summary, Facts & Causes - HISTORY). Thomson was also at the Battles of Balaklava (where the British diverted the Russians who were trying to capture the allied base and harbour in October 1854), Inkerman (a dizzying battle fought in thick fog resulting in the deaths of over 12,000 Russians and around 4,200 allied men) and Sebastopol (which was expected to be a three month siege but lasted nearly a year ending with the Russians burning their ships and retreating from the port city).
Image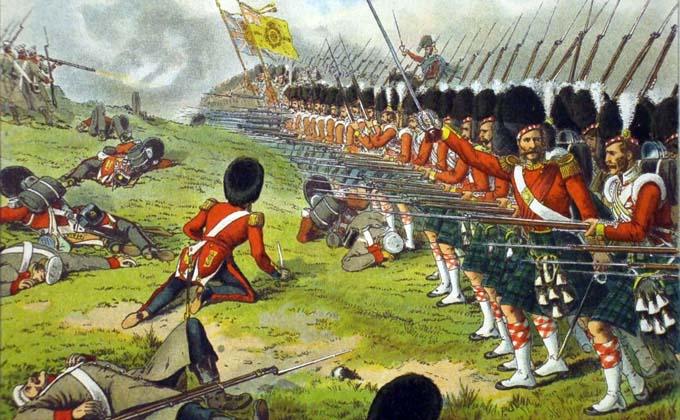 The Advance of the 93rd Sutherland Highlanders at the Battle of Alma 1854.
A plate from the book Our Armies 1896. London: Sampson Low, Marston, public domain.
Thomson came through all of these conflicts unscathed although survival off the battlefield brought it's own challenges. It was reported that the men were sustained some days on only tiny rations of a biscuit and a piece of onion.
The war came to a close in March 1856 when the Russians agreed to cease fighting and signed the Treaty of Paris. Seized territory was returned and the Black Sea was demilitarized, but tensions remained, especially between the Russians and the Turks.
The following year, in May 1857, The Indian Mutiny (also known as the Sepoy Mutiny or First War of Independence) broke out. Again, the 93rd were called into action. The rebellion saw widespread resistance to British rule in India, which began in Meerut by Sepoys (Indian troops) in the service of the British East India Company. As it spread, Private Thomson took part in the relief of Lucknow, the recapture of Cawnpore (Kanpur) and fought in other engagements. The Buchan Observer (Tuesday 17th November 1914) reported that Thomson had felt that 'although his regiment had to undergo very long marches, their hardships were…trifling in comparison with those of the Crimean war.'
Whilst in India, Private Thomson lost his sight. This was said to have been caused by sunstroke and he returned to Scotland, invalided, in 1862, the proud possessor of four medals and five clasps. He settled in Longside, Aberdeenshire, where he lived for the rest of his life.
That year, on 14th August 1862, Thomson married Elizabeth (Betty) Brown, who he had known since his youth.
Image

Detail from the marriage entry of William Thomson and Elizabeth Brown
Crown copyright, National Records of Scotland, Statutory Register of Marriages, 1862, 218/ 12 page 6
The couple lived in Longside and over the years took in boarders, including apprentice carpenters, a postman and a tailor. The census records also note that Thomson was an army pensioner and that he was blind.
Image

William and Elizabeth Thomson enumerated in the 1891 census with two boarders living with them
Crown copyright, National Records of Scotland, 1891 census, 218/1 page 11
Elizabeth Thomson died on 27th October 1904 from cerebral apoplexy (a stroke).
Image
Detail from Elizabeth Thomson's death entry
Crown copyright, National Records of Scotland, Statutory Register of Deaths, 1904, 218/43 page 15
Thomson lived for a further ten years, being supported and cared for by his housekeeper. He died on 12th November 1914 in Longside from heart failure.
Image

Detail from William Thomson's death entry
Crown copyright, National Records of Scotland, Statutory Register of Deaths, 1914, 218/32 page 11
The day after Thomson's death, the Aberdeen Press and Journal reported that 'Up to a few years ago 'the auld blin' sodger' as he was familiarly called, was wonderfully hale and hearty, nothing delighting him more than a talk about his war-like experiences. During his long sojourn of over half a century in the village of Longside, Private Thomson, with his fine, pawksy, dry, Scottish humour, and his many military experiences, which he related with the greatest gusto, made him a general favourite with the whole community, by every section of which his familiar figure and cheery word will long be missed.' (Friday 13th November 1914)
A funeral was held on Monday 16th November with full military honours at Longside. A detachment of around 20 of the 5th Battalion Gordon Highlanders from Peterhead under the command of Captain Chalmers was present. Other uniformed guests alongside members of the public were also in attendance. The Reverend R Henderson, parish minister, conducted the service before the coffin, carried by four soldiers, was brought to the old churchyard. The 'Last Post' was sounded as Thomson was laid to rest.
Further reading
For information about the Crimean War see Crimean War - Summary, Facts & Causes - HISTORY and for more details about the Indian Mutiny see Indian Mutiny | History, Causes, Effects, Summary, Facts | Britannica