During 1967, 30,554 male and 38,969 female deaths were recorded in the Statutory Registers – 69,523 in total – a drop of 4,166 from the preceding year. Images for these death entries have now been released on ScotlandsPeople and you can search for, view and save them on the website.
To mark the release of these images we have chosen to highlight the stories of two renowned Scots who both died in 1967: an operatic soprano and a plant hunter and explorer.
Mary Garden, operatic soprano (1874-1967)
Image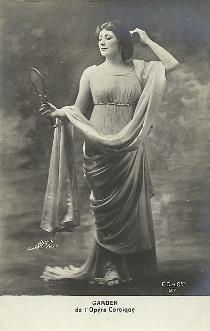 Mary Garden photographed in a role at the Theatre National de l'Opéra-Comique in Paris
Public domain image via Wikimedia Commons
Mary Garden was an Aberdeen-born singer who won world renown as an operatic soprano. She was born on 20 February 1874 in Aberdeen to Robert Davidson Garden, a clerk in an ironworks, and his wife Mary Joss. They had married only weeks before. (Our records show that Mary Joss was born on 23 February 1857 and was 16 years old when she married, rather than 14 as some sources suggest, and turned 17 three days after her daughter was born.)
Image

Birth entry of Mary Garden, 20 February 1874
Crown copyright, National Records of Scotland, Statutory Register of Births, 168/1 326
The 1881 census lists the 7 year-old Mary living at her grandfather's house in Aberdeen. Her father had gone to the USA in search of work, and the family joined him in 1883. With the help of her father's employer, a bicycle manufacturer, and later another wealthy American patron, Garden received singing lessons, and in 1896 studied singing in France. In 1900 she made her debut and her reputation in the title role of Charpentier's 'Louise'. In 1902 she created the leading female role in Debussy's 'Pelléas et Mélisande'. Romantic entanglements with Debussy and other composers were rumoured. She enjoyed several successful seasons in Paris.
After 1908 she returned to America, mainly performing in Chicago, including a daring appearance in New York as 'Salomé' in 1909. During the First World War she worked as a nurse and fund-raiser, then resumed singing and successfully tried directing with the Chicago Opera Association. She retired from the stage in 1934, spent the years 1940-46 in Aberdeen, and later coached occasionally in the USA. By then in declining health, she spent more time in Scotland, where she died aged 92 in 1967.
Image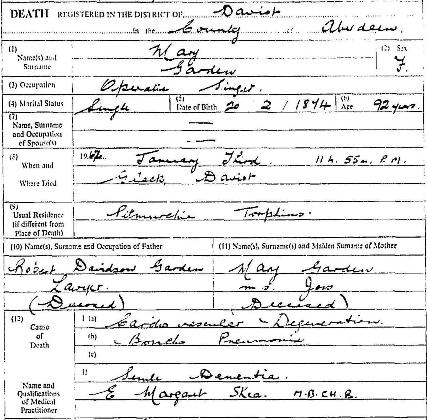 Death entry of Mary Garden, 3 January 1967
Crown copyright, National Records of Scotland, Statutory Registers of Deaths, 1967, 187/1
George Sherriff, plant hunter and botanist (1898-1967)
Image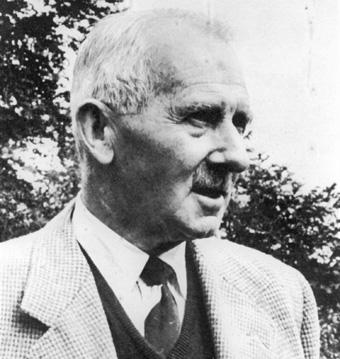 George Sherriff
Credit: Royal Botanic Garden Edinburgh Archives
George Sherriff, explorer and plant collector, was born at Carronvale, Larbert, on 3 May 1898 to George Sherriff, distiller, and his wife Catharine Nimmo.
Image

Birth entry of George Sherriff, 3 May 1898
Crown copyright, National Records of Scotland, Statutory Register of Births, 1898, 485/A 137
Educated at Sedbergh School and trained as a gunner at the Royal Military Academy, Woolwich. Towards the end of the First World War he was posted to India, where he was gassed in June 1918, and spent the remainder of the war in hospital.
In 1927 he was appointed Vice-Consul at Kashgar in Chinese Turkestan, a post he held until his resignation in 1931. He used this opportunity to explore the surrounding area and travelled extensively. In 1929 he met Frank Ludlow, a traveller and fellow ornithologist. The men became friends and undertook expeditions together. With passports and permission from the Maharajah, they explored much of Bhutan, Tibet and India, gathering 500 plants. Their subsequent travels throughout the 1930s saw them introduce and return unknown plant varieties to Britain, including new primulas. From one expedition they brought back 2,000 specimens, including 2 crates of living material and large quantities of seeds.
The collection of plants was briefly put on hold with the outbreak of World War Two, but the pair took further expeditions in 1946-47 and 1949. Sherriff took advantage of air travel, and transported plants by air, enabling them to reach Britain before they died in a long and slow transit.
Ludlow retired to Kew, and Sherriff spent his retirement on his estate of Ascreavie, near Kirriemuir, creating a garden and growing Himalayan plants. Of the 27 plants he introduced, he received 7 horticultural awards, and his garden at Ascreavie is included in the Inventory of Gardens and Designed Landscapes in Scotland. On 19 September 1967 he died of cancer at home, aged 69.
Image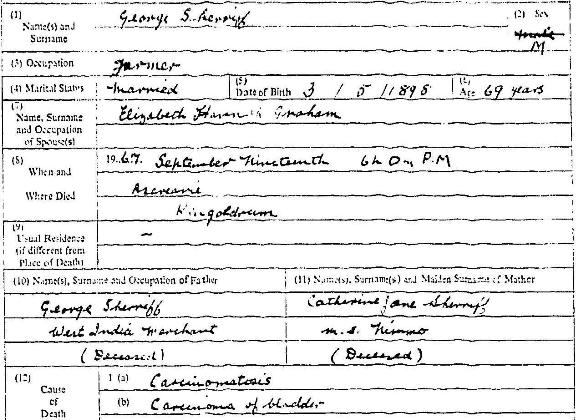 Death entry of George Sherriff, 13 September 1967
Crown copyright, National Records of Scotland, Statutory Registers of Deaths, 1967, 302/6