Marriages registered in Scotland during 1942 numbered 47,514, only 106 fewer than in 1941 but 6,008 fewer than in 1940, when the largest number of marriages ever registered in Scotland was recorded. This came after a rise in weddings with the outbreak of war in September 1939. The year 1942 was the second full year of marriages by civil registrars, which had been introduced in summer 1940, and formed a small but growing proportion of Scottish marriages. Of the 47,514 marriages undertaken in 1942, 41,338 were solemnised by a minister of religion.
Many men were still engaged in active service overseas or elsewhere in Britain, and women were also helping the war effort, mainly at home, whether in uniform or in civilian occupations. The presence of many foreign servicemen in Scotland during this period often led to romance, marriage and children. Here we highlight servicemen from Norway, Poland and Canada who were married in Scotland in the year 1942.
The marriage of Corporal Leif Hartveit and Lydia Johnston
Image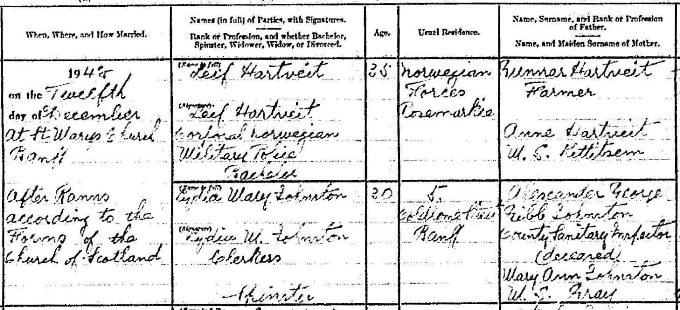 Marriage entry of Corporal Leif Hartveit and Lydia Johnston, 12 December 1942
National Records of Scotland, Statutory Register of Marriages, 1942, 147/A 45
When Norway was invaded in April 1940 by Germany, the army was totally unprepared for war following its decision not to mobilize the army, despite growing unrest and hostilities across Europe in the late 1930s. As a result, the troops who could be evacuated spent years in Britain in exile. Among the Norwegian forces were the Norwegian Military Police, established in Dumfries in September 1942.
The stationing of so many Norwegian men in Scotland led to an increase in the numbers marrying Scottish brides. One commentator wrote in the 'Daily Record' newspaper of 30 June 1942 that 'I can state on the authority of the Registrar General for Scotland that so far no information on the number of such marriages is available since "the particulars…to be supplied…do not include any statement regarding the nationality of the contracting parties".'
One such party was Leif Hartveit, a 35 year-old corporal in the Norwegian Military Police, who married Lydia Mary Johnston, a clerkess, on 12 December 1942 in the parish church of St Mary's, Banff. The local paper reported that Lydia wore a 'two piece suit of hyacinth blue wool crepe with navy blue accessories.' She was the daughter of the former county sanitary inspector of Banff, Alexander Johnston, and his wife Mary Gray. The church was decorated with chrysanthemums and the reception was held in the Fife Arms Hotel, Macduff.
The marriage of Private Franciszek Blaszczyk and Miss Kathleen Panton
In June 1940, under an agreement between the United Kingdom and Poland, many Polish soldiers were evacuated to Britain and eventually relocated to Scotland. Altogether about 38,000 Polish men from units formed in France and the Middle East, alongside naval and air force personnel, came to Scotland.
An 18 year-old library assistant Kathleen Panton, was one of the Scottish women to meet and marry a Polish soldier. On 17 February 1942 she married 26 year-old Franciszek Blaszczyk, a mechanical engineer in the 1st Reconnaisance Corps of the Polish Forces. They were wed at St John's Roman Catholic Church in Perth. It was commemorated with a photograph in the 'Perthshire Advertiser' on 21 February.
Image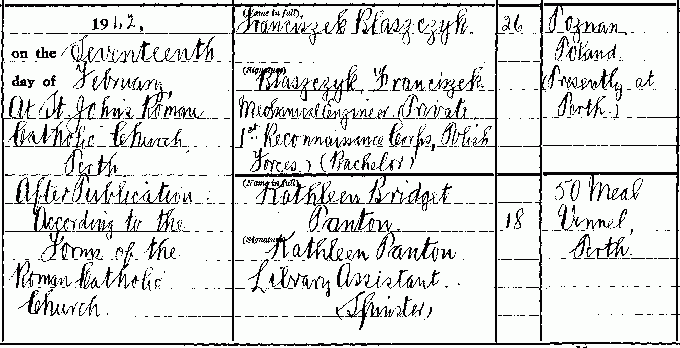 Marriage entry of Franciszek Blaszczyk and Kathleen Panton, 17 February 1942
National Records of Scotland, Statutory Register of Marriages, 1942, 387/82
The marriage of Sergeant Pilot Keith McLean Johnston and Miss Elizabeth Robertson Smith
Keith Johnston was a 24 year-old Sergeant Pilot in the Royal Canadian Air Force, of Scottish descent. He came from Vancouver, where he had been a raft builder in civilian life. On 27 July 1942 he married 26 year-old Elizabeth Robertson Smith, a shorthand typist, at the Royal Hotel, Blairgowrie. He is stated to be 'presently engaged in war service.'
Image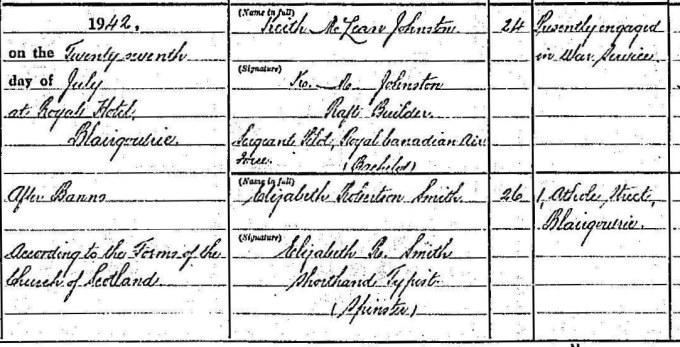 Marriage entry of Keith Johnston and Elizabeth Smith
National Records of Scotland, Statutory Register of Marriages, 1942, 335/40

Johnston was later commissioned and served as a Flying Officer (service number J/16067) in No. 429 Squadron, which flew Wellington bombers and was assigned to the Royal Canadian Air Force (RCAF). During a 700-bomber raid on Essen on the night of 25-26 July 1943, the aircraft that Johnston was piloting was shot down. Having ordered his crew to bale out, which saved all four men, he died when his parachute failed to open. His body lies in Bergen-op-Zoom Canadian War Cemetery in the Netherlands, one of over 10,000 RCAF personnel killed or posted missing while serving in or attached to Bomber Command. On 2 April 1947 his widow Elizabeth married again, to William Brodie, a gas works manager. She died in 2002
;