Image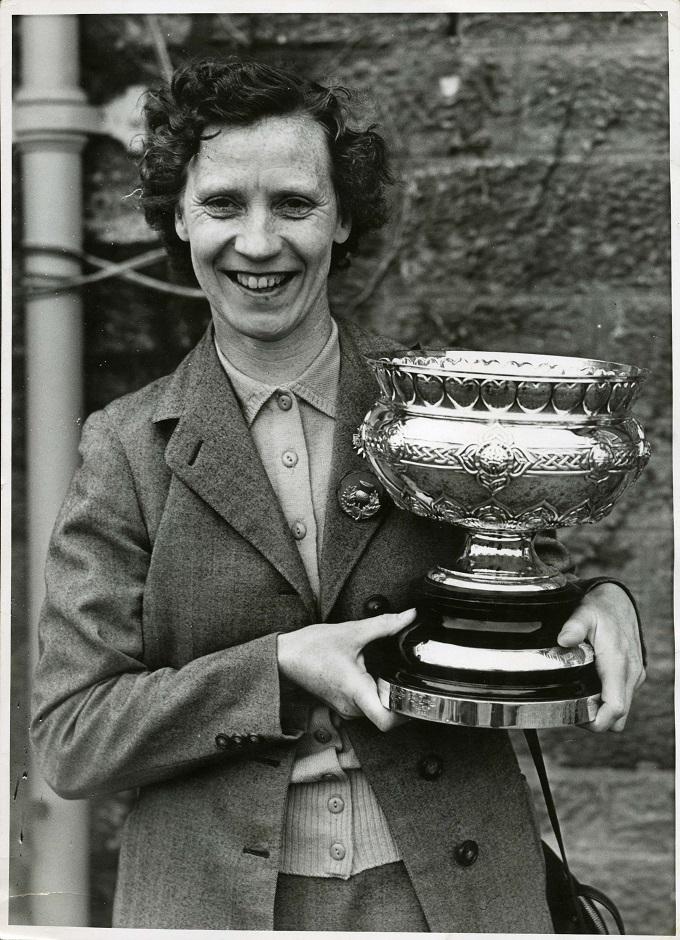 Mrs George [Jessie] Valentine with the Scottish Women's Amateur Golf Championship Cup, 21st May 1953
Image credit: Courtesy of DC Thomson Co. Ltd.
Jessie Valentine (née Anderson), MBE, (1915-2006), the 'Fairway Maid of Perth', was a Scottish amateur golfer. She was a three-time British Ladies' Amateur and six-time Scottish Ladies' champion and the world number one ranking ladies golfer in 1937. Valentine was the first woman golfer to be appointed MBE for services to golf in 1959. She was inducted into the Scottish Sports Hall of Fame in 2003 and the Scottish Women in Sport Hall of Fame in 2020.
Image

Entry for Janet Anderson in the statutory register of births, Perth, 18th March 1915
Crown copyright, National Records of Scotland, 1915/387/169.
Jessie Valentine, affectionately known as 'Wee Jessie', was born Janet Anderson at 31 Rose Crescent, Perth, on 15th March 1915. She was the daughter of Joseph Anderson, a sports outfitter, and Agnes Scrimgeour. They had married 12 years previously in Perth on 23rd September 1903. (NRS, 1903/387/232).
Image
Detail of Joe Anderson (entry 2935) listing him as a sports outfitter, of 34 Rose cres[cent], proprietor of a shop and wareroom at 15 St John Street, Perth, in the valuation roll for Perth Burgh, 1920
Crown copyright, National Records of Scotland, VR68/61, page 56.
Joseph (Joe) Anderson (1878-1961) was a first-class cricketer who represented Scotland internationally in the early 1900s. He was also a famous golfer and for many years a professional at Craigie Hill Golf Club in Perth. Valentine's grandfather, William (Willie) Anderson (1851?-1943), was a champion golfer in the 1870s.
Valentine started playing golf when she was five years old trained by her father. In 1932 she was entered into the British Girls' Championship at Stoke Poges in Buckinghamshire. The following year she won the Girls' Amateur Championship.
She secured her first British Ladies' Amateur golf title at Turnberry in 1937 where she defeated Doris Park (the daughter of Willie Park Jr. a Scottish professional golfer) in the final. After winning this title she was number one in the world rankings of female golfers. She won the championship again in 1955 and 1958 and was awarded a place in the Guinness book of Golf for the 21-year gap between her first and last Championship title.
Valentine won the Scottish Ladies' Amateur Championship (now known as the Scottish Women's Amateur Championship) in 1938, 1939, 1951, 1953, 1955 and 1956. She was also the New Zealand Ladies' Champion in 1935 and the French Ladies' Champion in 1936.
She was selected for the Great Britain and Ireland Curtis Cup team (for women amateur golfers) on seven occasions from 1936 to 1958. In 1936, aged 21, she famously helped the team secure a win and tie with the United States by holing a 60-foot putt on the 18th hole at Gleneagles. She also represented Great Britain and Ireland for the Vagliano Trophy (a biennial women's amateur golf tournament).
Image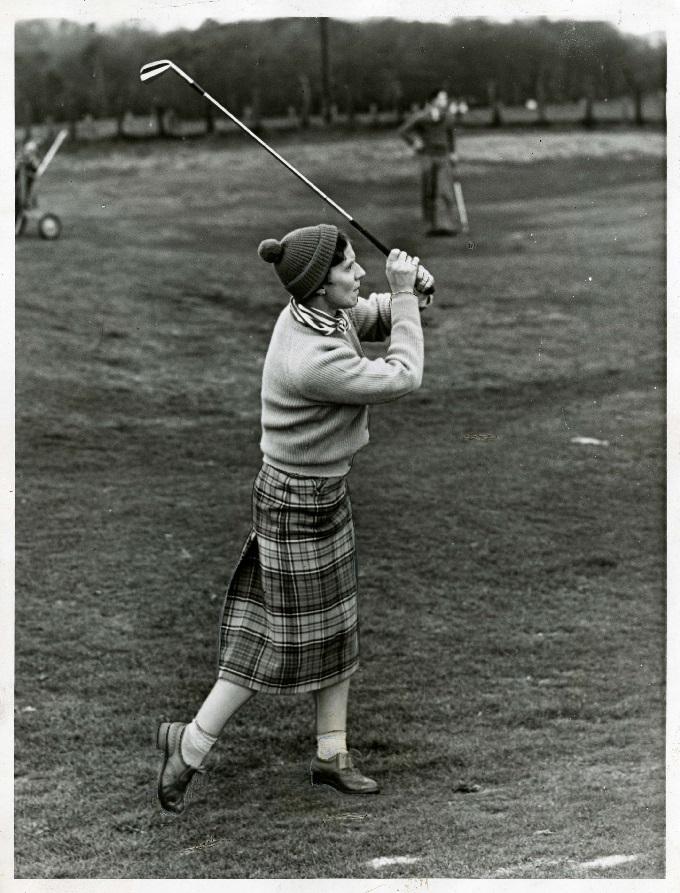 Mrs George [Jessie] Valentine (Perth) playing in St Andrew's Varsity Match playing an iron shot, 10th April 1956
Image credit: Courtesy of DC Thomson Co. Ltd.
Valentine's golfing achievements may have been even greater had the Second World War not interrupted her career. Towards the end of the war, she married George Valentine (who'd been a Prisoner of War at Eichstatt in Germany), on 23rd May 1945 at North Church, Mill Street, in Perth. Jessie was 30 years old, employed as a transport driver and living at 54, Jeanfield Road, Perth. George was 29 years old, a Motor Engineer, and serving as a Lieutenant in the Royal Army Service Corps. His usual residence was 29 Clifton Bank, Craigie, Perth, but he is described as 'now engaged in War Service'. Their son, Francis Iain, was born in 1948.
Image

Entry for George Valentine and Jessie Anderson in the statutory register of marriages for Perth, 23rd May 1945
Crown copyright, National Records of Scotland, 1945/387/190.
Valentine was awarded an MBE in the 1959 New Year's Honours list to recognise her golfing achievements and in 1960, aged 45, turned professional. She won the Worplesdon Mixed Foursomes in Surrey with John Behrend from 1963 to 1965. In 1967 she was awarded the Frank Moran Trophy for "the Scot who had done most for the game of golf". (Source: Entry for Jessie Valentine in Scottish Sport Hall of Fame).
She died aged 91 in the Bridge of Earn, Perth and Kinross, in 2006. (NRS, 2006/390/255). Her husband George had died 10 years previously on Christmas Eve in 1996. (NRS, 1992/390/860).
Valentine's legacy continues to this day. In 2003, she was one of the first 50 sports people inducted into the Scottish Sports Hall of Fame. In 2019, there was a retrospective of 'Perth's Fairway Maid' (a play on words of Walter Scott's 'The Fair Maid of Perth') and her golfing achievements at Perth Museum and Art Gallery to coincide with the Solheim Cup at Gleneagles. She was also the subject of Dr Eve Soulsby's biography 'Wee Jessie: Jessie Valentine: Whose Golf Swing Lasted a Lifetime' which was launched at the exhibition.
In 2020 she was inducted into the Scottish Women in Sport Hall of Fame, which was launched in 2018 to recognise and honour Scottish female athletes who have made an outstanding contribution to Scottish sport. It includes women like Valentine who were considered pioneers in their sport during their lifetime.