Ian Glen Collins was born on 23rd April 1903 at 8 Kensington Gate, Glasgow, into the Collins publishing dynasty.
Image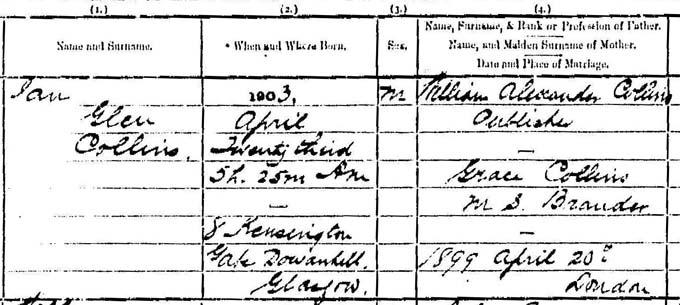 Detail from Ian Collins' birth entry, 23rd April 1903
Crown copyright, National Records of Scotland, Statutory Register of Births, 1903, 646/3 868 page 290
Ian was the second of three sons (and four children in total) born to William Alexander Collins and Grace Brander. The Collins were part of four consecutive generations who headed the firm of William Collins, Sons & Co. Ltd., leading publishers of books, stationery, bibles, classics and diaries. William had been elected to the board in 1897 and succeeded to the chairmanship in 1906 at 33 years old.
William and Grace's eldest son, William Alexander Roy Collins, was born in Glasgow on 23rd May 1900, and would inherit the publishing company.
Image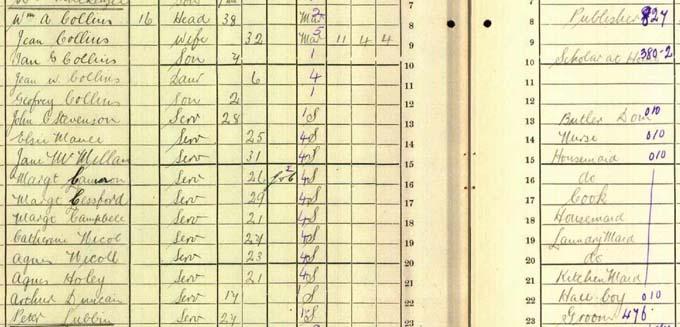 Detail from the 1911 census listing the Collins family home at Greygables, Troon, with 11 servants also in residence. Grace has been enumerated as 'Jean'; it is not clear why this was done.
Crown copyright, National Records of Scotland, 1911 Census, 590/2 1, page 11.
Ian's family home was an Edwardian villa, built by his father in Troon, Ayrshire, around 1908. Fashioned in an English cottage style, its Westmorland slate roof and slate-hung gables gave the house its name.
Ian attended Harrow School before moving to Magdalen College, Oxford. He spent much of his time playing cricket (going on to play for Scotland against Australia and 'The Gentlemen of Ireland' in 1926 and 1927 respectively), as well as representing his University in golf, but it was tennis where he had the most professional success.
In 1926, 1927 and 1928 he won the Scottish Championships. He was also a finalist in the Championships six times over the years up to 1936.
In 1927 Ian made his debut at Wimbledon and played in a total of 12 Wimbledon Championships. His best performance came in 1930 when he reached the fourth round, before being beaten by Bunny Austin. A professional high came the following year when he defeated the number one seed (highest ranking competitor) Henri Cochet in the second round at Wimbledon, 6-2, 8-6, 0-6, 6-3. He played in every Wimbledon Championship until 1939 except in 1933 when he had injured himself riding his horse 'Pearl's Hope' at Irvine's Bogside Racecourse.
Ian also enjoyed some success in doubles, forming a partnership with his elder brother William and also with Dr Colin Gregory. With the latter he reached the finals of the Australian Championship and Wimbledon in 1929 and they also competed in the Davis Cup together, being defeated in 1929 and 1930.
Image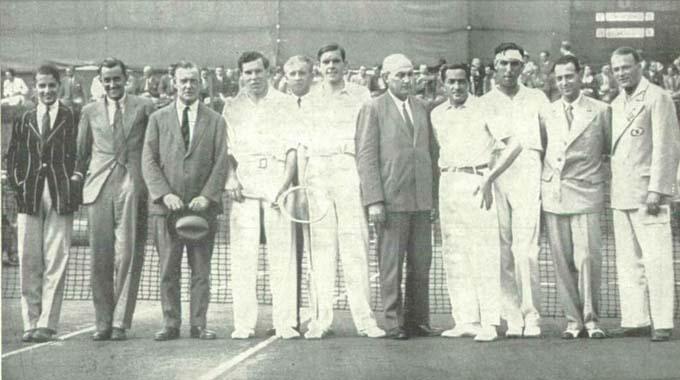 The Hungary-England Davis Cup match, 14th June 1929. Bunny Austin can be seen far left, Colin Gregory and Ian Collins are in the centre.
Credit: Wikipedia, public domain.
Whilst representing Great Britain in the Davis Cup, one reporter commented that Ian's serve resembled a 'monkey mounting a pole'; this was the result of an impairment from a healed broken leg which he had suffered when playing rugby at Oxford. (The Sunday Times, Perth, Western Australia, 8 September 1929).
Image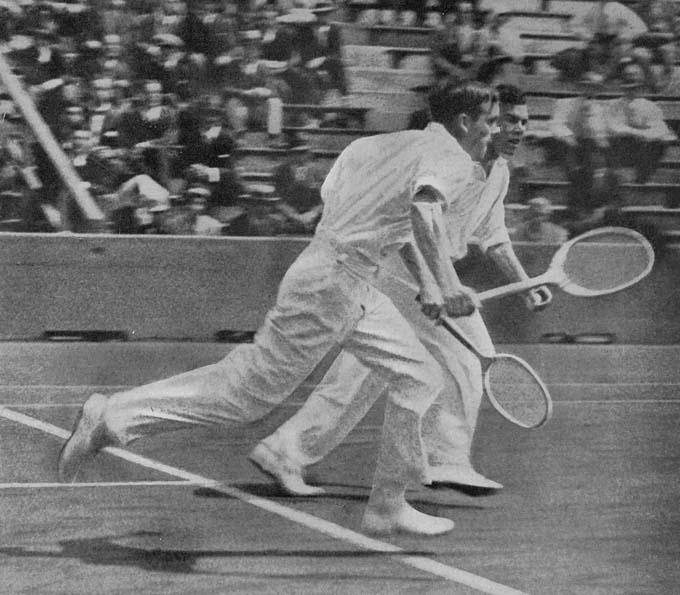 The leading British doubles pairing of Dr. John Gregory and Ian Collins representing Britain in the Davis Cup, 1929.
Credit: © Illustrated London News Ltd/Mary Evans.
He also participated in mixed doubles, winning multiple times in the Scottish Hard Court Mixed Championships with Gwyn Corbett, Lady Rowallan; they are seen here in 1935 after beating G.B. Leyton and Miss S Paterson at St Andrews. Ian also won the singles competition that year for the fourth time.
Image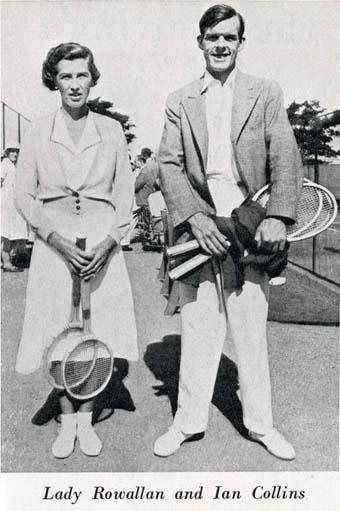 Lady Rowallan and Ian Collins, 1935.
Credit: © Illustrated London News Ltd/Mary Evans.
Outside of sport, Ian and William still worked in the family business and by the mid-1930s had become a central part of the organisation. Based in Glasgow, Ian's focus lay in manufacturing technologies, bibles, schoolbooks, diaries and stationery as well as helping to lead and promote the export trade.
This work was interrupted with the beginning of the Second World War. Originally serving in the Coldstream Guards, Ian moved to serve as a Lieutenant Colonel in the HQ Special Air Service (SAS) Brigade (GSO 1(SAS) HQ 1 Airborne Corps). Working as a Combat Systems Officer (CSO), Lieutenant Colonel Collins built up staff organisation for the control and planning requirements of the (SAS) Brigade in connection with the British and American Armies. He also fulfilled administrative requirements of the French and Belgian SAS Units. Attached to the 1st Canadian Army in Holland in April 1945, he arranged for the transfer of 1 Belgian Independent Parachute Company to the SAS and played a central part in reorganising them for their new role. For these efforts he was awarded a variety of honours including: Officer of the Order of the British Empire, the Croix de Guerre avec palme (Bel) and the Croix Militaire, 1st Class (Bel).
Image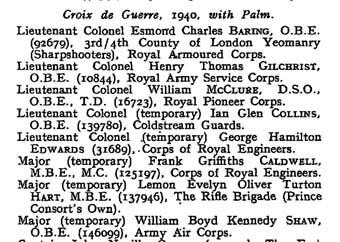 Detail from 'Supplement to the London Gazette' 16th January 1947 announcing Lieutenant-Colonel Ian Collin's award of the Croix de Guerre.
Credit: The Gazette Website under the Open Government Licence for public sector information
Upon re-entering civilian life, Ian became vice-chairman of Collins publishing. He married Shona Anderson in Glasgow Cathedral on 16th March 1972 where he gave his occupation as 'farmer'. He died on 20th March 1975 in Bearsden, East Dunbartonshire.