ScotlandsPeople holds the official records of some of the most important events of our lives and, every January, we add the records of people who were born 100 years ago, married 75 years ago and died 50 years ago in Scotland.
The entries of the people who died in Scotland in 1972 are now available to search and save on the ScotlandsPeople website. They are part of over 139,000 images released in January 2023 comprising 65,017 death entries in 1972, 115,085 birth entries in 1922 and 44,411 marriage entries in 1947.
The total number of deaths registered in Scotland in 1972 was 65,017, of which 33,215 were male and 31,802 female. This was an increase of 3,403 from the previous year's total.
One of the men who died that year was David Ross Lauder VC. This article looks at his life and the remarkable role he played as a soldier in the First World War.
David Ross Lauder was born in Easter Glentore, by Airdrie, on 31st January 1894 to Angus Lauder, a tailor, and Minnie (Marion) Crawford. His birth entry states that he was born on the 21st of January, however this was later changed by a corrected entry to the 31st.
Image

Detail from David Lauder's birth entry
Crown copyright, National Records of Scotland, Statutory Register of Births, 1894, 651/1 122 page 41
David was the eldest child and brother to Angus, born 1901, and Elspeth, born 1904. Two other siblings, Janet and Jeremiah, died in childhood, aged four years old and 23 months respectively, in 1900.
By the 1911 census, David had moved to Cleish, Kinross-shire. He was living at 'Bothy Borland', employed as a cattleman to James McGregor. His family were living on Chapel Street, Airdrie.
Lauder joined the 1/4th Royal Scots Fusiliers as a Private, soldier number 7709, after the outbreak of the First World War. Conflict took him to Gallipoli where he was badly injured and honourably discharged.
On Saturday 3rd March 1917, Private Lauder attended an Investiture at Buckingham Palace with 200 naval and military officers where he was awarded the Victoria Cross (VC). An account of Private Lauder's actions was read to King George V, which recommended him for the VC for:
'most conspicuous bravery when engaged with a bombing party in the retaking of a sap [a covered trench] in Suda Bay, Gallipoli. Private Lauder threw a bomb which failed to clear the parapet and fell amongst the bombing party. There was no time to smother the missile, and Lauder at once put his foot upon it so as to localise the explosion. His foot was blown off, but the remainder of the party [nine men] escaped injury entirely through his act of self-sacrifice. His Majesty shook hands with the maimed hero and commended his bravery and devotion.' (Coatbridge Express, Wednesday 7 March 1917).
Lauder was also awarded a Silver War Badge – a pin designed to be worn on civilian clothes after early honourable discharge from the army. His medal card can be seen on The National Archives website.
Image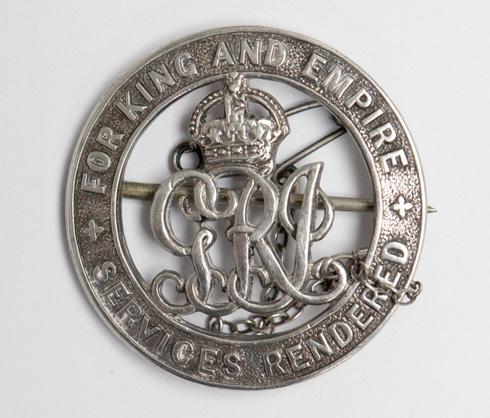 An example of a Silver War Badge.
Shared under Creative Commons Attribution-Share Alike 3.0 Unported license.
In addition to the awards bestowed on Lauder by his King, his heroism was recognised both at home and by those abroad. On Thursday 18th January 1917, Private Lauder was introduced to the members of the Glasgow Town Council. The Lord Provost remarked that his act had been 'an extremely brave one, and showed that he knew what to do at the right moment.' Private Lauder replied that 'he was proud to have brought that additional honour to the city.' (Daily Record, Friday 19 January 1917).
Lauder was also one of 'about half a dozen heroes singled out for the distinction' of being presented with a gold medal by the King of Serbia. (The Bioscope, Thursday 22nd February 1917).
Image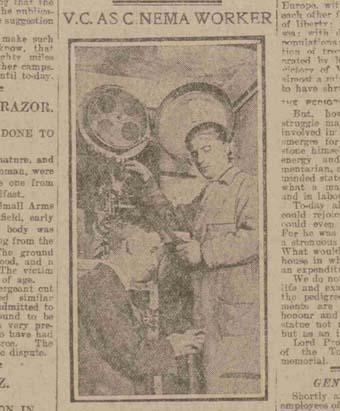 For the remainder of the war, Lauder worked in a Glasgow munitions factory by day and in the evenings as a cinema operator (shown here on the right).
Credit: Daily Record and Mail, Friday 19th January 1917. Reproduced with permission from Mirrorpix
Image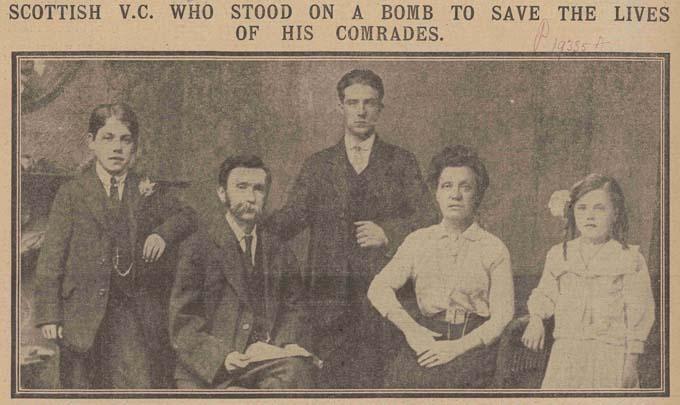 David Lauder is pictured with his parents and brother and sister following his return from war.
Credit: The Daily Mirror, Tuesday 16th January 1917. Reproduced with permission from Mirrorpix
Lauder married twice. His first marriage was to Dorina McGuigan, a wool spinner, on 21st February 1913 when they were 19 and 21 years old respectively and Lauder was employed as a steelwork labourer.
The couple were enumerated in the 1921 census at their home, 15 South Newk, Kilbirnie, with their sons James and Thomas and servant Isabella McMillan. Another son, Angus, had died as a new-born baby in 1916, and the couple later had a daughter, Marion, born in 1925. At the time of the census, Lauder was working as an electric crane man for David Colville & Sons, one of the biggest iron and steel companies in Scotland by the First World War, and is recorded as having been awarded the VC.
Image

Detail from the 1921 census enumerating David Lauder and family. Note the VC initials beside his name.
Crown copyright, National Records of Scotland, 1921 census, 596/9 page 16
The couple divorced on 19th July 1929. The following month, Lauder married Rachel Bates in the Guthrie Memorial Church, Glasgow.
Image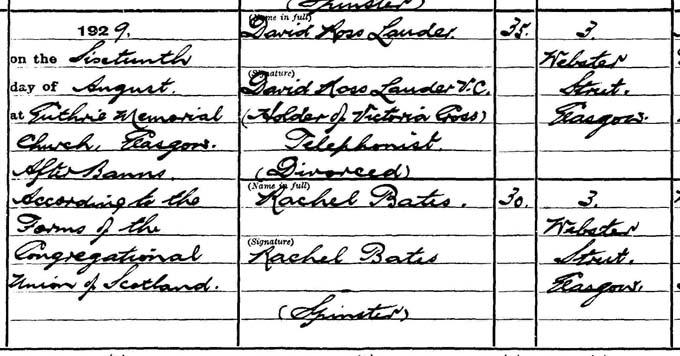 Detail from David Ross Lauder VC and Rachel Bate's marriage entry
Crown copyright, National Records of Scotland, Statutory Register of Marriages, 1929, 644/3 384 page 192
Together, Lauder and Bates had three children. In later life, Lauder worked as a Post-Office telephone supervisor. Rachel Lauder died on 15th November 1971 at home in Glasgow. Her husband died less than a year later, also at home on 4th of June 1972.
Image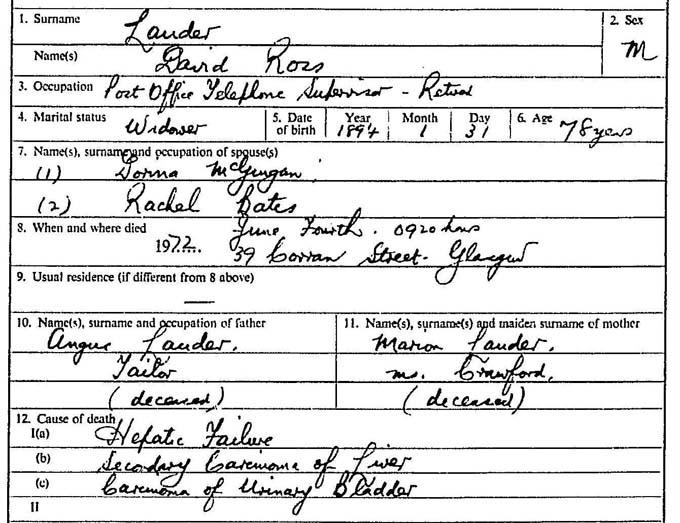 Detail from David Lauder's death entry
Crown copyright, National Records of Scotland, Statutory Register of Deaths, 1972, 611/ 454
For further information on the Statutory Register of Deaths, please see our online guide.