The Scottish writer, Compton Mackenzie (1883-1972), is remembered for his endearing portrayal of Scottish life in his comedic novels. A prolific writer, active for over fifty years, his best remembered work includes The Monarch of the Glen (1941) and Whisky Galore (1947).
As part of the new year record releases on ScotlandsPeople, Mackenzie's death is one of the 66,235 deaths recorded in 1972. The release of this record, provides the perfect opportunity to look back on Mackenzie's extraordinary life and discover his enthusiasm for his Scottish ancestry and the back stories which inspired his Scottish novels set in the Outer Hebrides.
Edward Montague Compton Mackenzie was born on 17th January 1893 in West Hartlepool, County Durham to an English-born father and an American-born mother who worked as actor-managers of their own theatre company. His paternal grandfather, Henry Compton (born Charles Mackenzie, 1805-1877) was an acclaimed Shakespearean actor. The Mackenzie family had their roots in the Scottish Highlands. Compton considered himself Scottish and Scotland was of great importance to him personally and professionally.
Educated at St. Paul's School London and Magdalen College Oxford, Mackenzie chose not to follow his family into the theatre and decided to forge a career as a writer. It was as a journalist and critic that the young Compton Mackenzie first made his name. Mackenzie was an early champion of recorded music and of the gramophone. In the early 1920s, having purchased every record issued by HMV, Columbia and Vocalion record labels, Mackenzie co-founded Gramophone magazine with his brother-in-law Christopher Stone. Alongside his role as a critic, journalist and editor, Mackenzie was broadening his range as a writer, publishing children's books, biographies, literary criticism, and was beginning to carve out a reputation as a writer of fiction, with one of his earliest novels, Sinister Street (1914), gaining retrospective acclaim from both George Orwell and F. Scott Fitzgerald.
Image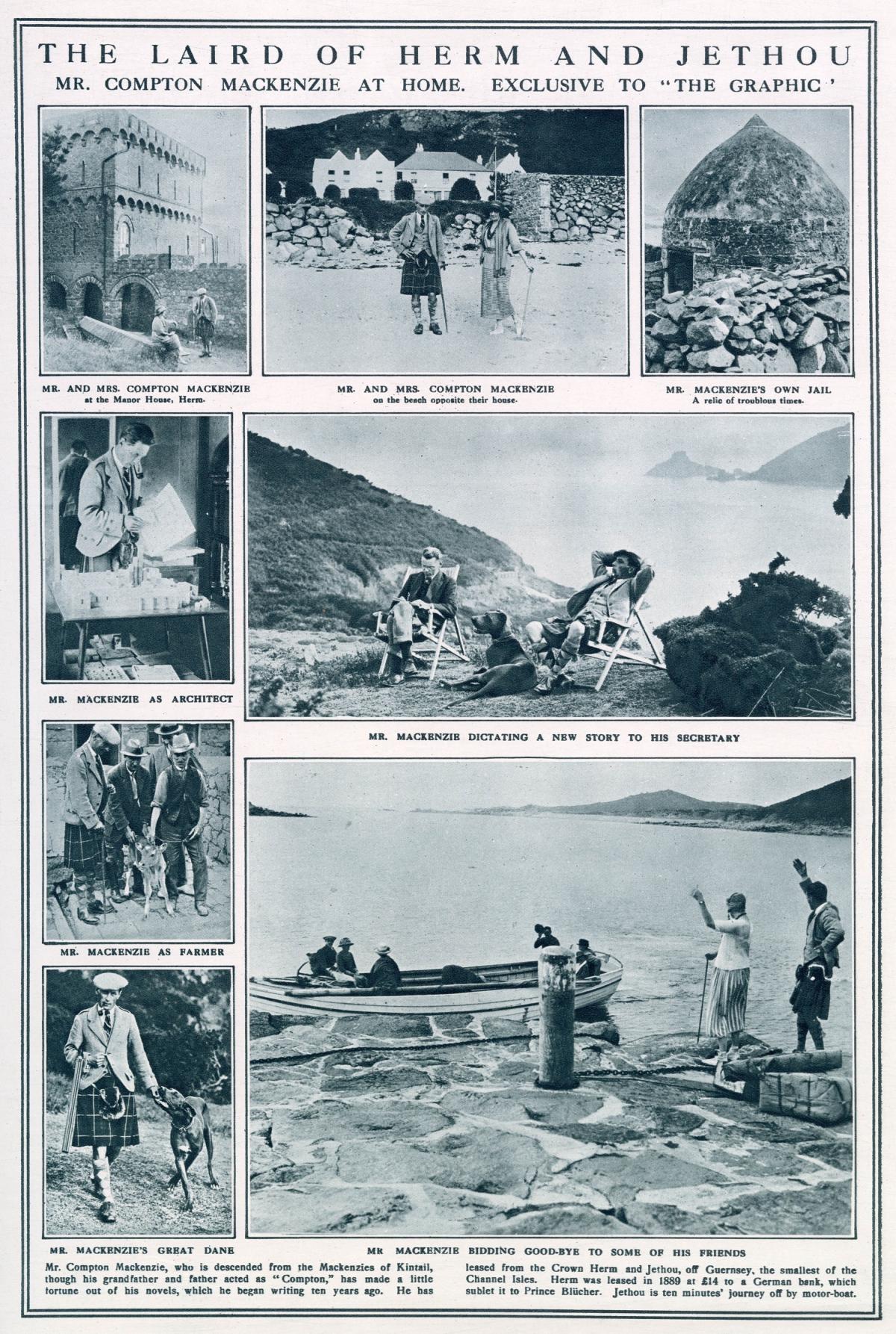 Page from The Graphic featuring a series of photographs of writer and novelist, Compton Mackenzie, shown relaxing on Herm & Jethou, the smallest of the Channel Islands, 1921.
Image credit: © Illustrated London News Ltd/Mary Evans
Mackenzie experienced Scottish life first hand when, in 1928, he relocated to Scotland and, in 1935, had a spacious house built on the Isle of Barra. The house has an uninterrupted view of the bay at Eoligarry and was named 'Suidheachan', meaning 'place to sit' in Gaelic.
Image

The 1940 Valuation Roll entry for Suidheachan, Mackenzie's home on Barra showing the large annual rental value of £50.
Crown copyright, National Records of Scotland, VR103/53 page 449.
On 4th February 1941, the cargo ship S.S. Politician ran aground near the Island of Calvay, Sound of Eriskay, South Uist. The wreck would have been visible from Mackenzie's residence. The cargo included a large consignment of whisky bound for the United States and the Caribbean. Hundreds of cases of whisky were removed from the wreck by local residents and hidden on the island. This was in contravention to marine salvage laws and police and customs officials conducted extensive searches for the missing whisky.
While the police investigation had serious consequences for some islanders who were prosecuted and imprisoned, Mackenzie saw great comic potential in the incident; an isolated island in the midst of wartime rationing suddenly acquiring a bounty of whisky through legally dubious means and the subsequent game of 'cat and mouse' between islanders and officialdom seemed ripe for fictionalisation.
In the novel, titled Whisky Galore! (1947), Mackenzie turned S.S. Politician into S.S. Cabinet Minister and Calvay became the fictional isles of Great Todday and Little Todday. Mackenzie was fastidious in recreating the accents of the islanders and included common Gaelic words often used by locals. This led to a glossary being added to the book for explanation to its readers. Such was the success of the Whisky Galore! that Ealing Studios made a film version, just two years after the novel's release, starring Basil Radford, Joan Greenwood and Gordon Jackson. Mackenzie made a cameo in the film as the captain of S.S. Cabinet Minister. The film, a box office and critical success, was one of the most popular films in the UK in 1949. The film was also remade in 2016.
Image
Plan of the island of South Uist, Inverness-shire, 1805. Available to view on the Maps and Plans section of ScotlandsPeople.
National Records of Scotland, RHP1040.
Mackenzie re-visited the fictional isles of Great Todday and Little Todday for the sequel to Whisky Galore!, entitled Rockets Galore! (1957). Like its predecessor, this novel was based on real events. The Ministry of Defence had submitted a proposal for a missile range on South Uist, a move staunchly opposed by local residents, and Mackenzie enthusiastically took up their cause. Indeed, the opposition was so strong and varied that the Aberdeen Evening Press reported that "Birdwatchers, antiquarians and enthusiasts for Gaelic folk-lore (some of them only summer visitors to the islands) are up in arms" (Aberdeen Evening Press, 19th August 1955).
The government carried out archaeological investigations at the proposed site of the missile range, the report of which is held and can be consulted as part of the National Records of Scotland's collections (NRS, DD27/688). The file details excavations of 30 previously unknown sites dating back to the Middle Iron Age (400-100 BC). These included a wheelhouse (a dry-stone construction, circular in shape, and around 2000 years old), a Viking longhouse from the 10th century and huts belonging to the 6th and 7th centuries AD.
Image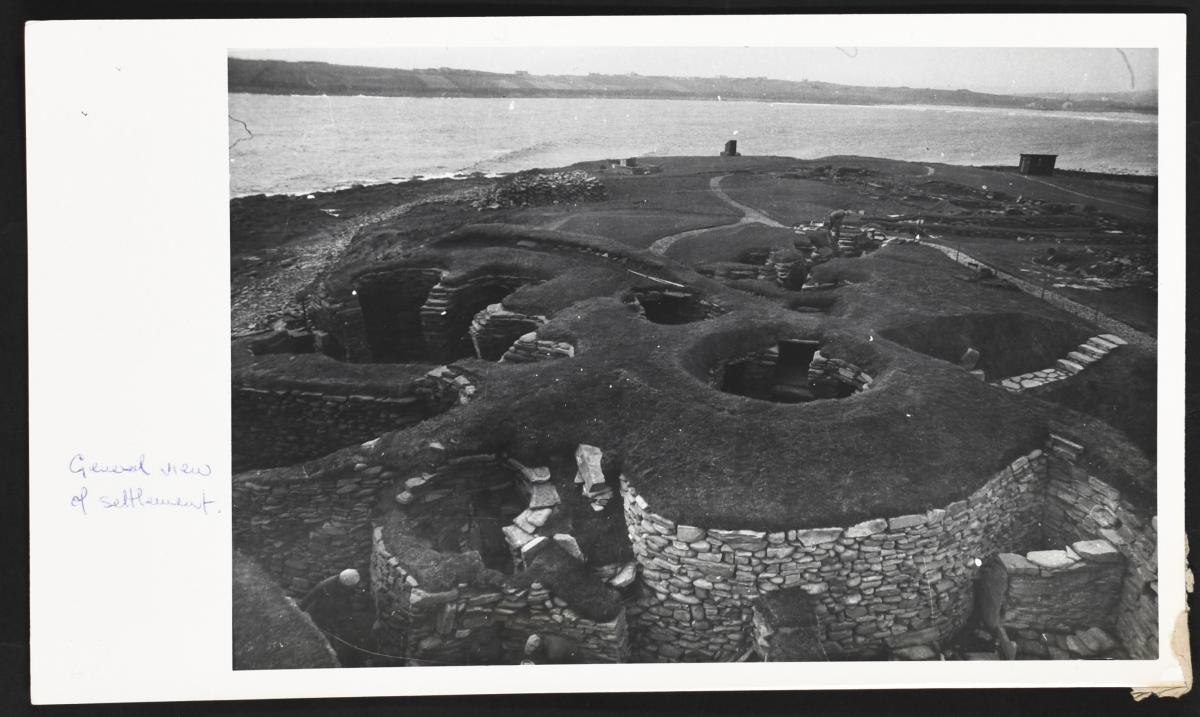 This photograph from the Ministry of Works file on excavations at South Uist shows a general view of the settlement.
Crown copyright, National Records of Scotland, DD27/688
The main contention against the missile range was that the proposed land requirements sought by the government would result in the loss of the livelihoods of two hundred island crofters. The Gaelic community (in 1955 the population of South Uist was 2,500) saw the proposed range as an assault on their heritage with the 'invasion of sassenachs' who would be working on the range. This led to a call for a public inquiry, which Compton Mackenzie supported. He was quoted as saying "We were told this was to be a great thing but now it is the very opposite… I think that you will find that there is going to be a tough fight."
Despite this opposition, a missile testing range was constructed by the Royal Air Force between 1957 and 1958 to launch Britain and America's first guided nuclear weapon. The site became known as MOD Hebrides (now managed by QinetiQ) and is still active today, with sites on the islands of South Uist, Benecula and St Kilda.
By this time Mackenzie was no longer resident on Barra, having sold Suidheachan in 1946.  From the late 1940s onwards, Mackenzie's primary residence was at 31-32 Drummond Place in the fashionable New Town area of Edinburgh.
Mackenzie's first wife, Faith Nona Stone (1878-1960), was also a writer and sometime actor. Faith died in 1960. Two years later, Mackenzie married Christine MacSween, his long serving secretary. This union was short-lived as Christine died within one year of their marriage. Mackenzie married for a final time to Lilias 'Lilian' MacSween (sister of his second wife Christine) in 1965.
In retirement, he continued to edit Gramophone magazine, which he founded in 1923 and remains a popular music magazine today. Despite near blindness, with the help of the MacSweens he continued to write, often about his varied interests, which spanned from snooker to Siamese cats. Sir Compton Mackenzie died at his Edinburgh home in 1972 and was buried on the Isle of Barra, the place that provided him with a home and inspired his most successful novel.
Image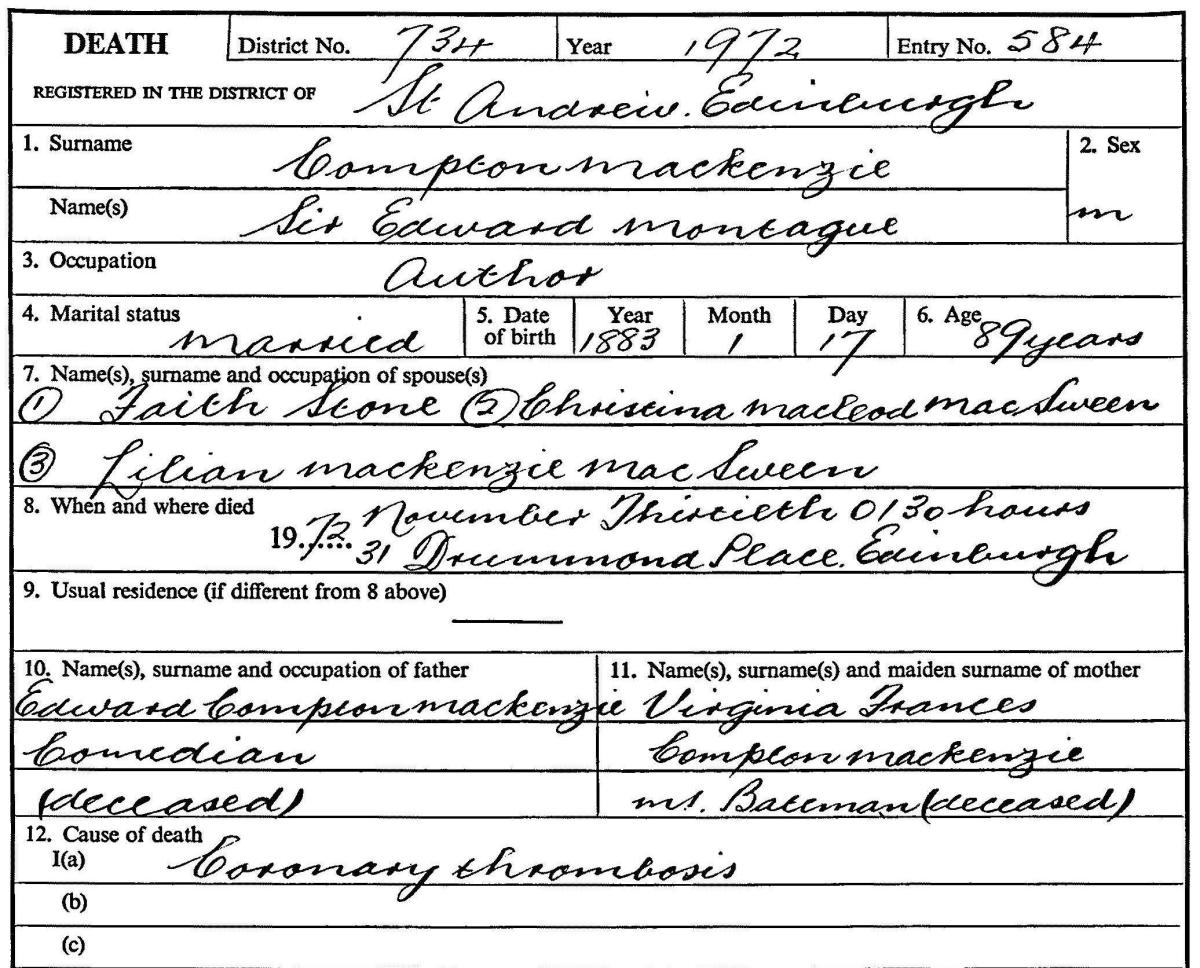 Extract of Sir Edward Montague Compton Mackenzie's death certificate, 1972.
Crown copyright, National Records of Scotland, 1972/734/584
Along with the ever popular Whisky Galore! Mackenzie's work has also found an audience on television. The BBC comedy drama Monarch of the Glen (2000-2005) was loosely adapted from Mackenzie's series of Highland Novels written in the 1930s and 1940s. While the setting of the fictional Glenbogle castle is preserved in the television series, the timeline was shifted to the present day.
For a man who had a lifelong interest in records and music, he leaves an unusual, but fitting legacy. Such was the interest in the novel Whisky Galore! that it was translated into French and published under the title Whisky à Gogo. In 1947, the Parisian entrepreneur Paul Pacini used the book title for his pioneering new venue, which provided music from records played over a public address system, rather than a band or orchestra. Pacini's club, Le Whisky à Gogo, has a very strong claim to be the world's first ever discotheque.
Although Compton Mackenzie was primarily considered a writer of light comic fiction, he lived a full and active artistic and personal life. He leaves a considerable legacy not only on the bookcases and cinema screens of the world, but on its dancefloors too.