Women's History Month 2022 celebrates' women providing healing, promoting hope'. We look at the life and charitable work of Catherine Sinclair (1800-1864); a largely forgotten Scottish novelist and philanthropist. Sinclair wrote popular children's books and worked to improve life in her native city of Edinburgh, by gifting drinking fountains and public seating.
Image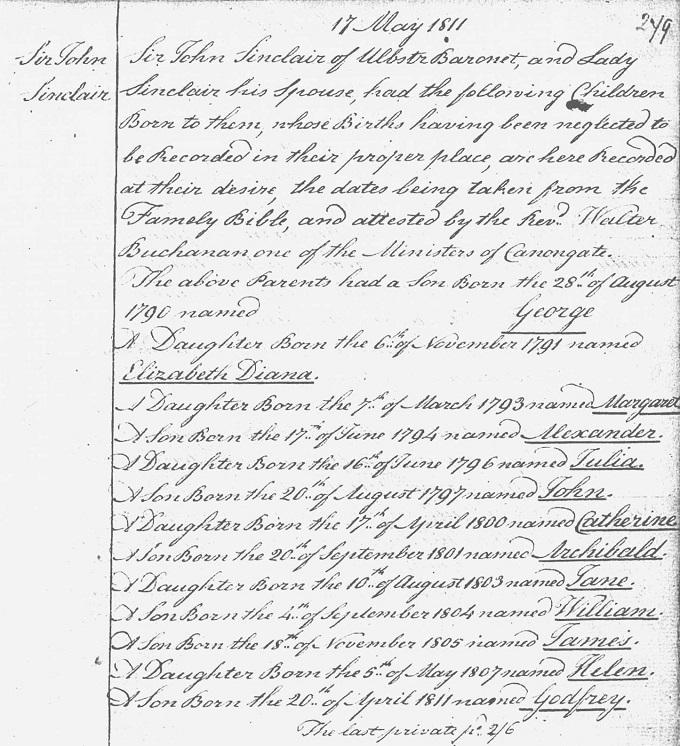 Sinclair's birth, 17th April 1800, is recorded in the Old Parish Register of Canongate, Edinburgh, 17th May 1811. Her 12 siblings born between 1790 and 1811 are also listed 'having been neglected to be recorded' previously.
Crown copyright, National Records of Scotland, Old Parish Register of Births, 685/3 110 page 285.
Born in 1800 at the family home at 6 Charlotte Square, now known as Bute House the official residence of the First Minister of Scotland, Sinclair's birth is recorded in the Old Parish Registers of the Canongate area of Edinburgh. Her date of birth along with those of her 12 siblings have been copied from the family bible, a common tradition in the eighteenth and nineteenth centuries. The family later moved to 133 George Street, Edinburgh, where the pavement outside their house became colloquially known as 'Giants' Causeway' as the Sinclair girls were all unusually tall.
Sinclair's father was Sir John Sinclair, 1st Baronet (1745-1835), a British politician and writer. Concerned with improving the state of the nation, his hugely influential work, 'The Statistical Account of Scotland', has been described as the 'most frequently quoted of all Scottish historical sources' (Rosalind Mitchison). At the age of 14 Catherine became her father's secretary and held the post until his death in 1835.
Sinclair had an imaginative and vivid style of writing. Her books for children, were widely read in Britain and in the United States. 'Holiday House: A Series of Tales', published in 1839, was one of her most popular works and based on stories Sinclair had recited to her niece. Sinclair also enjoyed exploring Britain and wrote a series of travelogues of her adventures in England and Wales. Her novels 'Modern Accomplishments; Or the March of Intellect' and its concluding book 'Modern Society; or the March of Intellect' were concerned with the education of women and contemporary ideas on morality and happiness.
A deeply religious woman, Sinclair was also a prominent philanthropist, involved in charitable work across Edinburgh. She is remembered for erecting the first public water fountain in Edinburgh, offering travellers and locals alike, fresh drinking water. The water fountain was a large and elaborate structure and, along with her concern for her fellow humans, also reflected Sinclair's love of animals, containing low-level water troughs for Edinburgh's animal residents. The fountain was located in the centre of the road at the junction of Lothian Road and Princes Street. For many years it was a familiar sight, but with the advent of the motorcar, the junction became a busy thoroughfare, and the fountain was dismantled in the 1930s.
This was not the end of Sinclair's water fountain, however, and parts of it can still be seen on the Water of Leith Pathway.
Image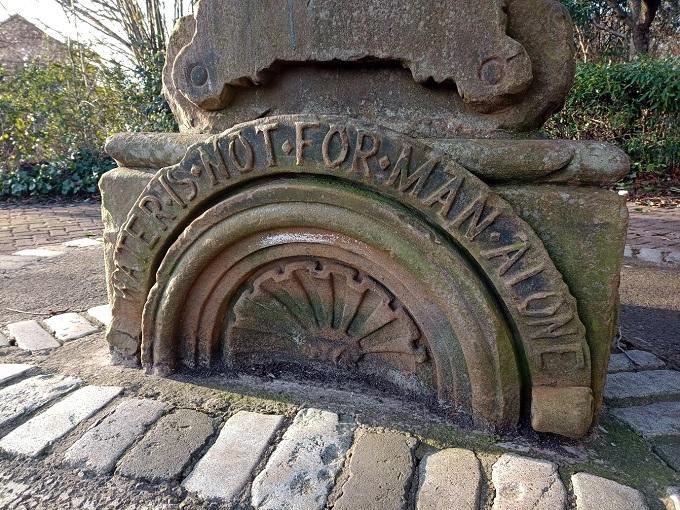 A section of Catherine Sinclair's water fountain which once stood on the corner of Lothian Road and Princes Street in Edinburgh, now placed next to the Water of Leith pathway. The inscription 'water is not for man alone' reflects Sinclair's compassion for animals and humankind.
Crown copyright, National Records of Scotland. Photograph taken in 2022
Other aspects of Sinclair's legacy to the city can still be seen in modern-day Edinburgh. The public benches she introduced became an enduring feature of many streets and are still in use today. Sinclair also opened worker's canteens to provide good quality food to the poor and founded schools to educate girls in practical skills.
Image

Catherine Sinclair is enumerated at 133 George Street in the 1861 census returns. Sinclair, along with her unmarried sisters Elizabeth and Margaret, lived with seven domestic servants in their extensive family home.
Crown copyright, National Records of Scotland, 1861/685/2 6 page 13
In her later years, having never married, Sinclair lived with her elder sisters Elizabeth and Margaret at 133 George Street, as recorded in the 1861 census. She died on 6 August 1864 at the home of her brother Archdeacon Alexander Sinclair in Kensington, London. Sinclair is buried at St John's Episcopal Church in Edinburgh, which is located on the corner of Lothian Road and Princes Street where her water fountain once stood.
Image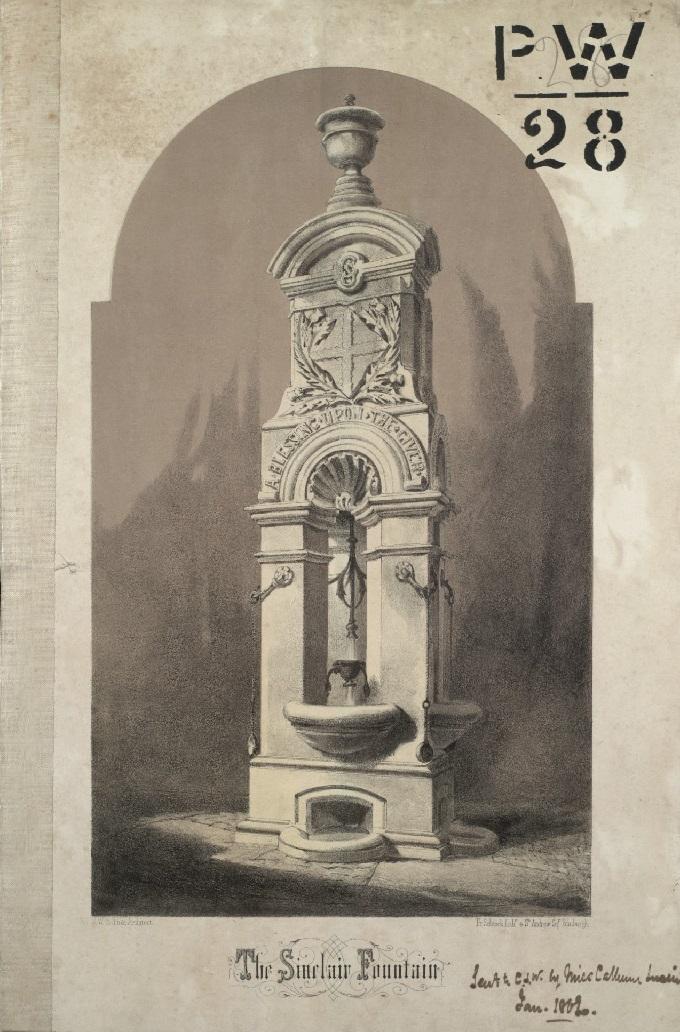 An architectural drawing of The Sinclair Fountain, 1864. By R W Billings, architect. Fr Schenk, lithographer, Edinburgh, 1864. The ornate fountain was enjoyed by the people and animals of Edinburgh for almost 80 years.
National Records of Scotland, RHP141745/33
After her death a subscription was raised to construct a memorial to Catherine Sinclair. This gothic spire is located near her childhood home in Queen's Street, on the corner of Albyn Place and North Charlotte Street. It is fitting that someone who used her fame and wealth to improve everyday life for Edinburgh's citizens is commemorated in the city she loved.
Image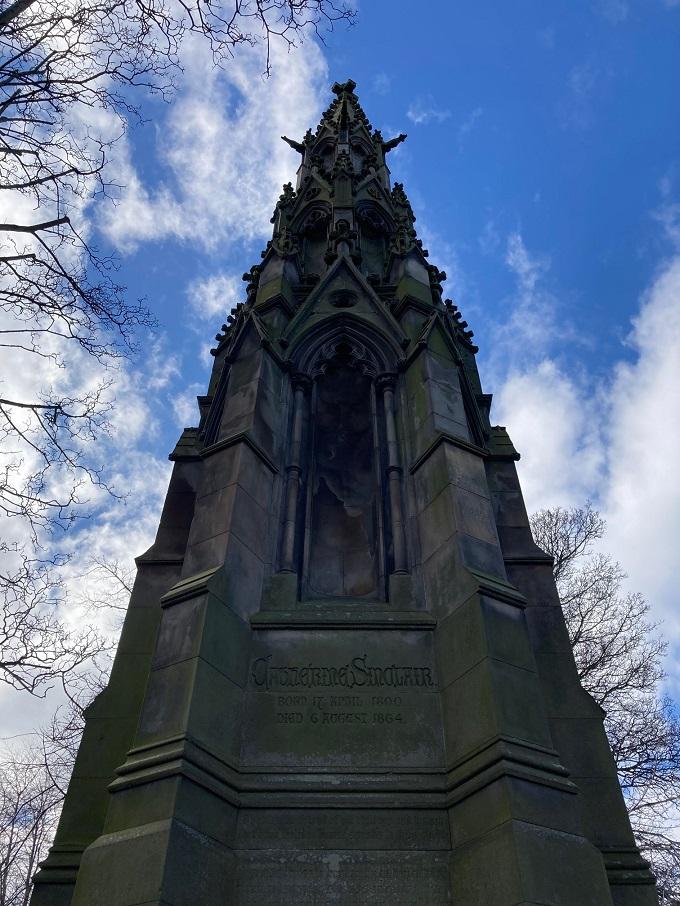 Catherine Sinclair monument, located near her childhood home in Queen Street.
Crown copyright, National Records of Scotland. Photograph taken in 2022