12 Waverley Place in the Abbeyhill Colonies
Every ten years, since 1841, a census has been undertaken in Scotland which collects information on every household, building and vessel in Scotland. They are a treasure trove of information for anyone looking to discover more about a person, family or location in time. Each house is witness to inhabitants arriving and leaving, raising families, making memories and living through the highs and lows of everyday life. Records on ScotlandsPeople help to reveal some of the hidden histories that have occurred within these homes.
To mark the release of the 1921 Scotland census, we have researched the decennial census records to take a look through the history of a property in Edinburgh and discover the stories of the people who called it home.
Whilst the census cannot be searched via 'street name' or 'address' it nevertheless can tell us a great deal about who lived in a property including their names, ages, occupations and the number of inhabitants needing additional support such as the young, or elderly. We can also learn if lodgers or visitors were staying in the house on the evening that the census was taken, and the conditions of the property where the record lists how many rooms had one or more windows.
To undertake the research in this article various ScotlandsPeople records have been used. 
The addresses given in Statutory registers (from 1855 onwards) can unveil where someone was born, died or married (these events could all have taken place in a private house) and lead us to entries in the census.
Furthermore, valuation rolls record who owned a property (the proprietor), and the name of the occupier, tenant or inhabited occupier (sometimes the proprietor was different to who lived in the property). They are also useful for determining who was living in a property in between census years as they cover years in between the census (eg 1875, 1885). Keep in mind, however, that the whole family or list of occupiers are not given in these records. 
Maps and Plans held by the National Records of Scotland also help to illustrate how a local area may have looked at the time you are researching, and how the landscape, architecture and surroundings changed as time passed. 
It is hoped that this article will encourage you to find out more about your property, or the history of any building, in Scotland through the decades. 
 
12 Waverley Place in the Abbeyhill Colonies
Edinburgh's colonies are recognisable to anyone who walks through the city as rows of distinctive houses with streets arranged back to back. Ground level front doors face in one direction and, across the street, first floor doors with external staircases run down to the pavement. This is replicated over rows of houses. 
Image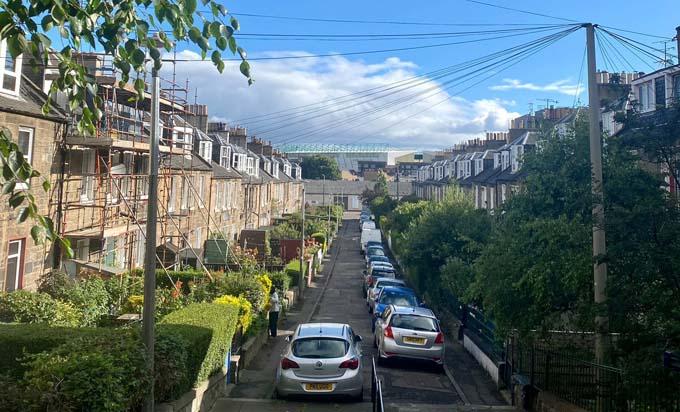 A view of Waverley Place from London Road showing the layout of houses in the colonies. To the left of the photograph are ground level houses. Across the street, hidden behind trees, are staircases which lead to the front door on the first floor. 
Credit: Crown copyright, National Records of Scotland
Upon construction, each home in the colonies generally had four rooms, an external toilet and a garden. The original 44 houses in four blocks were developed by the architect Patrick Wilson and built between 1850 and 1851 in Pilrig, Leith. Further developments were erected near the west end of Princes Street and Stockbridge where the Edinburgh Cooperative Building Company (ECBC – a group comprised of many types of tradesmen) laid the foundation stone on 23rd October 1861. The Abbeyhill and Dalry colonies followed after. All of these homes were constructed with the purpose of helping workers to escape the slums in the overcrowded city centre. In total, more than 2,300 of these colony homes were built across Edinburgh on 13 sites. 
The properties at Abbeyhill, like all colonies, are now highly sought after. Erected during 1867-1877, they were built as cheaply as possible (in order to make them more affordable for workers) and were situated in the middle of a loop of railway lines. Because of this, they became home to many railway workers and men who worked in connected industries.
Image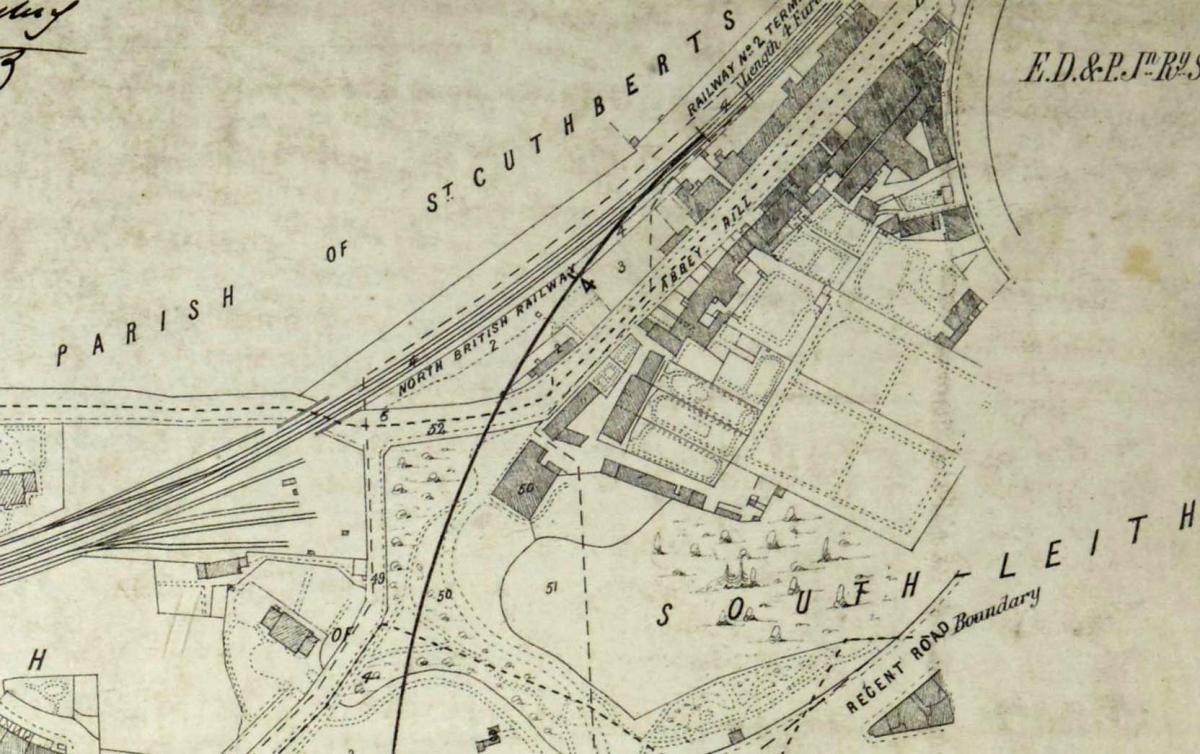 Detail from a plan showing sections of the proposed Edinburgh Dunfermline and Perth Junction Railway from Edinburgh to the pier at South Queensferry, November 1861. 'Abbey Hill' and the site of the colonies running off it, can be seen. 
National Records of Scotland, RHP47560
Let's open up the census to take a look into the history of one of these colony homes: 12 Waverley Place, Abbeyhill.
Image
The front view of 12 Waverley Place. The upstairs floor is a separate residence and is accessed from the street behind, via a staircase. 
Credit: Crown copyright, National Records of Scotland. 
The Weirs
The first family to live at this address were the Weirs. They were enumerated in the 1881 census which was taken not long after building work was completed.
Alexander Weir married Marion Bertram in the Parish of St Cuthbert's on 15th October 1854 when they were aged 27 and 21 years old respectively. The next year, their first son, Alexander, was born on 9th August at No. 31 Abbeyhill, nearby to where they would come to live at Waverley Place. 
One year later, on 22nd July, a daughter, Isabella, was born in the family home. Their second son, Andrew, was born on 17th June 1857 in Thankerton, Covington, Lanark. In the 1861 census, Marion is enumerated there with her parents and three children, however Alexander and 18-year-old ironmonger William Weir, most likely a relation, were living at Abbeyhill. 
A second daughter, Helen, was born in Abbeyhill on 8th September 1862, after Marion had returned to join her husband in Edinburgh. Sadly, Isabella died on 28th March 1865, aged five years old, from scarlet fever. Four months later, Marion gave birth to another little girl on 22nd July; perhaps because she was born on Isabella senior's birthday, or to commemorate her first daughter, Marion also gave her the name Isabella. Their final child, Marion Bertram Weir, was born on 5th October 1870.
1881
Alexander Weir was 54 years old and an experienced blacksmith by the 1881 census. At the time of his son Andrew's birth, in 1857, Alexander was recorded as working at St Margaret's North British Railway Works and it is possible that he also worked at the London Road Foundry at Abbeyhill, which specialised in metal casting and also employed many of the residents of the surrounding area. Also living with Alexander and his wife were three of their children: Alexander (aged 25, a printer's compositor), Isabella (aged 15, a dressmaker's apprentice) and Marion (aged 10, a student). 
Although these homes were built with some modern conveniences such as sinks and storage spaces, this was a one-bedroomed property and space was tight. The valuation rolls record that Alexander was the owner of the property; the majority of families who bought these homes would have taken a mortgage with a property investment company after paying a small deposit.
Image

The Weir family enumerated in the 1881 census, 12 Waverley Place
Crown copyright, National Records of Scotland, 1881 Census, 685/2 32/3
1891
10 years later, in 1891, Alexander was still living at the property with his wife Marion and their daughter Marion, who was a saleswoman in a Berlin wool repository. This was a shop/warehouse which sold Berlin wool work; cheap machine-made tapestry pictures or patterns in woollen cloth, used to make chair covers and fire screens, amongst other goods. It also supplied kits for customers to make themselves.
Image

The 1891 census enumerating Alexander and members of his family
Crown copyright, National Records of Scotland, 1891 Census, 685/3 15/16
Marion married John Smith Bremner, a general merchant, on 30th August 1900. They lived together on Mayfield Road, Edinburgh.
The month before Marion's wedding, on 5th July, her mother died in the family home from a swelling in her neck and pernicious vomiting.
Image

Detail from Marion Weir's death entry, 5th July 1900
Crown copyright, National Records of Scotland, Statutory Register of Deaths, 1900, 685/3 423
1901
By the following year, when the 1901 census was taken, Alexander had moved in with his daughter Isabella, her husband, Thomas Gilmour, and their nine children (eight girls and one boy). Thomas was a millinery warehouseman in partnership with his brother John; the business 'J & T Gilmour' at 56 Hanover Street, Edinburgh, was successful enough to allow him to employ one nurse and two servants who also lived in the family home at 21 Albany Street, Edinburgh. Thomas died at home in 1915, aged 60. Isabella lived until 1937 when she died in the Morningside area of Edinburgh, aged 72.
Living at 12 Waverley Place in the year 1901 were the Hillocks family. John Hillocks, a 38 year old railway engine driver from Fife was married to 38 year old Helen Weir, one of Alexander and Marion Weir's children. John and Helen were married on 18th June 1886 at 12 Waverley Place when John was a railway stocker and Helen a domestic servant.
Image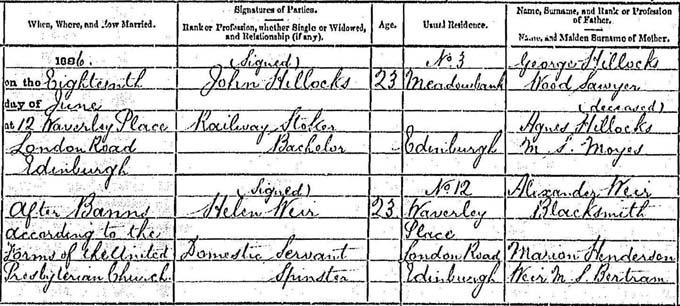 Detail from the marriage entry of John Hillocks and Helen Weir, 18th June 1886
Crown copyright, National Records of Scotland, Statutory Register of Marriages, 1886, 685/3 145 page 73
The couple lived with their three children, Marion, (aged 14) Alexander (aged 8) and John (aged 6), all scholars (students). 
Image

The Hillocks family in the 1901 census
Crown copyright, National Records of Scotland, 1901 census, 685/3 3/10
By the 1911 census, the Hillocks had moved to 27 Parsons Green Terrace, Edinburgh. John died on 4th April 1912 from a perforated ulcer, aged 49. Helen lived for another 18 years, dying on 24th December 1930 in Portobello, aged 68, from a brain injury.
Alexander Weir had returned to the family home in the colonies between 1901 and 1904 and died there on 13th August 1904 from a senile heart and bronchitis. He left a will which granted his eldest son Alex the ability to settle any debts and sell the home, dividing the proceeds into six equal parts or shares. Two equal parts were to go to the eldest son, and the rest to be equally divided between his children, Andrew, Helen, Isabella and Marion. The children were to divide the furniture as they wished. His inventory totalled £80 17s 4d; according to the National Archives currency convertor, this is the equivalent to around £6,300 today and included his personal cash, household furniture and money in the Edinburgh Savings Bank.
1911
Using the 1911 census, we can see that the Young family were residing at 12 Waverley Place by the turn of the next decade. Thomas Young was a 32-year-old postman and had married Marion Riddell, a dressmaker, in Musselburgh on 2nd June 1904. They had two young children, Mary and John. 
Image

Detail from the 1911 census enumerating the Young family
Crown copyright, National Records of Scotland, 1911 census, 685/3 8 page 16
1921
1921
The next decade brought more change to the house as, by 1921, the Halliday family had come to occupy it. Jemima Halliday, 52 years old, was occupying the property together with her four daughters, Mary (a 25 year old dressmaker), Isabella (a 22 year old machinist), Catherine (a 19 year old shop assistant) and Helen (a 10 year old student). Jemima's occupation is listed as 'H D' which stood for 'Home Duties'.
Image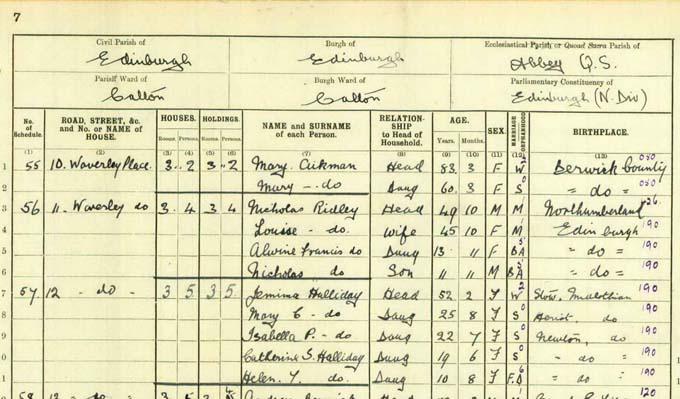 Detail from the 1921 census listing Jemima and her daughters in 12 Waverley Place
Crown copyright, National Records of Scotland, 1921 census, 683/3 8/2 page 7
Jemima Stoddart was a 25-year-old domestic servant cook when she married Thomas Halliday, a railway signalman, also aged 25, on 7th December 1894 in Heriot, Midlothian. Thomas died on 31st December 1920 in the Royal Infirmary Hospital, Edinburgh, from cancer and so does not appear in the 1921 census. The couple had raised their children in Midlothian, moving between Heriot and Newton in the late 1890s and throughout the early 1900s. They also had two sons; James Stoddart Halliday, who died on 21st November 1906 aged 2 years old, and William Halliday, who died in France on 13th October 1918. Private William Halliday had been serving with the 2nd Battalion, Scots Guards, when he was killed in action aged 21 years old. He is commemorated at St. Vaast Communal Cemetery Extension, France.
Image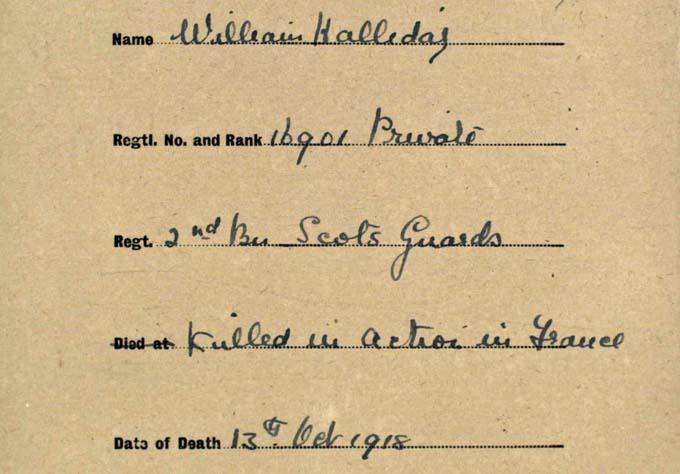 Detail from Private William Halliday's will
Crown copyright, National Records of Scotland, Soldiers' and airmen's wills, Regiment: Scots Guards, SC70/8/1039/5 page 1
The valuation rolls tell us that Jemima was still living at the property after the 1921 census. She moved out during the 1930s, when Catherine Paterson Weir (Alexander Weir's granddaughter) lived at the address, moving back in for much of the 1940s. When Jemima died on 22nd July 1955 she was living on Ferry Road, Edinburgh, at the age of 86 years old. 
For further information on how to research house and building history or searching the census please see our online guides.