Bonnie Charlie's noo awa
Safely o'er the friendly main;
He'rts will a'most break in twa
Should he no' come back again.

The first verse from 'Bonnie Charlie', a commemorative Jacobite Scots poem, written by Lady Nairne.
On 16th July 1766 Carolina Oliphant was born at Gask House, near Dunning in Perthshire, to Laurence Oliphant, Laird of Gask, and his wife Margaret Robertson. Carolina was the fourth child of three sons and four daughters born into a staunchly pro-Jacobite family. Carolina was named after Prince Charles Edward Stuart – 'Bonnie Prince Charlie' – who had stayed in her family home 21 years before her birth following his defeat at the Battle of Culloden. Laurence and Margaret were cousins and the grandchildren of Lord Nairne, who had commanded the second line of the Jacobite army at the Battle of Preston in 1715 and was amongst the captured. Originally sentenced to be executed for treason, he was later pardoned. 
Image

Baptism entry for Carolina Oliphant in the Old Parish Register (OPR) for Findo Gask. 
National Records of Scotland (NRS), OPR, 352/1.
Carolina and her siblings were brought up with stories of the Jacobites, and taught that the Stuarts were the rightful heirs to the throne. In their prayer books, the names of members of the House of Hanover were covered over with the names of the Stuarts. Over time, Carolina became an accomplished dancer and musician familiar with traditional songs influenced by Jacobite history.
Shortly after her father's death in 1792, she began writing and composing her own songs and exploring her interest in poetry. She encouraged her brother Laurence to subscribe to Robert Burns' poems and, inspired by his work 'The Ploughman', wrote her own version entitled 'The Pleughman'. Laurence is said to have sung it to his tenants during gatherings at Gask.
Carolina wrote well-known Scots songs, some as popular as Burns' work, however today she is much less recognised in Scottish culture. Her compositions include 'Charlie is my Darling', 'Caller Herrin', 'The Rowan Tree' and 'Will Ye No Come Back Again?' Much of her work focused on the Jacobites and tales of the local gentry. 
Known to be well educated, with a talent for art, she kept her love and aptitude for poetry and songwriting secret from nearly everyone around her. This was in order to protect her position in society and her genteel reputation. Indeed, as a young lady, her governess had worked to disguise Carolina's broad Scots accent which was not seen as becoming amongst the upper classes. Despite deliberately choosing to keep her identity hidden, it is said that she was sometimes frustrated to learn that Robert Burns was credited for her work.
Her poems were printed anonymously when published in Edinburgh as part of 'The Scottish Minstrel' over six volumes between 1821 and 1824.
Following a lengthy betrothal, Carolina married her second cousin Major William Murray Nairne at her family home in Gask on 6th June 1806. Prior to the wedding, William had been promoted and his new duties required that he be based in Edinburgh. The couple spent time in Portobello before moving to Wester Duddingston. They lived in 'Caroline Cottage', a house partly built and funded by her uncle Chief of Strowan, a notable Jacobite, which was extended in 1822 by the design of Scottish architect James Gillespie Graham. Also known as Nairn Lodge, it still stands today and has been renovated into a hotel and restaurant. Surrounding streets are also named after Lady Nairne.
William's grandfather, alongside many Jacobite supporters, had lost his title and lands in the 1745 rebellion. Following the visit of King William IV to Scotland in 1822, there followed a campaign to restore old Jacobite peerages to these families. On 17th June 1824, Parliament passed a bill which restored forfeited titles, and William became Baron Nairne, with Carolina known as Baroness or Lady Nairne.
The couple had one child – a son born in 1808 named William Murray Nairne. William rarely enjoyed good health and was poorly throughout his life. Carolina spent much time tending to his needs.
Image

Birth entry of William Nairne.
National Records of Scotland, Old Parish Register of Births, 1808, 685/1 410 72
Image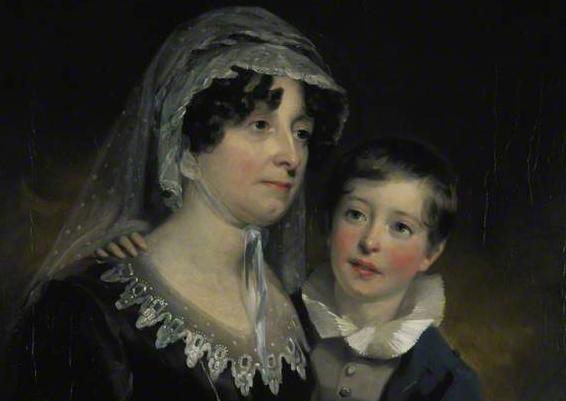 Lady Nairne with her Son William, painted by John Watson Gordon.
Credit: National Galleries of Scotland/WikiCommons

In July 1830, William, Lord Nairne, died and was interred in the Chapel of Holyroodhouse. Following this sad event, Carolina travelled abroad with her son in the hope that the warmer climates would improve his health, however he died seven years later in Brussels aged 22. Lady Nairne does not appear in the 1841 Scottish census as, following her son's death, she spent time travelling the continent, returning to Gask House later that year.
Image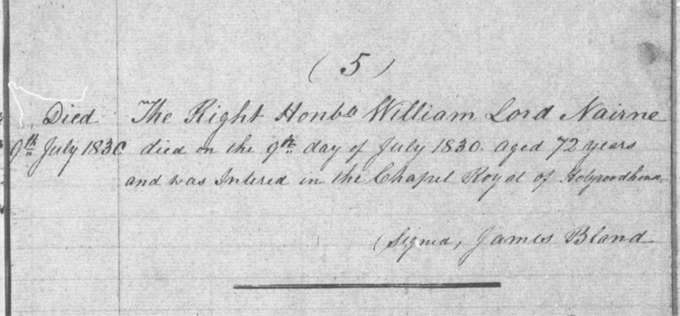 Death entry of William, Lord Nairne.
National Records of Scotland, Old Parish Registers, 1830, 685/3 370 9

'Would You Be Young Again' is said to have been the final song that Carolina composed and copied into a letter to a friend. It begins:

Would you be young again?
So would not I -
One tear to memory giv'n,
Onward I'd hie.
Life's dark flood forded o'er,
All but at rest on shore.
Say, would you plunge once more,
With home so nigh?
Carolina died at Gask House on 26 October 1845, aged 79. In her testament, she conveyed her 'whole estate heritable and moveable to my niece Margaret Harriet Stuart and her heirs'. She also included in her gifts, the sum of three hundred pounds sterling to her 'faithful Servant Henrietta Vouaillat with my earnest good wishes', and 'Caroline Stewart daughter of my nephew John Stewart Esquire of Dalguise the sum of one hundred pounds Sterling'. All pages of the testament, alongside a transcript, can be seen in the NRS Hall of Fame entry for Carolina. Wills and testaments, like Carolina's, are also available to view and purchase on ScotlandsPeople.
The following year, with Carolina's previously granted permission, her sister published a posthumous collection of Carolina's verse and song, entitled 'Lays of Strathearn' where she was publically identified as the author of 87 songs and poems.