Introduction
Jessie Rome Latimer
Euphemia Cunningham
Roberta Robertson
Appeal by The Devil's Porridge Museum
Further reading
Introduction
As the First World War entered its second year in 1915, it became apparent that there was a serious lack of ammunition being supplied to British soldiers in France. David Lloyd George, the Minister of Munitions, embarked on his greatest project; establishing HM Factory Gretna. He masterminded the largest munitions factory in the world set on the Anglo-Scottish Border. The site stretched for nine miles, from Longtown in England to Dornock in Scotland. The factory was built by more than 10,000 labourers, mostly Irish, over the course of the autumn and winter 1915, allowing production to begin in April 1916.
Hundreds of chemists, explosive experts and engineers were recruited from across the Commonwealth to organise and manage the production of Cordite, Research Department Formula B (RDB), in the factory.
Almost 12,000 women had travelled from across Britain to do their bit for the war effort at Gretna. They were employed to manage the process from mixing the highly volatile 'devil's porridge' paste through to producing the finished cordite propellant, destined for the shell-filling factories. Sir Arthur Conan Doyle, the author of the fictional detective series Sherlock Holmes, coined the phrase 'the Devil's Porridge' after visiting as a war correspondent and witnessing the Gretna Girls stirring this dangerous mixture.
Image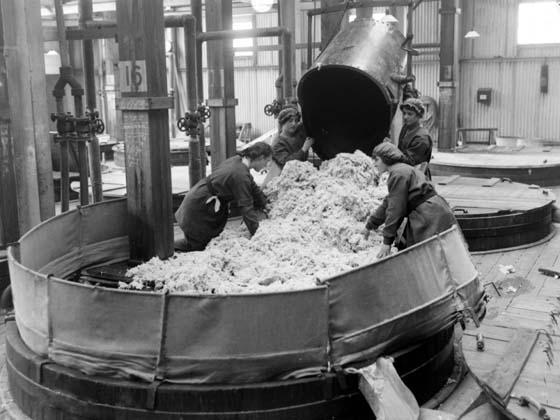 Photograph of four female workers loading nitrated cotton waste in stabilising vats
Crown copyright, National Records of Scotland, GD1/1011/16
National Records of Scotland (NRS) holds glass plate negatives of these workers at the munitions factory undertaking their dangerous wartime roles, (NRS, GD1/1011). A selection of images from this collection can be viewed on the ScotlandsPeople Image Library.
The Devil's Porridge Museum are undertaking an ambitious project to tell the stories of each of these brave and dedicated women who played such an important role during the war. We feature three of these stories below.
Jessie Rome Latimer
Image
A photograph of Jessie taken in the 1920s. Colourised by Stuart Gibbs, a research volunteer at The Devil's Porridge Museum.
Credit: Image Courtesy of The Devil's Porridge Museum
Jessie was born on 5th October 1891 to Robert Rome Latimer, a law clerk, and Agnes Dickson in Annan, Dumfries.
Image

The birth entry of Jessie Rome Latimer
Crown copyright, National Records of Scotland, Statutory Register of Births, 1891, 812/120 page 40
Jessie grew up with her three brothers and sister in the family home on Carlyle's Place, Annan.
Image

Jessie and her family in the 1911 census
Crown copyright, National Records of Scotland, 1911 Census, 812/2/18 page 18.
As a young woman Jessie's hobbies included playing football and taking part in productions in local theatres. On December 3rd 1914, for example, she took part in a concert at the Victoria Hall in Annan as part of the Soldiers' and Sailors' Work Party Fund. Jessie continued to perform in fund-raising events throughout the war whilst working at HM Factory Gretna, with the Annandale Observer, on 11th May 1917, reporting that her songs were 'well received by an appreciative audience' at a variety concert organised by the Gretna Social & Athletic Association. Her fund-raising efforts also extended to running a stall at the 'World's Fair' event in Annan on 8th September 1917.
It is thought that Jessie's interest in football extended to playing for the 'Gretna Girls' football team as a 'J. Latimer' appears on the list of names of women who travelled to Carlisle to play the 'Carlisle Munitioners' at Brumpton Park in a charity match.
Although some information is known about Jessie's hobbies, not a lot is known about what she did when working at Gretna. There were a variety of roles for women munition workers at the factory, from those who worked in laboratories and laundries, to dangerous jobs hauling raw materials and mixing chemicals. Many women never talked about their time at the factory, due to the secrecy that surrounded it during the war. Such an important cordite manufacture location would have been a target of zeppelin raids, and even when visitors such as Arthur Conan Doyle toured the site they referred to the factory with the codename 'Moorside.'
Image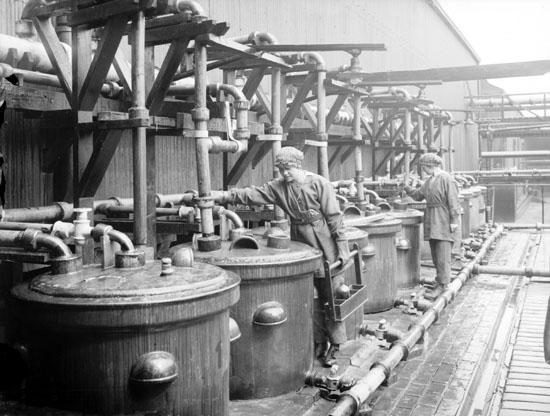 Photograph of two female workers operating nitric acid retorts and receivers
Crown copyright, National Records of Scotland, GD1/1011/61
After the war Jessie met William Armstrong Fyfe, a trainee dentist. He had been conscripted as a Gunner but was discharged in 1916 on medical grounds. The couple married in Lincolnshire, England, in 1920. After moving to Edinburgh in 1923 and living on Bruntsfield Avenue, they returned to Lincolnshire for William's work. On 5th May 1929 William died and Jessie returned to Scotland. She died in April 1958 in Lockerbie.
Image

Jessie Rome Fyfe's death entry, 16th April 1958
Crown copyright, National Records of Scotland, Statutory Register of Deaths, 1958, 821/211 page 71.
Euphemia Cunningham
Image
A photograph of Euphemia Cunningham, taken after 1918.
Credit: Image Courtesy of The Devil's Porridge Museum
Euphemia, known as Effie, was a forewoman in the nitro-glycerine section of the factory. Born in Edinburgh on 6th June 1892 to William Cunningham, engine cleaner, and Margaret Ross, she was one of ten children. Tragically, her family was hit hard during the war. One brother, John died in the Quintinshill Disaster, the deadliest railway accident in British history in May 1915. Two of her brothers were killed in action: Richard at Loos in September of that year and James one month later at Fleurabaix.
Effie was awarded an Order of the British Empire (OBE) during her time at HM Factory Gretna for 'courage and high example in continuing her duties immediately after a severe explosion.' When, after evacuation, it was realised that some women were missing, Effie immediately returned into the factory, found the group and brought them to safety.
At a ceremony at the City Chambers in Edinburgh, the Lord Provost Sir J. Lorne MacLeod said her actions 'was a notable instance of courage and presence of mind displayed under extremely terrifying circumstances…He was proud to think that she, like the other men and women of their race who were doing heroic actions to by day in the present great national emergency, was unconscious of doing anything out of the usual.' (Daily Mirror, 3rd April 1918).
On 31st December 1921 Effie married Thomas Baxter, a boilermaker, at St Giles Cathedral in Edinburgh.
Image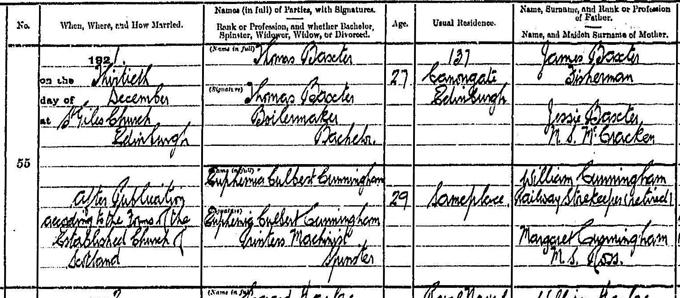 Detail from Euphemia Cunningham and Thomas Baxter's marriage entry
Crown copyright, National Records of Scotland, Statutory Register of Marriages, 1922, 685/4 55 page 28.
The couple emigrated to Auckland, New Zealand, in 1924, and settled in Wellington in 1930. Effie died there in August 1989, aged 97 years old.
Roberta Robertson
Roberta Robertson's story is was one of the more tragic cases to come out of HM Factory Gretna. On 27th March 1917, when working in the factory, she died from a 'fracture of the skull' aged 20 years old. During production there were often explosions and fires which occurred when working with volatile materials. That morning an explosion occurred, with falling debris instantaneously killing Roberta. She was one of at least 12 women killed in the course of their work.
Image

The death entry of Roberta Robertson, 27th March 1917
Crown copyright, National Records of Scotland, Statutory Register of Deaths, 827/18 page 6.
Roberta was born and raised in Dumfries. The local community came out in vast numbers with around 2000 to 3000 people gathering to watch her cortege on Dumfries High Street. The Dumfries and Galloway Standard reported on 4th April 1917 that a detachment of wounded soldiers and Roberta's fellow munition workers preceded the hearse which was covered with many floral tributes. Roberta is listed on a war memorial in Gretna Parish Church, the only female to be recorded there. Her name also appears on the Dumfries Civic Memorial and the Scottish Roll of Honour.
Appeal by The Devil's Porridge Museum
Did anyone in your family work in the factory? Would you like to tell their story? If so, The Devil's Porridge Museum would love to hear from you. Please contact them directly at laura@devilsporridge.org.uk.
Further reading
The Munitionettes and the work of women in the First World War
The impact of the Great War on the role of women in Scotland