Looking through the Scottish statutory birth records available on ScotlandsPeople, it is clear that in a display of patriotism during the First World War, parents named their babies after battles, popular war heroes and military leaders. During the years 1914-1919 babies were registered with war-inspired forenames, including Edith Cavell, Kitchener, Beatty, Verdun, Mons, Arras, Foch and Victory.
Heroes
The face of Field Marshal Lord Kitchener was seen across Britain in the famous recruiting posters following the outbreak of war. He was responsible for increasing the British Army from six Regular and fourteen Territorial divisions to seventy divisions through the creation of the 'New Armies' named after him – and it is apparent that this also encouraged people to name their babies in his honour. In the years 1910-1913 not one child was registered with the name Kitchener. Among the 123,394 Scottish births in 1914, 21 boys were given the first or middle name of Kitchener, including John Kitchener Hay, born 13 December 1914. His mother Beatrice registered her son's birth, because her husband John was already serving as a lance sergeant in the Royal Army Medical Corps. A spirit dealer's assistant in civilian life, John Hay survived the First World War, resumed working as a barman, and died in Dundee in 1926, aged 43.
Image

Birth entry for John Kitchener Hay, 13 December 1914
National Records of Scotland, Statutory Register of Births, 1914, 282/4/1565
In 1916, the year that Lord Kitchener perished when HMS Hampshire was sunk off Orkney, three girls were given Kitchener as a middle name. Between 1914 and 1919, a total of 73 children were named Kitchener, and 9 boys were named Horatio Herbert, his first names.
Admiral David Beatty, First Earl Beatty, commanded the 1st Battlecruiser Squadron at Heligoland Bight in 1914, Dogger Bank in 1915 and the Battle of Jutland in 1916. Under Beatty's command, the Grand Fleet maintained its dominance of the North Sea until the end of the war. In the years 1910-1913, only one baby was registered with the name Beatty (a middle name), but between 1914-1919, 68 middle names of Beatty were registered and 23 boys were given the fore and middle names 'David Beatty'.
One baby boy, David Beatty Ambler was born on 2 September 1915 in Portobello, Edinburgh. His parents were David Ambler and Sarah Steel Ambler. His father was a leading stoker on H.M.S Antrim which was assigned to the 1st Cruiser Squadron of the Channel Fleet until mid-1916, when she was sent to Archangel in Russia. At the time of David's birth, his father would have been serving under Beatty's command. (David died in 1997 aged 81 in Leith.)
Image

Birth entry for David Beatty Ambler, 2 September 1915
National Records of Scotland, Statutory Register of Births, 1915, 685/7/272
One baby girl was even given a feminine version of the name. Davina Beatty Coulter was born 10 March 1915 to Joseph Coulter, boot top maker and Janet Brown in Morningside in the City of Edinburgh. 
Edith Cavell was a British nurse who was celebrated for indiscriminately saving the lives of soldiers from both sides of the conflict. She also helped 200 Allied soldiers to escape from German-occupied Belgium. For this she was arrested, tried for treason and sentenced to death by German firing squad on 12 October 1915. This led to worldwide anger and press attention.
The first baby to be named after Edith in the Statutory Registers of Births was Edith Cavell Young, born in Arbroath on 30 October 1915, less than three weeks after the execution occurred.
Image

Birth entry for Edith Cavell Young, 30 October 1915
National Records of Scotland, Statutory Register of Births, 1915, 272/1/349
From the year of Edith's execution to the end of 1919, 45 Scottish baby girls were given the forenames 'Edith Cavell' and another 9 were given Cavell as a middle name. In the pre-war years no babies received the name Cavell.
Field Marshal Douglas Haig commanded the British Expeditionary Force on the Western Front from late 1915 to the end of the war. He led the British Army during the Battle of the Somme, the Third Battle of Ypres and the Hundred Days Offensive which culminated in the armistice on 11 November 1918. Despite huge casualties in these battles, Haig was generally looked upon favourably by his troops and members of the public during the conflict and in the immediate post-war years.
As a common surname Haig often appears as a middle name in Scotland: 48 times between 1910 and 1913. However, the Field Marshal's wartime reputation meant that between 1914 and 1919, Haig was given to 566 boys and girls as a forename or middle name. No fewer than 359 of them were registered with the given names Douglas Haig.
One family even changed their son's name to Douglas Haig a month after he was born. Douglas Haig Burnett was originally registered under the name Robert Gillon Burnett following his birth on 15 December 1914 in Dunfermline.  The Register of Corrected Entries shows that on 9 January 1915 his name was altered to Douglas Haig Burnett by his father, Alexander. A baker by trade, Alexander Burnett was serving as a sergeant in the 1st Battalion, Black Watch.
Image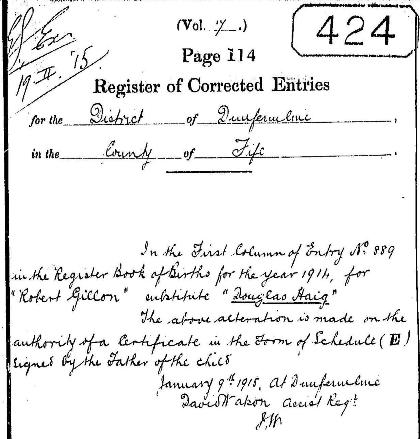 Register of Corrected Entries altering Robert Gillon Burnett's name
National Records of Scotland, Register of Corrected Entries, 1915, 424/2/7/114
Image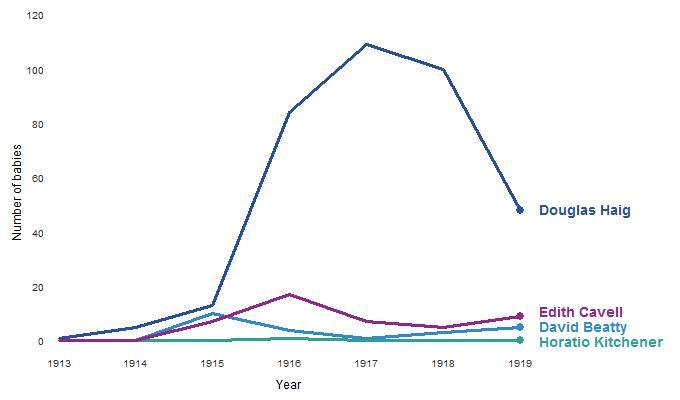 Image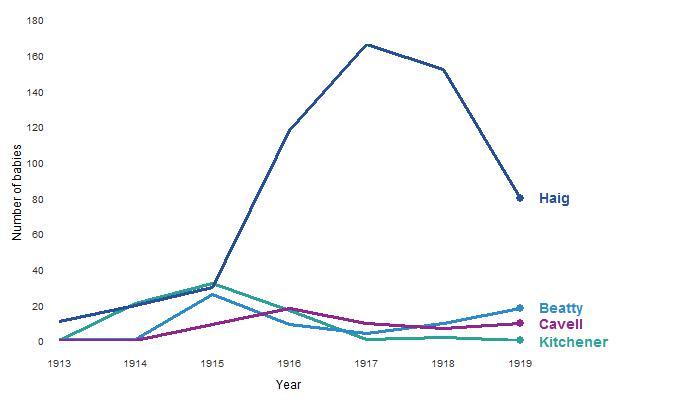 Two graphs illustrating the popularity of heroes' names, 1913 - 1919
National Records of Scotland
Battles
Many battle names were also recorded in the Statutory Register of Births during 1914-1919. Unsurprisingly, none of them had been used as forenames in the pre-war years. The most popular were Verdun (73), Mons (47) and Arras (37).
Image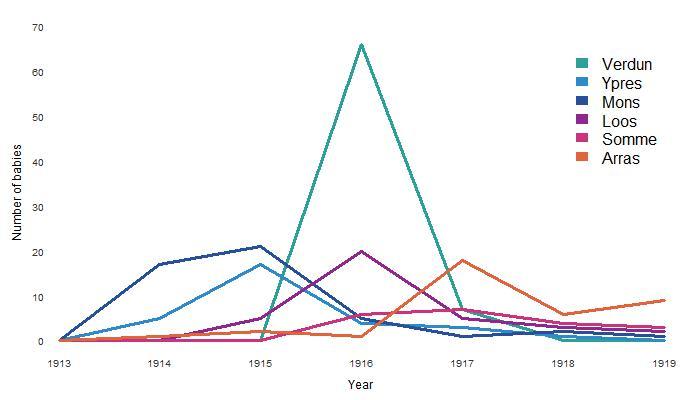 A graph illustrating some of the chosen battle names, 1913 - 1919
National Records of Scotland
At the Battle of Mons in August 1914, the British Expeditionary Force confronted the attacking German Army before being forced to retreat. It symbolised the British courage in the face of overwhelming enemy forces. Some children were given additional names connected to the war, such as Louvain, the Belgian town that was subjected to German atrocities. Mons Louvain Grant was one of 9 babies registered with the forename Mons between 1914-1919 (compared to none between 1910-1913), and 38 other babies with Mons as a middle name. Mons' father was Kenneth Grant. His usual occupation was a general labourer, but at the time of Mons' birth, 7 February 1915, he was a Private in the 2nd Battalion Seaforth Highlanders. (Mons Louvain Grant died in 2008, aged 93.)
Image

Birth entry for Mons Louvain Grant, 7 February 1915
National Records of Scotland, Statutory Register of Births, 1915, 135/41
Verdun was also popular in the Statutory Register of Births. Although this may seem surprising, as this was an epic battle fought during 1916 between French and German troops, the name was widely adopted by British parents to honour the heroism of the French allies. Between 1916-1919 no fewer than 73 Scottish babies were given the name Verdun, 16 of them as a forename. Verdun was also the most popular battle name in England and Wales, given to 901 babies over the same period. 
Arras and Loos were two other battles reflected in the Register of Births. One baby was named after both: Arras Loos Simpson. Arras was born illegitimately in the summer of 1917 in Carnoustie, in the County of Forfar. His mother was a weaver in the local jute works. During the Second World War, Arras joined the Royal Navy, serving aboard H.M.S Algerine, a minesweeper. Following  an unsuccessful mine-sweeping operation off the coast of Bougie, Algeria, H.M.S Algerine was struck by a torpedo by the Italian submarine Ascianghi. There were only 8 survivors. Arras died in this attack on 15 November 1942.
Image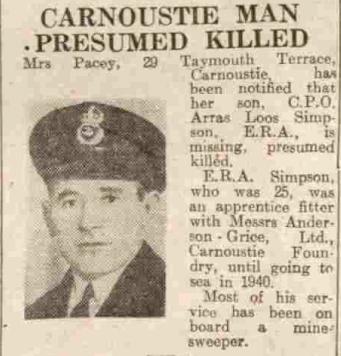 The death notice of Arras Loos Simpson from The Dundee Courier and Advertiser, 21 November 1942
Image courtesy of the British Newspaper Archive
The Battle of the Somme is the best-known World War One battle, fought from July until November 1916 between the British and French armies against the German army around the River Somme in France. More than one million soldiers were wounded or killed, making it one of the bloodiest battles in human history. Twenty Scottish babies were given the middle name Somme between 1916 and 1919. John McCreadie named his son Martin Somme McCreadie, following his birth in late 1916. As McCreadie served in the 9th Battalion, Cameronians, which was involved in bitter fighting on the Somme, the name was perhaps conferred to mark his own survival or commemorate his comrades.
Parents also named their children after the Belgian town Ypres, which was the focus of heavy fighting during the war and was almost totally obliterated. In 1917, the third Battle of Ypres occured, otherwise known as the Battle of Passchendaele. This resulted in nearly half a million casualties across all sides. In Scotland, between 1914 and 1919, 30 babies were given the name Ypres; 5 of those were forenames.
Ypres Angelini was born 12th May 1915 to Fanny Luchessi and Ernesto Angelini, an ice cream merchant who were married in Glasgow in 1905. Ernesto fought with the Italian Army from July 1916 and was killed on 21 November 1917 in Italy, aged 38. He left behind his widow and 5 young children. (Ypres Angelini died in 2011, aged 96.)
Image

Birth entry of Ypres Angelini, 12 May 1915
National Records of Scotland, Statutory Register of Births, 1915, 589/35
Interestingly, not all battle names held the same popular appeal for new parents. Gallipoli, on the Turkish peninsula, was attacked by British and colonial forces in 1915 in order to clear a secure path for aid to their ally, Russia. It gave its name to the whole failed campaign. Throughout the period 1914-1919 only one baby was registered with the name Gallipoli: Janet Gallipoli Crawford Stewart, born on 23 July 1915 in Paisley to parents James Stewart, a baker, and Janet Buchanan Stewart.
Image

Birth entry of Janet Gallipoli Crawford Stewart, 23 July 1915
National Records of Scotland, Statutory Register of Births, 1915, 573/1/1460
By comparison with boys' names, feminine versions of battle names were not popular in Scotland. Between the years 1914-1919, there were no results for the registration of babies with the names Verdunia, Sommeria, Arrasina, Monsalene or Dardanella. The National Archives at Kew note that 'feminine versions of several of the battle names do occur' in England and Wales. It is not clear why Scottish parents did not follow this pattern.
Victory and Peace
The joy felt in the end of the conflict was reflected in the names chosen for children. Between 1910 and 1913 only 10 children had been given the name Peace as middle names. By the end of 1919, 60 children had been registered with this middle name. Victory was used only twice before 1914, but in 1918-1919 14 children were given it as a middle name, and another two as a forename. Strikingly the male version, Victor, saw a rise from 204 registrations between 1910 and 1913, to 304 registrations in 1918-1919.
Image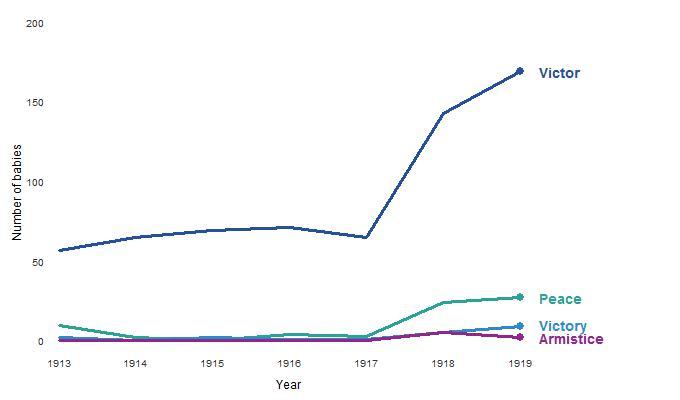 A graph illustrating the popularity of more peaceful names at the end of the war
National Records of Scotland
In 1918 William and Annie Marshall named their baby girl Victorie Foch in a salute to Marshal Ferdinand Foch, the French general. Foch became the Supreme Allied Commander during the German Spring Offensive and helped turn the tide of war against the Germans. Victorie Foch Marshall, and a boy, Ferdinand Foch Linton, were two of the 15 babies to be registered with the middle name 'Foch' between 1914 and 1919.
The National Archives have also conducted a similar study into forenames in England and Wales. For more information please visit their website. Learn more about past and present babies' first names in Scotland on the NRS website.