Historical Scottish Cabinet Records have been added to ScotlandsPeople for the first time. Over 1,500 records dating mainly to 2005 are now available to search and download for free. Historical records of the Scottish Cabinet are held by the National Records of Scotland. These records are opened to the public after 15 years as part of the Scottish Government's commitment to transparency, and future historical records will be added over time.
The Scottish Cabinet is the group of senior Ministers, including the First Minister of Scotland, which is responsible for Scottish Government policy. It came into existence in 1999, following the establishment of the Scottish Parliament and the devolved Scottish administration. 
Image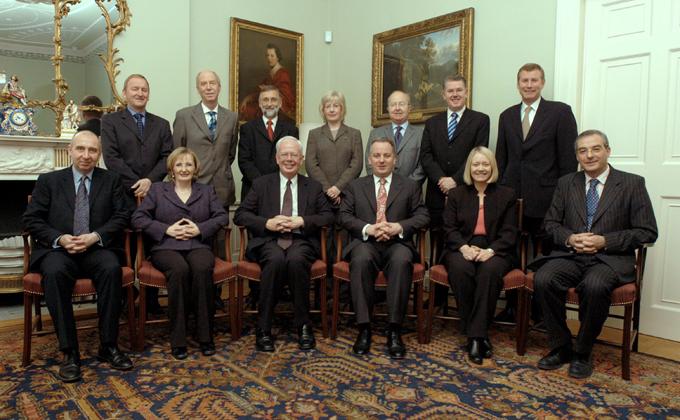 A photograph of the 2005 Scottish Cabinet with the Permanent Secretary inside Bute House, Edinburgh
Crown copyright, National Records of Scotland, SCR14/6
When the Scottish Cabinet first began meeting in 1999 these records were kept in traditional paper files. By 2005 they were all digital records and are now available as PDF copies with their original document titles. These records, minuted by government officials, give details of Scottish Cabinet meetings, Committees and other ministerial groups. They also include Draft Ministerial Papers, and records of the Scottish Executive Management Group. 
The records demonstrate how government ministers made decisions which affected the lives of all Scottish citizens. They allow researchers to understand recent events more fully, and they provide a fascinating insight into how democratic processes work. They will be of particular interest to researchers interested in political, constitutional and local history. 
The records from 2005 reveal that the Scottish Cabinet discussed – amongst other things – the G8 Summit, child protection measures, the new Borders railway, the implementation of the Freedom of Information (Scotland) Act 2002, a potential new road bridge over the Forth, and Scotland's readiness in the event of a serious outbreak of Avian flu. 
Image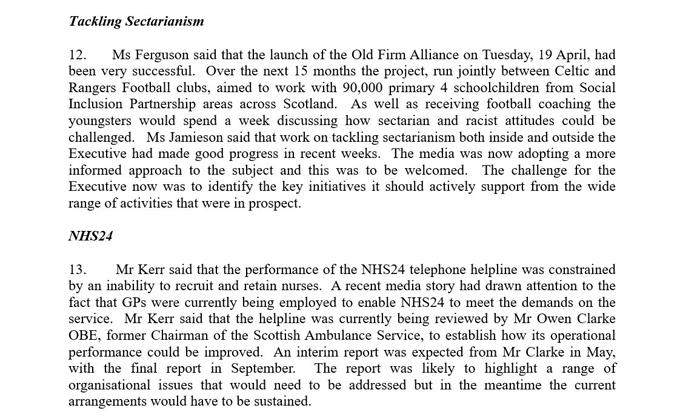 Detail from minutes of meeting held in Bute House, Edinburgh, 20th April 2005; an example of what you can find in these records
Crown copyright, National Records of Scotland, SC(05)12th Conclusions, SCR14/2/15
The Scottish Cabinet records are not indexed. Instead you can browse different records using the Virtual Volumes Scottish Cabinet records search with the archive reference number (for example, SCR14/2/1), by year range (from 2003 to 2006), by Scottish Cabinet record creator from a drop-down list (for example, 'Scottish Cabinet: Deputy First Minister') or you can search the file descriptions using a keyword or phrase. You can download the records as PDFs for free. 
For more information about these records please see the guidance on the Scottish Cabinet Records and Using Virtual Volumes.